Jayvees Beat South
Michael Owen and Teddy Turner hooked up on a 10-yard scoring pass early in the fourth quarter to lift Parkersburg to a 14-9 come from behind junior varsity football win over Parkersburg South Monday night at the Erickson All-Sports Facility.
The PHS jayvees took just three plays to score to begin the game as Owen ran for 15 yards then tossed a shovel pass to Bryant Walker, who ran for 32 yards before Owen found Kyle Moore in the right flat for a 17 yard scoring play that gave the Big Reds the lead just 47 seconds into the contest.
But after that the defenses took over and South took the lead with 5:58 left in the first half on a seven yard run by Trey Robinson on a play that was set up by a 30 yard run from Robinson. He also ran for the two-point conversion that gave South a lead they held until the fourth quarter.
The Big Reds took over late in the third quarter on their 16 yard line and drove the length of the field thanks in large part to a 45 yard pass to Moore. Owen, who passed for 202 yards (15 of 26 passes), then found Turner on a slant for the go-ahead score with 8:51 left to play.
Turner finished the game with six catches for 72 yards while Moore caught three for 70. For South, quarterback Brent Parkhurst ran for 129 yards on 19 carries.
PHS is now 4-4-1 on the year and will close its season at home on Oct. 29 against Huntington.
Junior Varsity Football
Parkersburg (4-4-1)  6   0  0  8- 14
Park. South                0   8   0  0-   8
P – Kyle Moore 17 pass from Michael Owen (run failed) 9:13 1st
S – Trey Robinson 7 run (Robinson run) 5:58 2nd
P – Teddy Turner 10 pass from Owen (Owen run) 8:41 4th
Team Statistics
First Downs – PHS 15, South 9
Rushing – PHS 32-73, South 37-208
Passing Yards – PHS 202, South 41
PC-PA-INT – PHS 15-26-0, South 4-13-0
Fumbles – PHS 1-1, South 3-3
Penalties – PHS 4-32, South 6-50
Punts – PHS 3-27.3, South 1-30
Individual Statistics
Rushing – PHS: Michael Owen 12-19, Kyle Moore 1-2, Brady Howerton 7-30, Carter King 5-16, Cam Rutherford 1-1; South: Brent Parkhurst 19-129, Brayden Jones 4-(-2), Trey Robinson 13-85, James Riggs 1-(-2).
Passing – PHS: Owen 15 of 26 for 202 yards; South: Parkhurst 4 of 13 for 41 yards.
Receiving – PHS: Teddy Turner 6-72, Bryant Walker 3-43, Moore 3-70, King 1-13, Howerton 2-4.
-
PHS Frosh Roll Over Marietta 58-0


MARIETTA, Ohio – Parkersburg's freshman football team scored often here Thursday evening en route to a 58-0 victory over Mariettta.
Bryson Singer had three touchown runs including an interception and also threw for three scores – to Julian Martin, Jordan Martin and Zadrian Snodgrass. Carter King also had two touchdowns for the Big Reds, who improved their record to 2-1-1.
9th Grade Football
Parkersburg (2-1-1) 22 16 8 12 -  58
Marietta                   0   0  0  0  -   0      
P – Julian Martin 65 pass from Bryson Singer (Singer run)
P – Singer 70 run (no good)
P – Jordan Martin 65 pass from Singer (Jaden Scott run)
P – Carter King 73 punt return (Corey Casto run)
P – King 70 pass from Kevin Hancock (Casto run)
P – Singer 15 run (Snodgrass run)
4th – Xadrian Snodgrass 70 pass from Singer (no good)
P – Singer 60 interception return (no good)

(click on Story Book link above)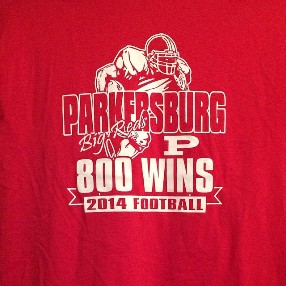 If you wish to donate to Stadium Field, please click below: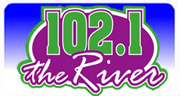 2018 PHS football schedule (all home games 7:30)
Aug. 23–at Morgantown (35-45)
Aug. 31–Cabell Midland (20-40)
Sept. 7 – at Beckley Woodrow Wilson (28-7)
Sept. 14 – Capital (22-35)
Sept. 21 – at Marietta (41-28)
Sept. 28–Wheeling Park (57-51)
Oct. 5–George Washington (32-7)
Oct. 12–at Hurricane (38-14)
Oct. 19 – Open
Oct. 26 – at Huntington
Nov. 2 – Parkersburg South
-------------------
2018 Lineups
Offense
QB – Jake Johnson (6-1, 170 sr.)
RB – Tyler Moler (6-0, 190 sr.)
WR - Kionte Peacock (6-1, 151 sr.)

WR - Braeden Mason (5-6, 150 jr.)
SE - Dylan Shaver (6-1, 190, sr.)
SE - Brenton Strange (6-5, 212, sr.)

T - Ryan Creech (6-3, 295 sr.)
T - Jace Turner (6-2, 215 sr.)
G - Greyson Cooper (5-11, 275 sr.)
G - Parker Olson (6-2, 220 sr.)
C - Jalen King (5-9, 205, sr.)
PK - Issac Withrow (5-8, 150 sr.)

Defense

E – C.J. Wade (6-1, 215 jr.)
NG - Ryan Creech (6-3, 295, sr.)
E - Justin Waybright (6-2, 205 so.)
ILB - Gage Fiore (6-0, 205 jr.)
ILB - Josh Ankrom (5-10, 185 sr.)
ILB - Jordan Batten (5-9, 175 sr.)
OLB - Jeremy Walls (6-0, 185 sr.)
SS - Jacob Woodyard (6-3, 170, sr.)
CB - Aurelius Edmonds (5-10, 160 sr.)
CB - Hayden Morris (5-11, 180 sr.)
FS - Kionte Peacock (6-1, 151 sr.)
P - Matt Curry (6-2, 205 jr.)
2017 Varsity Schedule
08/25/17 7:30PM H - ST. ALBANS (Win 49-10)
09/01/17 - OPEN
09/08/17 7:30PM A - CAPITAL (Loss 21-40)
09/15/17 7:30PM A - HUNTINGTON (Loss 21-35)
09/22/17 7:30PM H - MARIETTA, OH (Win 45-10)
09/29/17 7:00PM A - WHEELING PARK (Win 43-36)
10/06/17 7:30PM H - WOODROW WILSON (Win 34-8)
10/13/17 7:00PM A - CABELL MIDLAND (Loss 35-63)
10/20/17 7:30 PM H - HURRICANE (Win 35-7)
10/27/17 7:30PM H - RIVERSIDE (at Ripley) - (Win 44-30)
11/03/17 7:00PM A - PARKERSBURG SOUTH - (Win 27-24)
11/10/17 7:30PM - JOHN MARSHALL (playoffs) - (Loss 35-42)
Johnson, Moler Power PHS To 38-14 Pounding of Hurricane

HURRICANE – Cousins Jake Johnson and Tyler Moler combined for four touchdowns on the ground and even hooked up for another through the air as they powered Parkersburg to its fourth straight victory here Friday night, a 38-14 pounding of Mountain State Athletic Conference rival Hurricane.
It was a dominating effort by the Big Reds, marred only by the five lost fumbles which kept the score from being even more out of hand. PHS had 29 first downs and piled up 508 yards in total offense on 73 plays while controlling the ball for nearly 30 minutes of the contest.
Defensively, the Big Reds gave up two scores, one after a fumble and the other after the one long play allowed the entire game, a 47 yard run by Christian Hill. Hurricane had just 10 first downs and completed just four of 15 passes with two interceptions.
Johnson and Moler each ran for over 100 yards while Johnson added 237 yards passing by completing 17 of 21 with no interceptions and one touchdown – a 33 yard pass to Moler. While Moler was carrying the ball 29 times for 153 yards, Johnson added 104 yards on 14 attempts.
Brenton Strange had the other Big Red touchdown on a four yard run while also catching six passes for 84 yards. On defense he had his third interception of the year to go with his fifth sack of the year.
The Big Reds started slowly thanks to three turnovers in the first quarter. First came a muffed punt and then PHS drove to the Hurricane 12 yard line before fumbling away the ball. In the final seconds of the initial period another fumble gave Hurricane the ball on its own 25 yard line.
But once PHS got untracked in the second quarter the result was three straight touchdowns. The first coming with 9:309 left before the half when Moler led a six play drive that ended when Johnson faking to Moler and carrying the ball around left end for the final 11 yards. The extra point kick was blocked (the first of three blocked point after touchdown tries on the night and another which failed after a bad snap).
A 47-yard run on Hurricane's first offensive play following the Big Red score took the ball to the PHS six yard line and three plays later Nathan Roy sneaked the ball over from the one. The extra point kick put the home team up 7-6 but that lead lasted only 3:37 as the Big Reds drove the ball 82 yards on eight plays to score on a screen pass to Moler down the left sideline from 33 yards away. Johnson passed to Kionte Peacock for the two-point conversion to make it 14-7.
Forcing a punt, PHS got the ball back and quickly drove 83 yards on 10 plays with a great second effort run by Johnson from the two yard line. From the shotgun, Johnson hit the line, bounced off to the left and carried defenders over the goal line with 23 seconds left before halftime.
Another forced punt to start the second half resulted in another PHS touchdown drive, this one covering 44 yards in eight plays. This time it was Johnson's passing that led the way as he hit Dylan Shaver for six yards, Strange for 16 and Braeden Mason for 10 before the Big Reds shifted gears and put their all-state end in the backfield. Strange scored from the four over left tackle to make it 26-7 with 7:11 left in the third period.
A fumbled punt near midfield enabled Hurricane to score its second touchdown as Roy connected on a perfect strike to R.J. Engel from 21 yards away.
The Big Reds tacked on two more scores in the fourth quarter as Johnson ran it in from the eight to end an 11-play drive and, following a
Strange interception, Moler ended the highlight for the night with a three-yard run to cap a nine-play, 86-yard drive.
Unofficially Gage Fiore paced the defense with 11 tackles. Shane Miller had an interception on a ball that was tipped by Strange while Hayden Morris recovered a fumble that was forced by Fiore.
Parkersburg vs Hurricane (Oct 12, 2018 at Hurricane)
Score by Quarters 1        2        3        4        Total
Parkersburg....... 0      20    6      12    38
Hurricane......      0      7      7      0      14
Qtr Time Scoring play
2nd 09:39 PHS - Jake Johnson 11 yd run (Issac Withrow kick blockd), 6-55 1:54
08:23 HURR - Nathan Roy 1 yd run (Tim McCutcheon kick), 4-53 1:15
04:46 PHS - Tyler Moler 33 yd pass from Jake Johnson (Kionte Peacock pass from Jake Johnson), 8-82 3:31
00:23 PHS - Jake Johnson 2 yd run (Issac Withrow kick blockd), 10-83 4:16
3rd 07:11 PHS - Brenton Strange 4 yd run (Jake Johnson pass failed), 8-44 2:52
03:34 HURR - R.J. Engel 21 yd pass from Nathan Roy (Tim McCutcheon kick), 8-47 2:49
4th 10:52 PHS - Jake Johnson 8 yd run (Issac Withrow kick blockd), 11-69 4:34
05:51 PHS - Tyler Moler 3 yd run (Kyle Moore rush failed), 9-86 4:12
.............................................PHS           HURR
FIRST DOWNS                      29                10
RUSHES-YARDS (NET)        52-271        37-166
PASSING YDS (NET)            237             48
Passes Att-Comp-Int                21-17-0       15-4-2
TOTAL OFFENSE PLAYS-YARDS 73-508 52-214
Fumble Returns-Yards             0-0              0-0
Punt Returns-Yards                  2-0              0-0
Kickoff Returns-Yards             3-43            7-75
Interception Returns-Yards       2-9             0-0
Punts (Number-Avg)                1-42.0         6-36.2
Fumbles-Lost                          6-5              2-1
Penalties-Yards                         3-14            7-72
Possession Time                       29:48          16:17
Third-Down Conversions        4 of 8          2 of 12
Fourth-Down Conversions       1 of 2          1 of 1
Red-Zone Scores-Chances        5-6              1-1
Sacks By: Number-Yards         2-10            2-15
RUSHING: Parkersburg-Tyler Moler 29-153; Jake Johnson 14-104; Shane Miller 4-21; Brenton Strange1-4; Anthony Craig 1-minus 4; Braeden Mason 3-minus 7. Hurricane-Christian Hill 17-119; Jordan Williams 7-39; J.T. Cooper 3-14; Nate Barham 2-3; Isaiah Williams 3-3; Nathan Roy 5-minus 12.
PASSING: Parkersburg-Jake Johnson 17-21-0-237. Hurricane-Nathan Roy 4-15-2-48.
RECEIVING: Parkersburg-Brenton Strange 6-84; Dylan Shaver 3-73; Tyler Moler 3-57; Braeden Mason 3-17; Shane Miller 1-4; Kionte Peacock 1-2. Hurricane-R.J. Engel 3-44; Christian Hill 1-4.
INTERCEPTIONS: Parkersburg-Shane Miller 1-9; Brenton Strange 1-0. Hurricane-None.
FUMBLES: Parkersburg-Kionte Peacock 3-3; Tyler Moler 2-1; Anthony Craig 1-1. Hurricane-Christian Hill 1-1; Nathan Roy 1-0.
Parkersburg (5-3) vs. Hurricane (3-5)
Date: Oct 12, 2018 • Site: Hurricane • Stadium:
Attendance: 1000
Kickoff time: 7:30 • End of Game: 9:55 • Total elapsed time: 2:25
Visit to Hurricane Looms For Playoff Hunting PHS Squad
The road to a playoff spot doesn't get any easier for the Parkersburg Big Red football team this Friday as a home-standing Hurricane stands in the way.
Just like a year ago when PHS needed a win to clinch a playoff berth against Hurricane, the Big Reds are in a similar situation. PHS has won three straight and four of its last games to move into the number 11 spot in the Class AAA rankings but still waiting on the PHS schedule is undefeated Huntington and twice-beaten arch-rival Parkersburg South.
Kickoff is set for 7:30 this Friday and the host Redskins, ranked 13th in the state, will be out to avenge last year's 35-7 setback to the Big Reds as well as end a two-game losing streak. Hurricane has dropped a 24-16 decision to George Washington and a 34-21 to Huntington in its last two outings to see its overall record dip to 3-4 and may need to win out to reach the playoffs. Hurricane has beaten Winfield 24-13, Cabell Midland 40-10 and Beckley 14-6 while losing to Spring Valley 27-3 and Capital 49-10. The four Redskin losses have come against teams with a combined 21-5 record.
But Hurricane will also be without head coach Jeremy Taylor, who was ejected with 6:40 left in the Huntington game for arguing with officials after the Pony Express scored on a fake field goal play. Taylor must now sit out the Big Red game.
The Big Reds are 4-3 now and coming off a convincing 32-7 triumph over the same GW team that Hurricane lost to on Sept. 28. And while that may bode well for the Big Reds there is the Cabell Midland comparison which has PHS coach Mike Byus and his staff worried. Hurricane completely throttled the Knights 40-10 on Sept. 14 while Midland mauled PHS 40-20 as Ivan Vaughan ran wild for six touchdowns on Aug. 31.
Will the same PHS team show up that threw for 255 yards and three touchdowns last year with Brenton Strange catching six passes for 114 yards and one score? And will the same defense be on hand that scored once a year ago and produced four interceptions and three sacks last week against GW?
So far this year the PHS prevent unit has come up with 14 interceptions, seven sacks and five fumble recoveries. Gage Fiore and C.J. Wade lead the way with 60 and 56 tackles respectively. Kionte Peacock has five interceptions while Strange has two picks and four sacks. It will be their job to contain Hurricane junior halfback Christian Hill and Company.
Hill (5-7, 185 jr.) has rushed for 966 yards on 189 carries and scored six times on the ground. No other runner for the Redskins has carried more than 28 times or scored a rushing touchdown.
In the air, Hurricane senior quarterback Nathan Roy (6-1, 207) has thrown for 279 yards (27-63-1) and five touchdowns but has been sacked 10 times. He has four primary targets, 6-foot-5, 210 senior RJ Engel (10-145-2), Chase Hager (11-110-2), 6-foot, 160 junior Ryan Moses (6-78-1) and 5-foot-7, 150 junior Nate Barham (10-61-1).
Barham ran two kickoffs back for touchdowns against Huntington, one a 99-yarder.
The Redskins also have a powerful offensive weapon in kicker Timothy McCutcheon who has made six of seven field goal attempts with the longest being 44 yards while averaging over 57 yards per kickoff and nearly 41 yards on 30 punts with 10 being downed inside the 20 yard line.
The Big Red offense has produced 1,466 yards on the ground and 1,622 through the air with 14 touchdowns coming via the run and 19 through the air.
Tyler Moler is fresh from setting an all-time single-game rushing record with 308 yards against GW, giving him 1,095 for the year on 161 carries with 10 touchdowns. Quarterback Jake Johnson has 363 yards rushing (although losing 110 on runs and sacks) while completing 66 percent of his 185 passes for 1,572 yards and 18 touchdowns against 10 interceptions.
Leading the receiving corps for PHS is Braeden Mason with 35 catches for 434 yards and four scores while Strange has now caught 34 for 590 yards and five scores despite missing two games completely with an injury. Another outstanding receiver who has missed probably 50 percent of the season's playing time is Dylan Shaver, who still has caught 19 passes and scored five times.
PHS ranks third in the state in bonus points (games won by defeated opponents) with 12 despite having two less wins than the top two teams.
Strange Selects Penn State
By Brian Dohn, 247sports.com
As Parkersburg High four-star tight end Brenton Strange sat in Beaver Stadium watching 110,000-plus fans at Penn State on Saturday, he imagined himself on the field.
And by then, which was a half-day into his official visit, he already knew it would be his future home.
The No. 16 tight end in the industry-generated 247Sports Composite announced his commitment to Penn State on Monday evening, a few hours after he returned from a weekend official visit.
"I had talked with my coach after my Friday game, and I told him if I liked it, I would probably commit," the 6-foot-5, 215-pound Strange said. "He said he was on board. After (the Penn State coaches) showed me film, I was on board but I didn't (commit) until this morning."
Strange was also considering Ohio State and Notre Dame, but he chose Penn State because of its tight end history and the way the tight end is used in the offense.
In fact, he eyed Penn State for a while, and decided to camp with the Nittany Lions in late July despite already holding offer from the Irish and Buckeyes because he wanted one from Penn State.
How they use their tight ends, how they move them around so much, it really fits my skill set," he said. "How they used their tight ends, I felt it was the perfect fit for me. The coaches wanted to see me in person. They always treated me nicely and right. They've always been straight up with me, that's why I wanted (the offer) so bad."
During the game with Ohio State, Strange envisioned being on the field.
"They have a great tight end now in the freshman Pat Freiermuth," Strange said. "He's only going to make me work and make me better competing every day. I am excited to get working."
Strange went into the visit with his mom and brother leaning toward committing, and the academic presentation at the school capped it.
"I didn't know much about Penn State until this weekend," said Strange, who may major in business. "Coach (James) Franklin was telling me how they would set me up after football, and that is good for me and my future.
"My mother and my brother already talked to (tight ends) coach (Tyler) Bowen a lot, so they already knew him. They loved it. They loved the atmosphere Saturday night and we were all in."
Penn State freshman quarterback Will Lewis Strange.
"I got to hang out with the players a little bit after the game Saturday night," Strange said. "I hung out with them a little on Sunday a little bit. They all treated me well, told me how they use their tight ends, which I already knew."
Strange said his recruitment is over and he will not make any more visits.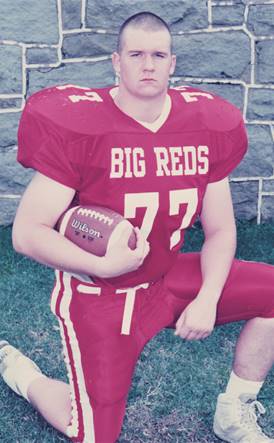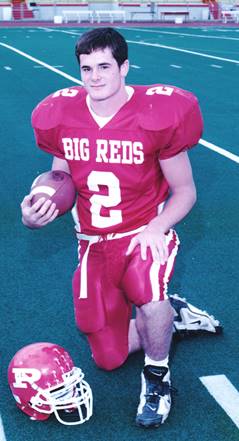 ........................Chip Pugh                                        .....Mike Lerch
Standouts from the 1990s, Pugh, Lerch, Earn Spots in PHS Football Hall of Fame
The mid-1990s were a period of great success for the Parkersburg High School football team and two of the main players responsible for that success will be inducted into the PHS Football Hall of Fame Friday night, Oct. 5, prior to the Big Reds' game with George Washington.
Chip Pugh, team captain of the 1994 squad that ended a 10-year playoff drought, will be inducted along with Mike Lerch, who played in eight playoff games during a career which ended in 1998 with a spectacular senior season on both sides of the ball.
Chip Pugh
After playing on a county champion team in 1991 at Jackson Junior High, Pugh became a three-year starter for coach Marshall Burdette and anchored the line from his right tackle position so well that the Big Reds went 7-3 during the regular season before losing a 20-19 heart-breaker to St. Albans in the playoffs.
He helped the Big Reds scored 252 points as a senior and was named first team all-state. PHS finished the decade with five straight playoff appearances covering 15 games.
A great deal of Pugh's success came after high school as he not only played football at Ohio University but became a graduate assistant strength and conditioning coach there in 2000. He earned his bachelor's degree in sports industry and then got a master's in physical education (specializing in coaching) in 2001.
Since then he has spent countless years guiding students, whether it was making them faster and stronger as athletes, molding them into leaders or being a beacon to help direct them.
He became head strength and conditioning coach at Marietta College and then Winthrop University before moving on to Tennessee Tech in 2006.
Currently the Director of Leadership Development and Operations for Football at Tennessee Tech Pugh also serves as a campus minister and character coach at Tech.
He and his wife Nicole live in Crookeville, TN, with their two daughters Rory Love and Reagan.
Mike Lerch
It has been a big four weeks for the former Big Red speedster as he was married on Sept. 11 to Christa Smith, a former Big Red cheerleader, and now the Vienna resident joins the elite of PHS players in the Hall of Fame.
During his two years as a starter for PHS, the Big Reds went 23-4. As a senior in 1998 he was named all-state as a defensive end on a team which tied the all-time record for shutouts in a single season with nine while also ranking as the third highest scoring team of all-time with a 39.5 average. The shutout total tied a record that was set in 1911.
The only loss in his final year at PHS came in the state semifinals at the hands of undefeated and eventual state champion Nitro and quarterback J.R. House before the largest crowd to ever watch at football game at Stadium Field.
Lerch led the Big Reds as a senior with 26 touchdowns on a team which included Nick Swisher, Scott Davis and Eric Grimm. All he did was average 9.2 yards per carry on the ground with 13 touchdowns while scoring 11 touchdowns among his 20 pass receptions with an average of 25.7 yards per catch. He also had an 85 yard kickoff return for a touchdown.
During his career he wound up eighth overall in school history with 228 points on 38 touchdowns while finishing with 13 career touchdown receptions (and a 21.2 average). His career rushing total was 1,264 on only 152 carries (8.3 average) and 25 touchdowns.
On defense he teamed with Steve Haught to record nearly 50 sacks as a duo.
Lerch tried playing football at the next level at Marshall but ran into academic roadblocks there. He eventually straightened himself out and earned a B.A. in Communication Studies with a Minor in History at Marshall. He currently works as a National Trainer and Regional Sales Manager for Mann-Hummel.
"I have no idea what path in life I would have taken if it wasn't for the people who believed and invested in me during my younger years," said Lerch. "After two years of academic futility at Marshall, Coach Burdette got me in touch with Mike McCoy at Marietta College but having zero confidence in myself academically, I passed on that opportunity. I ended up willing myself to complete my college education."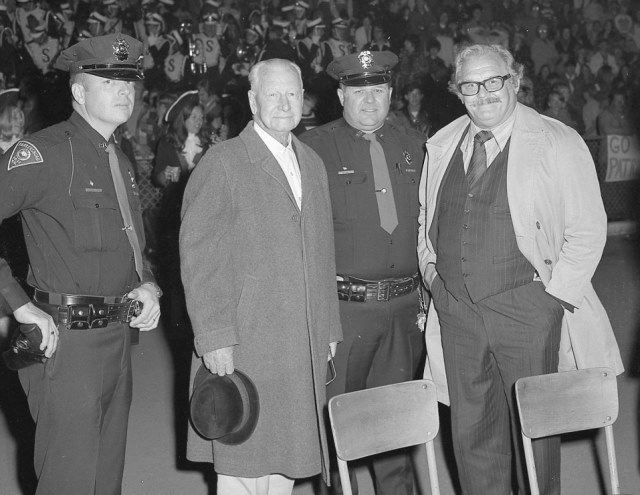 Big Red greats Greasy Neale & Piggy Barnes prior to 1971 South Game
Strange Makes First Team All-State; Moler, Creech 2nd Team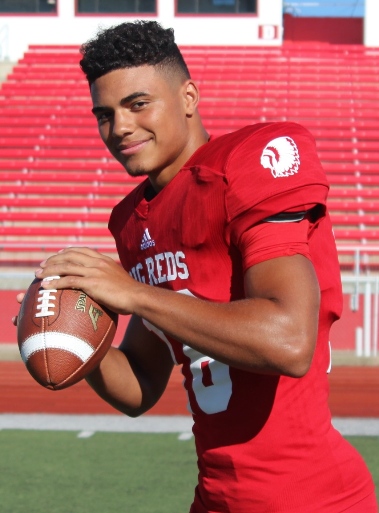 Junior Brenton Strange of Parkersburg has added first team Class AAA All-State honors to his growing list of accomplishments.

The 6-foot-5, 212-pounder was named to the first all-state team selected by the sportswriters from across the state while teammates Tyler Moler and Ryan Creech, also juniors, were named to the second team.

Senior Wyatt Strobl was named special honorable mention and junior Jake Johnson was selected honorable mention.

Although catching more passes for more yards than first team wide receiver selection Amir Richardson of University, Strange was selected as a first team defensive back.
Strange played end, linebacker and halfback on defense for the Big Reds. He was second on the team in tackles with 95 stops while making nine of those behind the line of scrimmage including two sacks. He scored three defensive touchdowns to go with 13 offensive scores for a total of 16 touchdowns. He returned two interceptions for scores and one fumble recovery was picked up and taken all the way. On offense he caught aschool record 59 passes for a record 938 yards and a record-tying 12 touchdowns while also scoring one rushing touchdown.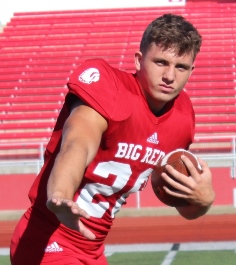 Moler ran for 1,302 yards with 17 touchdowns (including a record-tying 97 yard TD run and a 6.5 rushing average. He also caught 11 passes.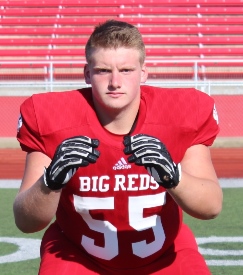 Creech, 6-foot-3, 275 pounds, was the primary blocker on an offense which averaged 35.4 points and 389 yards per game.

Strobl was the team's leading tackler and Johnson was a "Jack-of-all-Trades" with 337 yards passing (4 touchdowns), 119 yards rushing, 747 yards receiving and six touchdowns scored. He also had 40 tackles and four interceptions on defense.
FIRST TEAM ALL-STATE
Offense
QB – Tyson Bagent, Martinsburg, Sr.
QB – Cross Wilkinson, Wheeling Park, Sr.
RB – Jadon Hayes, Huntington, Sr. (captain)
RB – Ivan Vaughn, Cabell Midland, Jr.
RB – Jacob Northcraft, Musselman, Sr.
RB – Dereck Hess, John Marshall, Sr.
OL – Darnell Wright, Huntington, Jr.
OL – Doug Nester, Spring Valley, Jr.
OL – Trey Henry, Martinsburg, Sr.
OL – Ben Billanti, Riverside, Sr.
OL – Jordan King, Cabell Midland, Sr.
WR – Malakai Brown, Hedgesville, So.
WR – Amir Richardson, University, Jr.
UTIL – Kerry Martin, Capital, Jr.
K – Tim McCutchen, Hurricane, Jr.
Defense
DL – Jalen Hesen, Martinsburg, Sr. (captain)
DL – Jacob Cassidy, Spring Valley, Sr.
DL – Breece Hoff, Capital, Jr.
DL – Tavis Lee, Martinsburg, Sr.
LB – Dewayne Grantham, Martinsburg, Jr.
LB – Owen Porter, Spring Valley, Sr.
LB – Shymeik Burger, Huntington, Sr.
LB – Drew Joseph, South Charleston, Jr.
LB – Nick Coulter, John Marshall, Sr.
DB – Brenton Strange, Parkersburg, Jr.
DB – Nate Phillips, Wheeling Park, Sr.
DB – Grant Harman, Martinsburg, Jr.
UTIL – Anthony Pittman, Capital, Sr.
UTIL – Isaiah Duncan, Cabell Midland, Sr.
P – Grant Wells, George Washington, Jr.
SECOND TEAM
Offense
QB – Clay Bailey, University, Sr. (captain)
RB – Christian Hill, Hurricane, So.
RB – Tyler Moler, Parkersburg, Jr.
RB – Blake Hartman, Musselman, Fr.
OL – Will Gurtis, University, Sr.
OL – Jackson Zdziera, Spring Mills, Sr.
OL – Will Anderson, St. Albans, Sr.
OL – Ryan Creech, Parkersburg, Jr.
OL – Brier Elswick, Cabell Midland, Sr.
WR – Dakota Williams, Hurricane, Sr.
WR – Jarod Bowie, Martinsburg, So.
UTIL – Donnie Evans, Wheeling Park, Sr.
UTIL – Jason Plotner, Hedgesville, Sr.
UTIL – Derek Johnson, Spring Valley, Sr.
K – Ahmed Ali, Parkersburg South, Sr.
Defense
DL – Hayden Starcher, University, Sr.
DL – Hunter Temple, John Marshall, Jr.
DL – Zeiqui Lawton, South Charleston, Fr.
DL – Owen Tillis, George Washington, Sr.
LB – Tanner Williams, George Washington, Sr.
LB – Chase Goldsmith, Capital, Sr. (captain)
LB – Payton Lunsford, Hurricane, Sr.
LB – Spencer Delawder, Washington, Sr.
DB – N'yjere Smith, Hedgesville, Jr.
DB – Malik Grier, Huntington, Sr.
DB – Teddy Marshall, Martinsburg, So.
UTIL – Blake Miller, Preston, Sr.
UTIL – Tyee Gibson, Parkersburg South, Sr.
UTIL – Jayson Barrett, St. Albans, Sr.
P – Finnegan Hall, Hedgesville, Jr.
Special Honorable Mention
Griffin Adkins, Cabell Midland; Trevor Barnhart, University; RJ Barrett, Martinsburg; Michael Berlo, Martinsburg; Malik Brown, Huntington; Kalai Clark, Capital; Rennie Clark, Wheeling Park; Curon Cordon, Hurricane; Dakota Cosby, George Washington; Ronnie Durrah, John Marshall; Avery Eddy, Parkersburg South; Caden Easterling, Riverside; RJ Evans, Ripley; Ben Gribble, University; Isaac Howard, Spring Valley; John Hicks, Hampshire; Max Howell, Huntington; Mikey Jackson, Martinsburg; Jalen Jones, South Charleston; Sabri Juma, Morgantown; Josh Kay, Ripley; Jovaun Light, Cabell Midland; Nick Longerbeam, Jefferson; Graeson Malashevich, Spring Valley; Chas McCool, John Marshall; Dalton McDaniels, University; Colby Piner, Greenbrier East; David Robertson, Musselman; Mark Scites, Riverside; Ethan Secrist, Brooke; Jack Stakem, Wheeling Park; Andrew Spears, Huntington; Cole Streyle, Morgantown; Wyatt Strobl, Parkersburg; Tyree Swafford, Woodrow Wilson; Dustin Swisher, Hampshire
Honorable Mention
Gage Abrect, Hedgesville; Tre Barnes, Morgantown; Jacob Biller, Jefferson; Tristen Bittner, Wheeling Park; Brocton Blair, Huntington; Sam Buford, St. Albans; Mason Caldwell, Spring Mills; Carliton Carter, South Charleston; JT Cooper, Hurricane; Lucas Duffy, Martinsburg; Ethan Faircloth, Hedgesville; Chris Fox, Musselman; Quisean Gray, Capital; JaQuan Hall, George Washington; Drew Heatherly, Buckhannon-Upshur; Shane Hercules, John Marshall; Dakota Holt, Preston; Fazon Hunter, Spring Mills; Parker Jackson, Washington; Jake Johnson, Parkersburg; Cayden Keeler, Ripley; JT Kemp, Ripley; Tucker Knisell, Preston; Ty Konchesky, Morgantown; Jevon Lang, Jefferson; Ricky Moreland, Hampshire; Tylik Norris, Martinsburg; Sebastian Oldham, Musselman; Logan Osborne, Cabell Midland; Evan Parow, University; Devin Persinger, Greenbrier East; Ian Pomeroy, Woodrow Wilson; J.J. Roberts, Cabell Midland; Alajuan Robinson, Morgantown; Robert Sanders, University; Steven Shine, Hurricane; Davon Sibley, Princeton; Andrew Simonton, John Marshall; Logan Spurlock, Capital; Aaron Stambaugh, Musselman; Michael Turner, Hedgesville; Jonathan Warner, Buckhannon-Upshur; Blake Wentz, Riverside; Zach Williamson, Spring Valley; Dylan Wood, Wheeling Park; Colton Wright, Woodrow Wilson; Nick Yoho, Parkersburg South
PHS Can Now Claim 17th State Title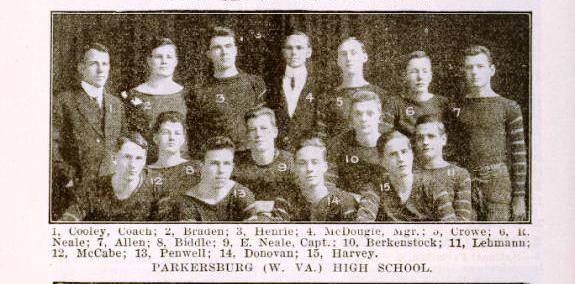 Parkersburg High School has added a 17th state football championship – without playing a game.
While it was well know that the 1911 PHS team went undefeated there was no state championship playoff or even a declaration of a state champion with supporting evidence – until now.
Thanks to supporting evidence from Spalding's 1911 Official Foot Ball Guide (also titled the Official National Collegiate Athletic Association Football Guide), the PHS team can now lay claim to the West Virginia State Championship Football Title for that season.
On page 251 of the very detailed and complete book, PHS is declared undisputed state champion for that year. The book was found in the University of Michigan library. The book featured scores and rundowns on virtually every college and high school team in the country as well as All-American and All-Conference teams.
The following is the excerpt from page 251 of the book concerning PHS football.
"Parkersburg (W.Va.) High School – The team annexed the undisputed title of state championship during the season of 1911. The eleven completed its schedule of ten games, defeating every opponent by decisive scores. Only once during the season was Parkersburg's goal line crossed. The strongest contenders for championship honors from each section of the state were defeated by the high school team, as well as two claimants for the Ohio state championship."
There is even a Parkersburg team picture on page 276 of the book along with a team picture of the high school team from Sistersville.
The football season of 1911 was the last year that touchdowns counted five points and only three downs were allowed to make 10 yards for a first down. It was the same year Jim Thorpe, Pop Warner and the Carlisle Indians upset mighty Harvard on Thorpe's three field goals. Considered one of the greatest college football upsets of all time.
Parkersburg was coached by B.B. Cooley and led by legendary Earle "Greasy" Neale, who dropkicked three field goals, 16 extra points and caught seven touchdown passes from quarterback Glenn Allen, who went on to play at West Virginia University.
They beat their Alumni 3-0, then traveled to New Martinsville to win 11-0 despite a hidden ball under the jersey trick by the home team. Then came a 24-0 win over Company A of the National Guard, a 17-0 win over Athens followed by successive victories over arch-rival Marietta by scores of 5-0 and then 6-0. The only points allowed during the entire season came in a 12-8 win over northern panhandle power Wheeling. That was followed by a 9-0 triumph over Charleston, a 6-0 victory over Athens and a 45-0 win over Clarksburg WI.
Other key players in 1911 for PHS, which did not officially become the Big Reds until 1915, were Dutch Lehman, Don Berkenstock, Harold Harvey, Chaarles Penwell and Raymond "Dutch" Neale (Greasy's brother).
-
Big Reds Land Trio on First All-MSAC Football Team
...Three Parkersburg Big Red football players have been named to the 2017 All-Mountain State Athletic Conference first team as selected in voting by the coaches.
...Two other PHS players were named to the second team and two more were selected honorable mention.
...All but two are underclassmen.
...Seth Dailey, Brenton Strange and Tyler Moler were picked on the first team while Ryan Creech and Matt Curry were named second team. Jake Johnson and Wyatt Strobl were honorable mention.
...Dailey was the lone PHS senior selected. The speedy Dailey was picked as a defensive back after coming up with three interceptions and five pass break ups this year to go with 29 tackles. He also scored six touchdowns on offense, catching 26 passes.
...Strange, the record-breaking junior, was selected as the first team all-conference wide receiver. Strange broke five PHS records this year and tied a sixth en route to a season which saw him catch 59 passes for 938 yards and 12 touchdowns.  The first two marks were season records while the touchdown total tied the record. He also ran the ball 11 times for 78 yards and a touchdown while scoring three more times on the defensive side of the ball for a total of 16 touchdowns. 
...A 6-foot-5, 212 pounder, Strange set a single game record with 12 receptions against Cabell Midland and broke the career record for receptions (128) and reception yards (1.,739) while tying the career mark for interception touchdown returns with four. His 88 yard TD catch against Huntington tied the record for longest in school history.
...Moler was one of three running backs picked for the first team. The 6-foot, 185 pound junior ran for 1,302 yards on 203 yards (6.5 average) with 17 touchdowns and tied the school record for long TD run with a 97 scoring jaunt against St. Albans on the first play from scrimmage of the season. His rushing yardage total is the fifth highest total for a junior in school history. The four ahead of him are all Big Red legends – Larry Rhodes (1963) with 1,438, Fred Earley (1940) with 1,564, Matt Lindamood (2006) with 1,551 and Allan Wasonga (2009) with 2,203.
...Creech, a 6-foot-3, 275 pound junior, was named offensive tackle on the second team while sophomore Curry was selected as the second team punter after averaging 35.4 yards per kick with 10 of his 35 punts being downed inside the opponents' 20 yard line.
...Johnson, another junior, was Mr. Versatility for the Big Reds as he completed 30 of 47 passes for 337 yards with four touchdowns and one interception while also rushing for 119 yards and a touchdown and catching 43 passes for 747 yards and four scores. He had four interceptions on defense, returning one for a touchdown.
...Strobl, a 6-foot-, 210 pound senior, led the team with 122 tackles with 17.5 of them behind the line of scrimmage.
The Big Reds finished 7-4.
2017 All-Mountain State Athletic Conference Football Team
First team
Offense
Quarterback -- Kerry Martin Jr., Capital, Jr.
Running backs -- Ivan Vaughn, Cabell Midland, Jr.; Tyler Moler, Parkersburg, Jr.; Christian Hill, Hurricane, Soph.
Wide receivers -- Anthony Pittman, Capital, Sr.; Jayson Barrett, St. Albans, Sr.; Brenton Strange, Parkersburg, Jr.
Tight end -- Jake Cassidy, Spring Valley, Sr.
Tackles -- Darnell Wright, Huntington, Jr.; Jordan King, Cabell Midland, Sr.
Guards -- Doug Nester, Spring Valley, Jr.; Brice Elswick, Cabell Midland, Sr.
Center -- Ben Billanti, Riverside, Sr.
Utility -- Dakota Cosby, George Washington, Jr.
Kicker -- Sam Burford, St. Albans, Sr.
Defense
Linemen -- Kalai Clark, Capital, Jr.; Owens Tillis, George Washington, Sr.; Steven Shine, Hurricane, Sr.; Malik Brown, Huntington, Sr.
Linebackers -- Isaiah Duncan, Cabell Midland, Sr.; Owen Porter, Spring Valley, Sr.; Tanner Williams, George Washington, Sr.; Breece Hoff, Capital, Jr.
Defensive backs -- Seth Dailey, Parkersburg, Sr.; Carlito Carter, South Charleston, Jr.; JaQuan Hall, George Washington, Sr.; Malik Grier, Huntington, Sr.
Utility -- Graeson Malashevich, Spring Valley, Jr.
Punter -- Logan Spurlock, Capital, Soph.
Second team
Offense
Quarterback -- Grant Wells, George Washington, Jr.
Running backs -- R.J. Evans, Ripley, Sr.; Tyree Swafford, Woodrow Wilson, Sr.; Caden Easterling, Riverside, Soph.; Quisean Gray, Capital, Jr.
Wide receivers -- Blake Wentz, Riverside, Jr.; Mikal Dawson, Huntington, Sr.
Tight end -- Dionte' Patterson, St. Albans, Sr.
Tackles -- Ryan Creech, Parkersburg, Jr.; Will Anderson, St. Albans, Sr.
Guards -- Austin Chapman, Riverside, Soph.; Ian Pomeroy, Woodrow Wilson, Soph.; Cam Kennedy, Capital, Jr.; Andrew Dolin, Ripley, Jr.
C -- Logan Osburn, Cabell Midland, Sr.
Utility -- Derek Johnson, Spring Valley, Sr.
Kicker -- Isaiah Carpenter, Huntington, Jr.
Defense
Linemen -- Zeiqui Lawton, South Charleston, Fr.; Phillip Wigfall, St. Albans, Sr.; Colton Wright, Woodrow Wilson, Jr.; Steve Perrine, Huntington, Jr.; Jase Raines, Cabell Midland, Sr.
Linebackers -- Payton Lunsford, Hurricane, Sr.; Drew Joseph, South Charleston, Jr.; Andrew Spears, Huntington, Sr.; Charlie Pierson, Riverside, Soph.
Defensive backs -- Kain Ford, Riverside, Jr.; Gage Lanham, Riverside, Sr.; Uriah Carvens, Capital, Sr.; Curon Cordon, Hurricane, Sr.
Utility -- Josh Kay, Ripley, Jr.
Punter -- Matt Curry, Parkersburg, Soph.
Special honorable mention
Capital: Chase Goldsmith; George Washington: Michael Hughes; Huntington: Shymeik Burger, Bryce Damous, Max Howell, Luke Zban; Hurricane: Krystoff Kudlak, Dakota Williams; Ripley: Ty Eshenaur, Cayden Keeler; Riverside: Mark Scites; South Charleston: DQ Watkins; Spring Valley: Logan Caldwell, Tanner Ferguson, Jake Hutchinson, Isaac Howard, Cody Sharp, Zach Williamson; St. Albans: Rodney Toler; Woodrow Wilson: Avante Burnett, Austin Hatfield, Tristan Stiffler, Nick Wickline
Honorable mention
Cabell Midland: Levi Kessler, Jovaun Light; Capital: Deishawn Harper, Jesse Wilcox; George Washington: Clark Ellis, Ryan Thomas; Huntington: Tay Blackwell, Dez Bradshaw; Hurricane: J.T. Cooper, Cole Runion; Parkersburg: Jake Johnson, Wyatt Strobl; Ripley: Rocky Ford, Dalton Myers; Riverside: Jacob Clark, Elijah Leftwich; South Charleston: Orange Dyess, Jalen Jones; Spring Valley: Parker Elmore, Mitchell Hall; St. Albans: Jaxson Holbert, Jake Taylor; Woodrow Wilson: Haven Chapman, Zach Weaver
Special award winners
Player of the Year -- Jadon Hayes, Huntington; Coach of the Year -- Billy Seals, Huntington
Strange, Mace Lead Record-Setting 2017 PHS Football Team
It was a record-setting year for the Parkersburg Big Red football team as Brenton Strange and Kam Mace led the way.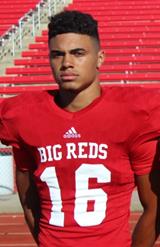 No less than 14 school records were broken or tied during the 7-4 season under new head coach Mike Byus – and the duo of Strange and Mace had a hand in all but two of them.
Although only a junior, Strange put his name in the record book no less than eight times and three of those were career records that he will add to next year. The 6-foot-5 versatile co-captain set a single-game record with 12 passes caught against Cabell Midland to better the mark of 11 set just a year ago by Karson Snyder against the same Midland team.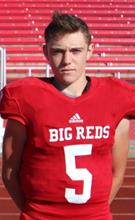 Strange and Mace tied a game record with

an 88 yard touchdown reception, equal lying the mark set in 2014 by Dan Fox (from Josh Trembly).
Strange set season and career records in two categories – passes caught and reception yards. He caught 59 passes for 938 yards to give him 128 receptions for his career for 1,739 yards. The old records were 54 passes caught by Karson Snyder last year and 870 receiving yards by Ryan Rader in 2001. The career records of 94 catches for 1,636 yards were

both held by Brad Johnson.
Two more records tied by Strange were for touchdown receptions in a season and interception touchdown returns for a career. He tied the TD record of 12 set last year by Snyder and tied the 91-year-old record of four interception returns in a career set back in 1926 by Howard Rutter.
Meanwhile, Mace made up for not playing the last two years and missing the first two games of the season by setting a single game record with 27 passes completed and broke three season records set by Chance Litton in 2004 to boot. He completed 146 passes to break the record of 142, threw for 2,139 yards to better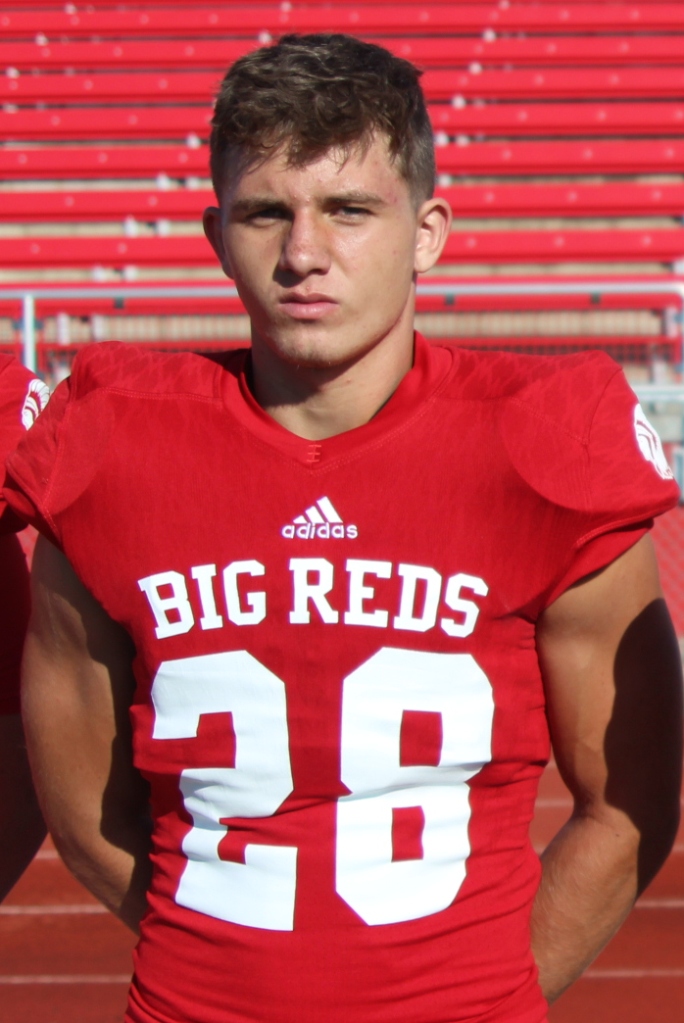 the mark of 2,075 and threw 21 regular season touchdown passes to top the previous mark of 20 in the 10-game regular season.
Mace teamed with Jake Johnson (who played quarterback the first two games before turning into the team's second-leading receiver) to help the team set a season team passing yardage record with a total of 2,476 to better the 2004 mark of 2,138.
The only record that did not involve Strange and Mace was Tyler Moler tying the single game record with a 97 yard touchdown run against St. Albans which equaled Adam Lindamood's 2012 run (also against St. Albans).
| | | | | | |
| --- | --- | --- | --- | --- | --- |
| PHS Football Records 2017 | | Category | Total | | Old Record |
| Individual Game Records Broken | | | | | |
| Kam Mace (vs. Midland) | | Passes Completed | 27 | | 25 Matt Newlon (2008 vs. PS) |
| Brenton Strange (vs. Midland) | | Passes Caught | 12 | | 11 Karson Snyder (2016 vs. Midland) |
| | | | | | |
| Individual Season Records Broken | | | | | |
| Brenton Strange | | Passes Caught | 59 | | 54 Karson Snyder (2016) |
| Brenton Strange | | Reception Yards | 938 | | 870 Ryan Rader (2001)  |
| Kam Mace | | Passes Completed | 146 | | 142 Chance Litton (2004) |
| Kam Mace | | Passing Yards | 2,139 | | 2,075 Chance Litton (2004) |
| Kam Mace | | Reg. Season TD Passes | 21 | | 20 Chance Litton (2004) |
| | | | | | |
| Individual Career Records Broken | | | | | |
| Brenton Strange  | | Passes Caught | 128 | | 94 Brad Johnson |
| Brenton Strange | | Reception Yards | 1,739 | | 1,636 Brad Johnson |
| | | | | | |
| Individual Career Records Tied | | | | | |
| Brenton Strange | | Interception TDs | 4 | | 4 Howard Rutter (1926) |
| | | | | | |
| Individual Game Records Tied | | | | | |
| Tyler Moler (vs. St. Albans) | | Longest TD Run | 97 | | 97 Adam Lindamood (2012 vs. St. Albans) |
| Brenton Strange from Kam Mace | | Longest TD Pass | 88 | | 88 Dan Fox from Josh Trembly (2014) |
| | | | | | |
| Individual Season Records Tied | | | | | |
| Brenton Strange | | TD Passes Caught | 12 | | 12 Karson Snyder (2016) |
| | | | | | |
| Team Season Record Broken | | Passing Yards | 2,476 | | 2,138 (2004) |
PHS 10th In All-Time Win Rankings
All-Time High School Football Wins (Through 2017)
Official National Federation High School Association Record
Rank
Wins
School
State
Overall
First Year

1

911

Valdosta

GA

911-227-34

1913

2

885

Fort Thomas Highlands

KY

885-237-26

1915

3

878

Louisville Male

KY

878-328-49

1893

4
873

Mayfield

KY

873-255-32

1919

5

871

Massillon Washington

OH

871-290-36

1894

6

846

Mount Carmel

PA

846-326-59

1893

7

833

Muskegon

MI

833-278-43

1895

8

828

Canton McKinley

OH

828-352-42

1894

9

822

Easton

PA

822-348-54

1894

10
820
Parkersburg
WV
820-322-33
1900

11

814

Everett

MA

814-373-79

1893

12

807

Hampton

VA

807-263-43

1920

12

807

Berwick

PA

807-334-43

1888

14

806

Steubenville

OH

806-316-36

1900

15

799

Lawton

OK

790-346-34

1902

16

794

Pine Bluff

AR

783-334-53

1901

17

791

Clinton

OK

788-277-38

1919

17

791

Brockton

MA

788-378-64

1897

19

786

Little Rock Central

AR

784-333-43

1907

20

786

Sioux Falls Washington 

SD

774-324-38

1899

21

784

Bakersfiled

CA

778-259-43

1897

22

783

Haynesville

LA

773-175-22

1907

23

782

Kingsport Dobyns-Bennett

TN

774-239-28

1921

24

781

Danville

KY

766-243-34

1924

25

776

Paducah Tilghman

KY

772-324-25

1904

26

771

East St. Louis Senior

IL

761-199-36

1925

27

770

New Britain

CT

765-340-51

1892

28

760

Louisville St. Xavier

KY

748-294-20

1917

29

743

Lawrence

KA

738-288-38

1891

30

742

Steelton Highspire

PA

742-435-58

1894
(Battle of the 'Burg) Documentary Youtube Video
Contribution Information
Commemorative t-shirts and bracelets are available and donations can now be made online here at the football web site by clicking on the PayPal icon under the t-shirt photograph on the left side of the page. Online contributions will be added to the sponor lists if the amount is sufficient.Contributors are reminded that tax deductible checks will be accepted. They should be made out to PHS Stadium Committee.
Sponsors are being sought with 10 levels of donations - Seat Named $200, Bronze $500, Silver $1,000, Gold $2,000 and Platinum $2,500, Team Captain $5,000, Reserved Seat Row $10,000, White $15,000, Team Spirit $20,000, PHS Big Red $50,000. Sponsors will have three years to honor their pledges. Sponsors meeting any of the pledge levels will be listed on a plaque to displayed prominently in the Stadium.
Donations from fans and alumni who are proud of Stadium Field and its storied 93 year history may also be sent to Parkersburg High School in care of Charlotte Potter, Stadium Field Committee, 2101 Dudley Avenue, Parkersburg, WV 26101.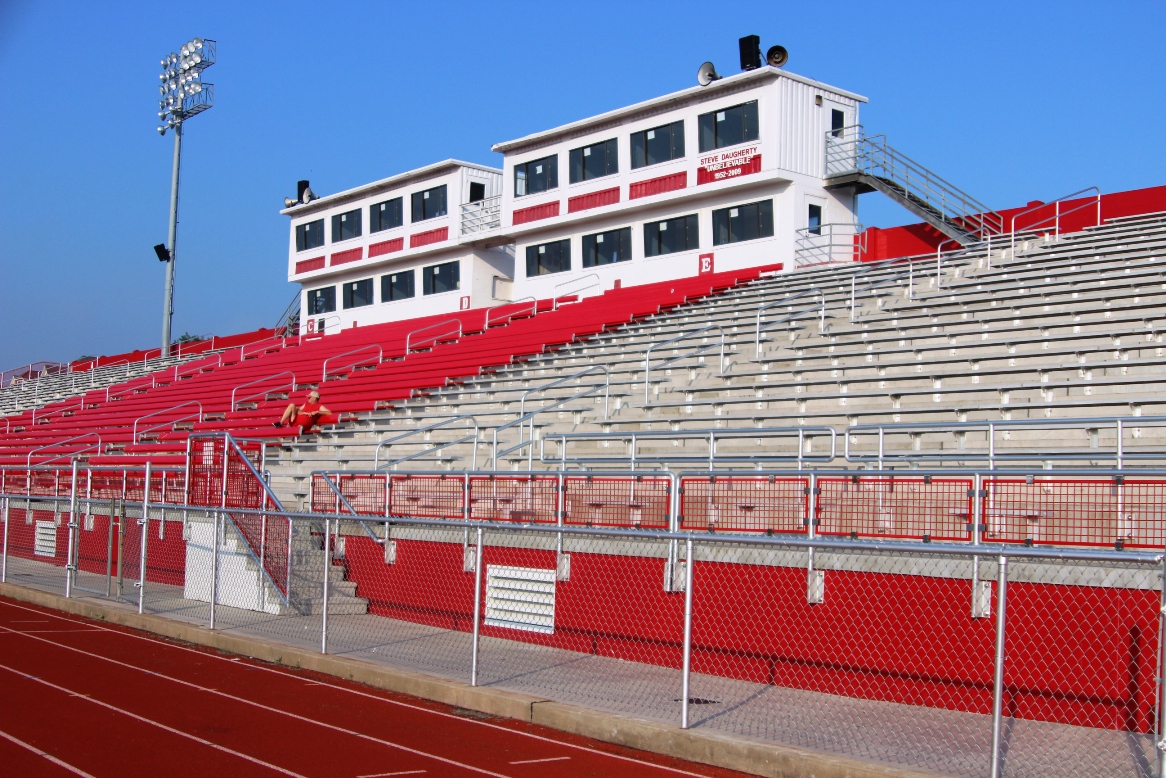 The home side finished product!
History of Stadium Field
In the spring of 1923 a group of men got together to form a stadium committee whose sole intent was to build a stadium for the newly constructed Parkersburg High School.
Those men included John S. Echols, President of the Board of Education, C.M. Martin, Sherman Dils, J.H. Biddle, C.T. Hitshaw, Herbert Smith, John Randolph, and Paul L. Summers. The committee was incorporated on July 14, 1923 and became known as the Parkersburg High School Corporation. The process of forming a corporation was necessary because the bonded indebtedness of the Board of Education was then at the peak permitted by law. Also serving on this committee was Fayette Smoot, H.L. Martin, Edward Doesch, H.R. Debussey and W.O. Holiday. The corporation leased the back campus from the Board of Education. It was impossible, according to the law of the time, for such a corporation to build any structure on land owned by a board of education. Therefore, the board had to turn over the land known as Stadium Field, on a 99-year lease to this corporation. The bonds were then released. The money for the bonds was to be recovered through football games and other activities held at the stadium.
The stadium was the first of its kind (concrete) in West Virginia and must have been the first of its kind to be built for the use of tax-supported institution without the investment of a single tax dollar.
The plans were to build one side of the stadium in 1923 and to build the other side the following year. The end of the U-shaped stadium was to be completed in the third year. When finally, completed it was to seat about 13,000 people. The end or bowl section of the stadium was never completed according to plans. The total cost of construction for the two sides was $104,000.
In just one day after the meeting in which the stadium plan was revealed, a total of $33,000 worth of bonds was sold.
In September of 1923 the first concrete was poured for the West stands of the stadium and on Oct. 4, 1923, the first game in the new stadium was played between the Big Reds of Parkersburg High School and Athens, Ohio. The Big Reds won by a 14-13 score. Ticket prices were 25 cents for student seating, 15 cents for student standing room. For the general public, the price was season ticket was $5 for seats and $4 for standing room.
In 1925 the stadium was officially dedicated. As part of the dedication, a race from Parkersburg to Marietta was held.
The installation of the stadium lights during the fall of 1940 made it possible for football games to be played at night. Until that time, most games were played on Saturday afternoon. The lights were installed by the Parkersburg Junior Chamber of Commerce at a cost of $7,000.75. The electric bill for the use of the lights was $3.25 per hour or about $10 for each game.
The lights were put in for the dual purpose of protecting the health of the players from the intense heat and to increase attendance. Among other reasons cited for the lighting was so that persons who worked Saturday afternoon could see the Big Reds play and so that the Stadium could be used for the purpose of holding other outdoor events such as political rallies or church events. Businessmen also felt that by playing Friday night games, Saturday afternoon business would be bolstered.
The first night game at PHS Stadium was Sept. 6, 1940 with the Big Reds beating Grantsville 50-0.
During the 1984-85 football season part of the stadium stands were closed for safety reasons. On June 13, 1988 it was recommended that both sides of the stands be closed. On June 14 the Board of Education accepted that recommendation.
During the summer of 1988 temporary bleachers were purchased and put up. Remodeling was done with funding help from C.O. Erickson and began in 1992. It was totally completed in 1994 with structural steel and concrete used to repair the stands.
In 1995 PHS qualified for home playoff games. After beating North Marion in the first round, the Big Reds were scheduled to host Wheeling Park. The Patriots protested the playing conditions at Stadium Field (no grass and nothing but mud) and a state inspection committee upheld the protest – moving the game to Tyler Consolidated High School. PHS won that game 28-7 and got to host the semifinal game after much work was done to repair the turf. But Hedgesville won the game 18-0 and the drive to install artificial turf on Stadium Field began in earnest.
The Stadium Renovation committee had its first planning session on Jan. 4, 1996 with more than two dozen members. In almost no time there were plans for an artificial surface to be added to the football field along with an 8-lane Eurotan track surface, new sidewalks, asphalt parking lot and refurbished concession stands.
On Aug. 30, 1996 the first game was played on AstroTurf Xl surface between Parkersburg South and Wheeling Park. On Sept. 6 the Big Reds played host to Hurricane on the new turf.
The cost of the new surface and renovations came to $1.25 million dollars which included $400,000 worth of in-kind services, $400,000 for advertising signs, $250,000 in donations and five bank loans of $400,000.
New light standards were installed in 1998. In 1999 new locker rooms were built in the Mary Lou Hague Memorial Sports and Arts complex at a cost of $536,390. In 2005 the restoration of the concrete stands was done at a cost of $129,356. In 2006 the turf was replaced at a cost of $295,000 with ProGrass artificial surface. In 2009 a new concession stand and restrooms were built on the home side at a cost of $195,000. The track was resurfaced in 2010 at a cost of $75,000 and in 2012 handrails were installed at a cost of $68,090.
In 2013 the home side bleachers were replaced in time for the second home game of the season. New seats were also installed with backs for the reserved seat section. The visiting bleachers still need to be replaced and contributions are still being taken.
Work was to begin in August, 2018, to replace the turf surface on the Stadium with work completed Aug. 26. The running track was also to be replaced but the surface was not to be finished until late October or in the spring of 2019.