| | |
| --- | --- |
| Name | Inducted |
| Alleman, Braden | 2016 |
| Anderson, Fred | 2015 |
| Armstrong, Jack | 2016 |
| Babcock, Bill | 2017 |
| Bargeloh, Jim | 2011 |
| Barnes, Walter "Piggy" | 2010 |
| Barnum, Leonard "Feets" | 2011 |
| Bell, Bill | 2017 |
| Biddle, Dick | 2011 |
| Brooks Jr., Dr. Paul | 2014 |
| Buttrey, Bernie | 2015 |
| Corbitt, Dr. Richard | 2012 |
| Crawford, Claude | 2016 |
| Crouser, Bill | 2012 |
| Cunningham, Howard | 2016 |
| Curkendall, Todd | 2016 |
| Custer, Dick | 2017 |
| Davis, Earl "Jubie"  | 2014 |
| Davis, Scott "Babe" | 2012 |
| Delozier, Brian | 2014 |
| DeVore, Harlan | 2016 |
| Duggan, Rich | 2013 |
| Earley, Fred | 2010 |
| Earley, Jim | 2011 |
| Eddy, Danny | 2014 |
| Elliott, George | 2014 |
| Gates, Eric | 2013 |
| Grimm, Eric | 2013 |
| Hammell, Al | 2014 |
| Handlan, Judge Joe | 2011 |
| Hayden, Mke | 2013 |
| Heavner, Dr. Randall | 2015 |
| James, Buddy | 2010 |
| Jenkins, Josh | 2014 |
| Jett, Carroll | 2016 |
| Johnson, Billy | 2015 |
| Johnson, Brad | 2012 |
| Kimes, Marc | 2010 |
| Kirby, Nathan | 2014 |
| Kupfner, Bill | 2013 |
| Lindamood, Joey | 2015 |
| Lindamood, Matt | 2014 |
| Lindamood, Mike | 2017 |
| Littleton, Matt | 2016 |
| Lockhart, Rob | 2015 |
| Longmire, Ed | 2010 |
| Louden, Barry | 2010 |
| Louden, Connor | 2015 |
| Maddox, John | 2017 |
| Manzo, Dave | 2013 |
| Marshall, Rick | 2015 |
| Mazzella, Joel | 2013 |
| McCoy, Mike | 2012 |
| McHenry, Ross | 2010 |
| Miller, Curt | 2017 |
| Miller, Joe | 2015 |
| Murrin, Clarence | 2016 |
| Neale, Earle "Greasy" | 2011 |
| Nedeff, George | 2013 |
| Parsons, Russ | 2012 |
| Pence, Fred | 2016 |
| Pence, Richard "Dick" | 2016 |
| Phillips, Dave | 2011 |
| Phillips, Larry | 2011 |
| Phillips, Mike | 2011 |
| Phillips, Rick | 2011 |
| Rayburn, Ed | 2017 |
| Reeves, Don | 2013 |
| Rexroad, Dennis | 2016 |
| Rhodes, Larry | 2010 |
| Richards, John | 2011 |
| Roberts, John | 2015 |
| Romeo, Josh | 2015 |
| Schenerlein, Scott | 2013 |
| Schwartzwalder, Ben | 2011 |
| Scott Jr., Jimmy | 2016 |
| Scott Sr., Jimmy | 2012 |
| Setron, Joe | 2017 |
| Snyder, Jim | 2013 |
| Spencer, Luke | 2014 |
| Swain, Carroll | 2015 |
| Swisher, Mark | 2012 |
| Swisher, Nick | 2012 |
| Taylor, Charlie | 2017 |
| Thomas, Andy | 2017 |
| Thomas, Lou | 2017 |
| Virden, Gary | 2011 |
| Watson, Bowman | 2010 |
| Way, Clyde | 2014 |
| Weaver, Joe | 2012 |
| Winans, Dave | 2010 |
| Winans, Rich | 2012 |
2017 Inductees
Miller, Thomas Brothers Earn Latest Hall of Fame Honors
Captain Curt Miller will join the Thomas brother tag team duo as the final 2017 inductees into the Parkersburg High School Football Hall of Fame this Friday night when they are inducted prior to the Riverside game at Stadium Field.
Curt Miller, one of three brothers who were all Big Red football captains, will be enshrined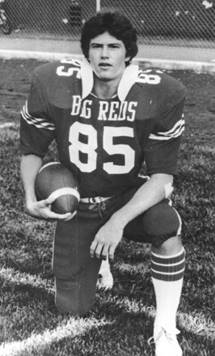 along with the wrestling Thomas brothers, Lou and Andy. While the Thomas brothers won seven state wrestling titles, they also earned all-state honors in football.
Miller, the son of former Big Red gridder Paul "Offie" Miller was captain of one of the best defenses in the history of Parkersburg High School football. He had two brothers Craig Mueller and Pat. All three were football captains as seniors.
A letterman for the Big Reds in 1977 through 1979, Miller helped PHS make the playoffs all three of those years. The team won the state title in 1978 and lost to the eventual state champion the other two seasons. Overall, the team compiled a 29-7 record with Miller being a two-year starter at defensive end and making first team all-state at that position as a senior.
The 1979 team was the number one ranked defense in the state, allowed just 35 points (5 touchdowns) for an average of only 2.9 points per game. Only points allowed in the first half by that team was a field goal and overall the squad posted seven shutouts. They allowed just 934 yards rushing all year and only 323 yards passing (with 2 touchdowns) and came up with 15 interceptions.
A lifelong resident of Parkersburg and owner and operator of Curtis Miller Insurance, the newest Hall of Fame selection is married. He and his wife Ginger have two daughters, Brittany Miller Meadows and Lexi Miller.
The only Parkersburg High School football player to quarterback back-to-back state championship teams, Andy Thomas will join older brother Lou, who was runner-up for the Hunt Award, in the Hall of Fame.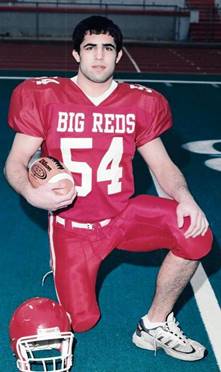 The sons of Parkersburg Catholic all-state tackle Lou Thomas, the Thomas boys were known for their tremendous defensive abilities.
Lou made first-team all-state in 2003 after a senior season that saw him rack up 123 tackles, 78 of them solo, to go with 13 quarterback sacks, nine tackles for loss and 11 hurries for a team that went 7-5 and lost in the playoff second round to Cabell Midland. He lost the Hunt Award, given to the best lineman in West Virginia, by one vote to Doug Legursky, who went on to play on the Pittsburgh Steelers 2009 Super Bowl champions.
While Andy will forever be known as the young man who led the Big Reds to two straight state titles and a 27-1 record as a quarterback, he made all-state as a defensive back and that is not surprising. H was second on the team a senior with 117 tackles and had three interceptions. He was a three-year standout on the prevent unit. As a sophomore he had 82 tackles and four interceptions and as a junior he had 71 stops and one interception. That means he had 270 tackles for his career – believed to be a school record.
Overall, Andy was a starter on teams that went 35-5. A two-year starter at quarterback he was the model of consistency. As a junior he completed 56 percent of  his passes for 570 yards and nine touchdowns while rushing for 618 yards and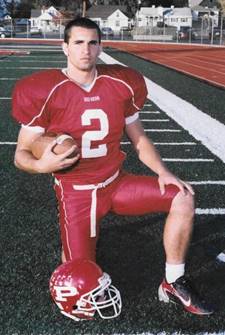 11 scores. As a senior he completed 58 percent of his passes for 725 yards and 11TDs while running for 665 yards and nine scores.
As good as they were on the gridiron, the Thomas boys were even better on the wrestling mat.
Lou was a three time state champion and won the Bob Dutton award given annually to the state's best wrestler. The Big Reds won state titles in 2003 and 2004. He also won the Dave Schultz award as the state's top wrestler before going on to Pitt on scholarship and then transferring to WVU, where he competed for two years.
Andy was a four-time state wrestling champion (one of only two in school history) and was a high school All American on the mat. Like his brother, he helped PHS win state championships in that sport as a junior and senior, thus making the Big Reds the only school to win back-to-back titles in football and wrestling.
Both work at Thomas Subaru. Lou just recently married Jamie Reed. Their mother is Judy.
Newest Hall of Famer One of Only 4 Select Grid, Cage All-State Honorees
In the storied history of Parkersburg High School athletics there have been 142 men earn first-team all-state status in football.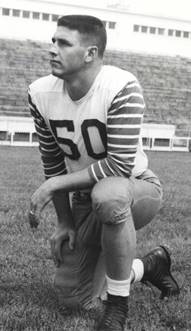 However, the list of men to earn the highest honor in both football and basketball is quite short.  It totals just four - Braden Alleman and Claude Crawford from a hundred years ago, Leonard "Feets" Barnum from the 1930's and this year's newest Hall of Fame inductee from 1953-54, Dick Custer.
He will be inducted into the Big Red Football Hall of Fame Friday night prior to the Hurricane game at Stadium Field.
Custer, 6-feet, 5-inches tall and weighing 225 lbs. was the all-state tackle in 1953 as he led the Big Reds to an 8-2 campaign.  He followed that up in the winter as he guided PHS to the state basketball tournament and was named first-team, all-state center.   Later that spring the well-rounded Custer was named all-state in choir as a member of Parkersburg's A Cappella Choir.
Parkersburg was 8-2 during both Custer's junior and senior seasons, allowing just 59 points in 1952 and 64 points in 1953.  Coach Jimmy Scott's 1952 team, anchored by the brawn of Custer, posted three consecutive shutouts and allowed just two teams to score two touchdowns.   The 1953 team also logged three shutouts and gave up two touchdowns in a game three times, including both losses.
Called "the highest rated college football prospect in the state" by the all-state committee, Custer was the heaviest man at 225 pounds on the all-star squad, illustrating again how much football has changed.  At 6-5, he was also the biggest boy on the all-state basketball team.
Custer played one season of basketball at Indiana University.
He is survived by wife Judith (Norris) Custer and children Paul Custer Jr., Kathy Riotto, Shelly Turner and Teresa Wynn. Bell, Taylor To Be Inducted Into Football Hall of Fame Friday
The two newest members of the illustrious Parkersburg High School Football Hall of Fame knew how to do one thing – win football games.
Both were the key players on undefeated state championship teams as Bill Bell led the Big Reds to the 1938 title with a 10-0 record while nearly 70 years later Charlie Taylor did the same as he powered PHS to the 2006 state crown and a 14-0 record.
They will be inducted into the Hall of Fame Friday night prior to the Big Reds' game at Stadium Field against Beckley Woodrow Wilson.
Harold William (Bill) Bell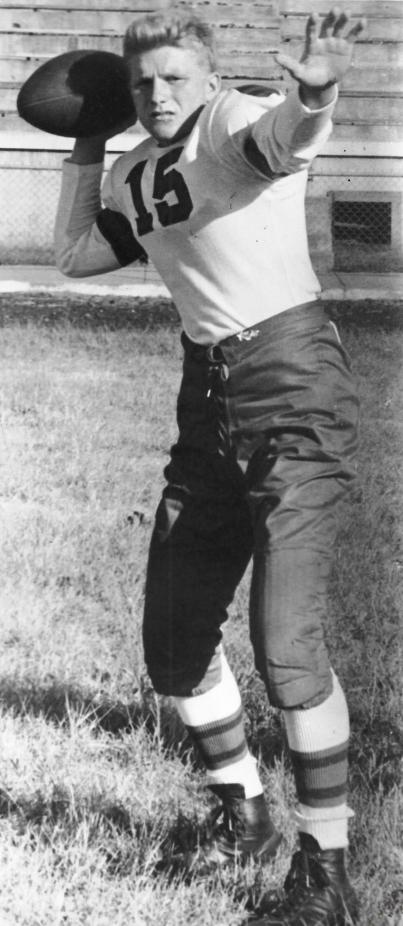 A football life.
Those three simple words summed up the illustrious career of Bell, who was an all-state performer at Parkersburg, an All-American halfback at Muhlenberg College in Pennsylvania, a coach on the 1959 national champion Syracuse squad and a scout for the Houston Oilers and San Francisco 49ers in the NFL.  From his beginnings as a Big Red in the late 1930's until his retirement in the late 1980's, Bell's football career spanned 50 years.
At PHS Bell quarterbacked the Big Reds to the 1938 state championship, throwing for over 800 yards and rushing for 800 more with 14 touchdowns.  He had a five-touchdown game that year against East Fairmont. 
As a senior in 1939 he was named captain of the all-state team after passing for more than 1,000 yards and rushing for nearly 800 more and 11 TD's.  In his career he scored 31 touchdowns and rushed for nearly 1,800 yards as the Big Reds compiled a lofty 26-3-2 mark, including a perfect 10-0 in 1938.
Bell played football at West Virginia University in 1941 before joining the Army Air Corps as bombardier and navigator during World War II.  He finished college at Muhlenberg in Allentown, PA, where he played both football and baseball and was inducted into that school's Hall of Fame in 1982.
After college Bell followed his former Parkersburg coach Floyd "Ben" Schwartzwalder to Syracuse and was an assistant on the national championship team.  He left coaching in 1968 and scouted for the next 20 years.
Bell, who passed away in August of last year,  is survived by three daughters, Betsy Ward of Winter Park, Florida, Cynthia Andrews of Fabius, New York and Keryn Piersa of West Palm Beach, Florida.
Charlie Taylor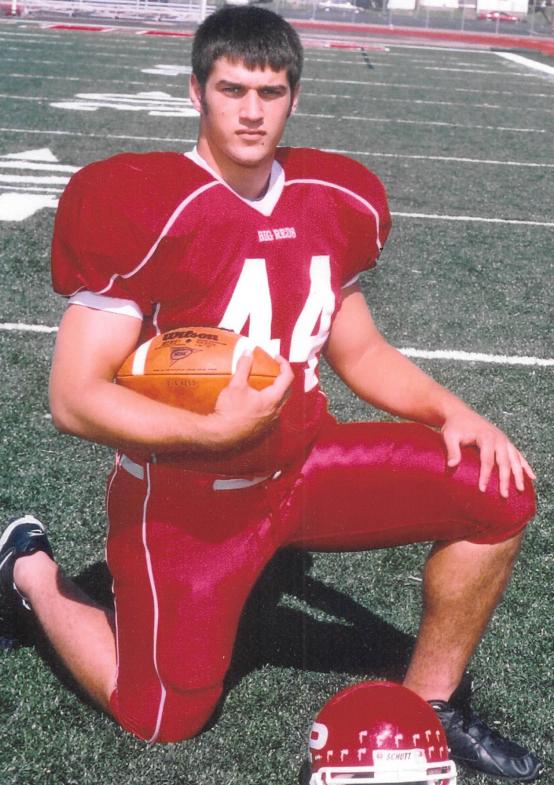 Parkersburg High School's last undefeated team was indeed Taylor's team.  The 6-1, 230-lb. fullback and linebacker was the glue that kept the team together according to coach Bernie Buttrey and was as well-respected for his leadership and for his on-field performance.
In that undefeated 2006 season, Taylor rushed for 1,150 yards and caught passes for another 191 yards while scoring 11 touchdowns.  He also collected 71 tackles including 13 for loss on a team that outscored its 14 opponents by a margin of 412-89.  He was at his best in Parkersburg's state title run, scoring touchdowns in all four playoff games.  He culminated his senior season with a 123-yard effort against Martinsburg for the championship.
Taylor will be forever remembered for the play of the season against defending state champion Morgantown in the state semifinals.  Facing a third-and-22 dilemma, Taylor caught a screen pass and turned it into a momentum changing 42-yard touchdown.  He broke six tackles on the play and refused to go down until he reached the end zone.  PHS went on to win that game in convincing fashion, 42-14.
He finished his career with 1,528 yards rushing and bulled his way to a career-best 221 against St. Albans during that magical 2006 season.
Most importantly, Taylor finished his career as a 4.0 student.  He graduated from WVU and is a civil engineer with United Construction in Parkersburg.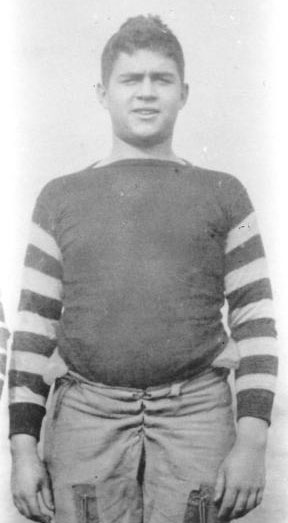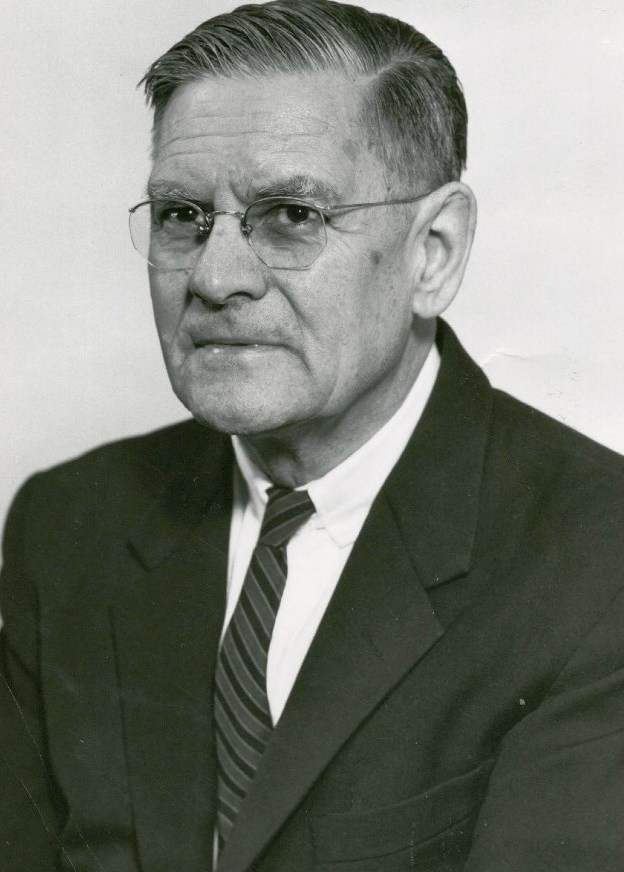 .................Joe Setron...........................................................Bill Babcock
Setron, Babcock Enter PHS Hall of Fame
A man who was a giant on the football field 100 years ago and another man who was a giant in the newspaper community will be honored Friday night as the latest members of the Parkersburg High School Football Hall of Fame.
Joe Setron, an all-stater from 1917, and Bill Babcock, a legend in the fourth estate and the greatest statistician of his time, will be enshrined prior to the Big Reds hosting ancient rival Marietta at Stadium Field.
Setron was indeed a man among boys. The 250-pound offensive guard and defensive tackle was a first-team all-state selection for Parkersburg High School thanks to his dominance along the line of scrimmage.
Often referred to as a giant because most players in that era weighed closer to 150 pounds than 250-pounds, Setron blocked and tackled the Big Reds to a 10-2 record. Parkersburg outscored its opponents 429-57 but suffered shutout losses to Charleston and Huntington.
The beneficiary of Setron's blocking was two-time all-stater Claude Crawford, who rushed for 20 touchdowns and two extra points in 1917.
Setron went on to play collegiately at West Virginia University from 1919-1922. He was a three-year starter, a second-team All-American guard and was named to WVU's all-decade team for the 1920's. He played in the Mountaineers first-ever bowl game in 1922.
After graduation Setron played one year in the NFL for the Cleveland Indians. That 1923 squad posted a 3-1-3 record. He then returned to West Virginia University where he served as the head coach of the freshmen team in 1925, 1926 and 1927.
He lived in Cleveland, Ohio at the time of his death. He will be represented at his induction by niece Nancy Setron Evans and her family.
Babcock was born in Vermont then moved to the Boston area. He moved to Parkersburg in 1931 as part of his job with the O. Ames Co. Although he worked as an accountant his passion was writing sports. In 1941 he became Tax Division manager for Parkersburg Rig and Reel, a position he held until forced to retire at age 65. He then moved to Kalamazoo IM where he died at 1966.
In 1935 he offered himself as a part-time employee of the Parkersburg News and later switched to the Sentinel. In all he worked 23 years for the fourth estate and covered 367 football games.
His first game was 1935 against Morgantown and ended in 1958 at Huntington East. In the dressing room after that last game he gave a brief talk and the team responded by vowing to beat Weirton the following week for Mr. Babcock as part of a cheer led by big Carl Elliott. The team presented the game ball to Babcock's wife at the post-season football banquet.
It is also recorded that he was a statistician who had no peer. Without the use of a calculator or computer, Bill not only kept the play by play accounts of during the football games but the individual yardage as well. And he could produce the figures at the drop of a hat. And he not only covered football, but also basketball, baseball, and track for PHS with the same precision and detail. And while he was first and foremost a Big Red fan, he also covered many games in L-K towns around Parkersburg and was the official scorer of the City Park baseball league. Additionally, he promoted bowling in Parkersburg, often serving as the official scorer for many bowling leagues. As a result of his efforts to keep the sport of bowling in the limelight, he was selected to be an honorary member of the Parkersburg Bowling Hall of Fame.
His family included his wife, Mildred Babcock, two sons Bill Babcock, Jr and Allan Babcock, and daughter Barbara Kight – all now deceased. Amongst his living relatives are his daughter Virginia (Ginny) Babcock Myers and her family which includes Deborah Myers Richardson; Barbara's son Fred Kight, and Allan's daughter Carol Babcock Straight.
Lindamood, Maddox, Rayburn Lead Off
PHS Football Hall of Fame 2017 Class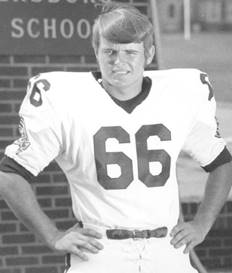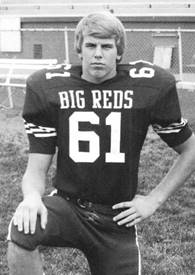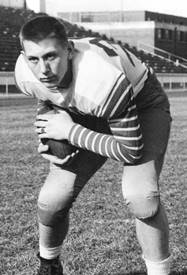 Mike Lindamood               .................John Maddox                     ..........Ed Rayburn
The eighth class of the Parkersburg High School Football Hall of Fame begins with the third member of a three generation Big Red family, a player who literally grew into Big Red gridiron stardom, and an all-around standout from the early 1950's.
Mike Lindamood, an all-stater from 1970, John Maddox, the captain of the 1977 team and Ed Rayburn, a clutch performer on the Big Reds in 1950 and '51, will enter the Hall of Fame on Aug. 25 in pre-game ceremonies to take place as PHS opens the 2017 season by hosting St. Albans.
The third member of the Lindamood family to enter the PHS Hall, Mike has the odd distinction of following two of his nephews – Matt and Joey, who were two of three outstanding brothers (Adam being the other) – into the cherished membership. His nephews were the offspring of brother, Mark, who also played for the Big Reds in the 1970's as did their father in the mid-1940's for coach Jimmy Scott.
After an outstanding career for the Vienna Wildcats and Jackson Generals, Mike Lindamood moved on to the Little Reds in 1968 and in 1969 he became a starting defensive linemen for the Big Reds.
He had a two-year reign as defensive star for PHS teams which lost just three times (with one tie) and gave up just 68 points one year and 108 the next. Thirteen times over that span the Big Reds gave up one touchdown or less. He was Indian of the Week seven times, had nine unassisted tackles in one game and graded out at 91% one game as a lineman. He was Defensive Player of the Year as a Senior on his way to first team all-state honors as a nose guard.
Lindamood went on to play football at Fairmont State and currently resides in Crystal Lake, Illinois. He and his wife Cindy have a son, MJ, and daughter, Yvonne, with five grandkids.
Maddox became an all-state football player during his three-year Parkersburg High career by getting bigger and better each year.  He morphed from a 6-3, 170-pound tight end that led the team in receiving as a sophomore to a more rugged 6-4, 190-pound guard on the 1976 state championship team and finally, to a 6-4, 225-pound senior behemoth on the line that opened holes for a rugged running attack led by three-time 1,000-yard rusher John Richards.
Parkersburg enjoyed great success during Maddox' stellar career, posting a 27-6 cumulative record.  The Big Reds won the title in dominating fashion in 1976 and then lost in the semi-finals to Beckley in 1977.
However, it was PHS' lack of offense in 1975, along with Maddox' growth spurt and commitment to the weight room, that led him into the trenches.
Buddy James' 1975 team compiled an 8-2 record but scored only 127 points.  Maddox was the leading receiver on that squad with 8 receptions for 112 yards and one touchdown and one extra point.  But, when he moved to the line in 1976 the offense coincidentally exploded to the tune of 352 points and over 2,000 yards rushing.
As an overpowering senior, and Captain of the '77 team, the Big Reds racked-up 242 points and accumulated more than 2,000 yards rushing.
A first team All-State selection Maddox was invited to play in the West Virginia North-South All-Star Football Classic. In addition to be selected Captain of the North squad the game took on special meaning as Maddox' father (James Maddox) also played in the N-S classic in 1946.
Maddox accepted a full athletic scholarship to the University of Kentucky where he played offensive guard and center. Awarded offensive lineman of the year, FCA player of the year and elected team Captain his senior year. 
Maddox graduated with a B.B.A. in Finance and is a partner in a privately held investment management firm located in Lexington, Kentucky. Married to Lynn (Shores) Maddox, originally from Charleston, WV and they have two daughters Tayler and Samantha. His wife's father is former Kennedy Award winner Hoppy Shores.
The final member of the first group of inductees was called by head coach Jimmy Scott the best all-around football player in the state of West Virginia as a senior in 1951.
Rayburn played both offense and defense for the Big Reds in 1950 and 1951 and was an integral part of the 1950 state championship squad that went undefeated (11-0) and clobbered Oak Hill 40-0 in the title game. PHS had seven shutouts in 1950, allowed just 39 points and averaged 28 points per game. The versatile Rayburn contributed three touchdowns.
As a senior, Rayburn and the Big Reds lost their dreams of back-to-back state titles with a regular season loss to Stonewall Jackson (only two teams made the championship round).
Playing right halfback or wingback from the winged-T formation Rayburn ran for eight touchdowns. He averaged 8.7 yards per carry and did all the kicking, including 21 extra points. He usually put the kickoffs into the end zone and averaged a whopping 41 yards per punt while completing seven of eight pass attempts including one for a touchdown to Bob Summers. On defense he was a linebacker.
Rayburn culminated his senior season by being named first team all-state and was selected as a High School All American.
2016 Inductees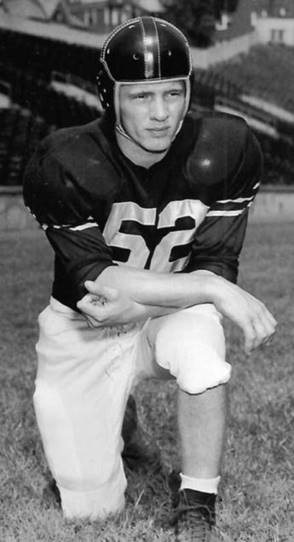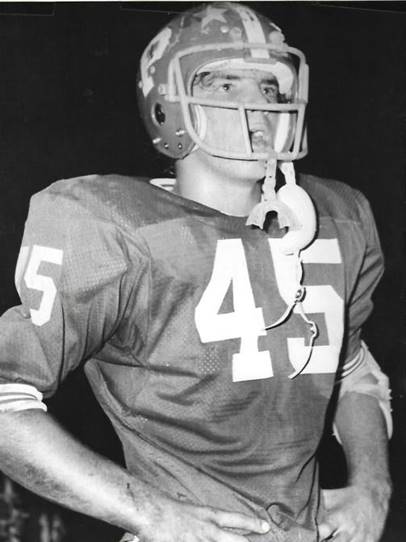 ................ Richard "Dick" Pence                              ..............................     Fred Pence

Family Tradition Continues Friday As Pence Father-Son Duo Enter Hall of Fame
Family is a big part of Parkersburg Big Reds football tradition.

The Earley family, the Winans family, the Phillips family, the Barnums, the Swishers, the Loudens, the Lindamoods, the Johnsons and Jenkins. The list goes on and on.

Another family will make its official entry into the PHS Football Hall of Fame on Friday night when Richard "Dick" Pence and his son Fred Pence will be inducted as part of the pre-game ceremony for the Parkersburg South contest.

Dick Pence, who passed away in 1998 at the age of 72, was the father of six future Big Reds. He was a two-year starter for PHS in 1941 and 1942 and helped power the Big Reds of coach Jimmy Scott to a 19-2-1 record over that span as a 5-foot-9, 169 pound right guard.

PHS was potent on both offense and defense with Pence anchoring the line. In 1941 the team outscored opponents 291-36 and had five shutouts. The only blemish was a scoreless tie with Charleston.

The following season they were just an impressive, outscoring the opposition 321-70, but stumbled to Wheeling and Weirton. The Weirton game was a 13-0 setback that enabled the Red Riders to claim the mythical state championship.

For his play, Pence was named first team all-state as a senior with teammate Fred Earley being named captain.

After high school he went to West Virginia University and played on the 1943 team before entering World War II with the U.S. Navy. He came back from the Navy to play center at WVU in 1946, 1947 and 1948. Pence also graduated from Ohio State and the West Virginia College of Law. He was a practicing lawyer starting in 1951 and was a municipal judge for three years and prosecuting attorney for four years. He was a major supporter of youth athletics in our community.

The younger Pence also lacked the size of a typical football player, checking in as a Big Red junior at 5-foot-9 and 169 pounds but prior to that season head coach Buddy James stated there was something special about the young fullback.

The 1972 season saw PHS go 7-2 after winning its first six games. They lost a 14-13 heartbreaker to Stonewall Jackson despite a huge night by Pence, who ran 26 times for 134 yards and two touchdowns while catching two passes for 15 more yards. That loss, coupled with a 12-0 season-ending defeat in the mud to arch-rival Parkersburg South, caused the Big Reds to finish sixth in the final ratings with only the top four went on to the playoffs.

After rushing for 850 yards and 10 touchdowns as a junior, Pence was held to 585 yards as a senior but still earned first team all-state honors as a defensive back. He scored 11 touchdowns as a senior giving him 136 career points and 1,435 career rushing yards.

The team compiled a 9-2 record, losing to number one ranked East Bank 21-6 in the first round of the playoffs.

After graduation, the younger Pence went on to WVU and was on the 1975 Peach Bowl team coached by Bobby Bowden. He still resides in Parkersburg and has been a local businessman for nearly 40 years.
Armstrong, Curkendall Named To Hall of Fame
 Two key members of state championship teams are the latest players to be selected for the Parkersburg High School Football Hall of Fame.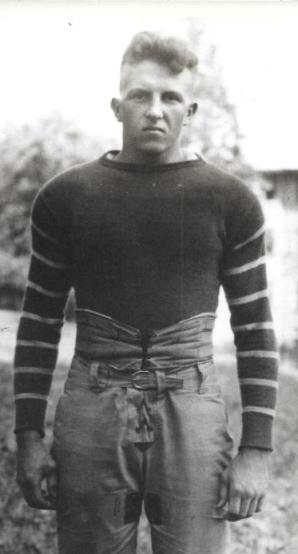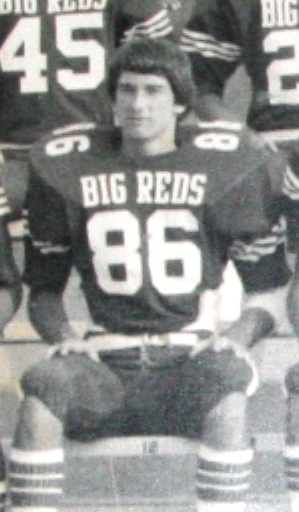 Jack Armstrong Todd Curkendall
Jack Armstrong, a three-year starter and captain of the 1919 all-state football team, will join Todd Curkendall, a two-way standout on the 1978 Big Red championship squad.
Both were to have been inducted Friday night at Stadium Field at 6:30 p.m. prior to kickoff for the Warren game but a scheduling conflict has come up that will prevent Curkendall from attending so his induction has been rescheduled for Nov. 4.
Armstrong scored 17 touchdowns in 1917 as PHS compiled a 10-2 record.  Included in that total was a 6-touchdown performance in a 120-0 victory over Middlebourne.  Ironically, teammate Claude Crawford also scored six TD's in that same game!

In 1918 Armstrong missed most of the season with the Spanish Flu – an epidemic which reduced the Big Reds' schedule to only three games.  That Big Red team was still voted state champion based upon its 2-1 record.

The 1919 team finished 7-1 and won its second state championship thanks to 11 touchdowns by Armstrong.  For that performance the Big Reds quarterback was named Captain of the all-state squad.

Jack and Brother Thomas both went on to play professionally in Pittsburgh.

Armstrong returned to Parkersburg and owned the old windmill building which was a Sunoco gas station at the time.  He then owned and operated the Western Auto store in Vienna. He died in 1984.

Jack's nephew, Dr. William H. Armstrong, DVM, has the Vienna Small Animal Hospital.

The year 1978 was a break-out season for Curkendall.   From his wide receiver spot he grabbed a Class AAA-best 10 touchdown passes and from his defensive back position he snagged a school record 10 interceptions, including two in the state championship game – a hard-fought 6-0 shutout of Dupont.

The intense, 6-3, 180-pounder was the "go-to" guy on the outside of a run-dominated team.  He caught 43 passes his senior year for 791 yards and two extra points to go along with the 10 touchdowns.  All marks (catches, yardage and touchdowns) were school records at the time, since eclipsed in this pass-happy era.

Defensively Curkendall was a ball-hawk for the Big Reds.  He had 51 tackles to go along with his 10 interceptions on a team that surrendered just 86 points through its 13-game state championship run which included three shutouts in the playoffs.  His interception in the end zone late in the state championship game sealed Parkersburg's 1978 title.

Curkendall was also honorable mention all-state in basketball and baseball his senior year and went on to play collegiately at Morehead State.  He is a former coach and present school administrator in Fort Knox, Kentucky.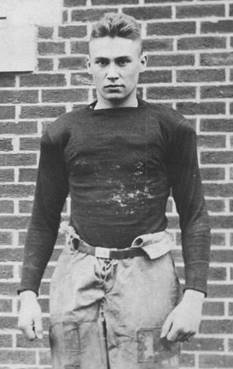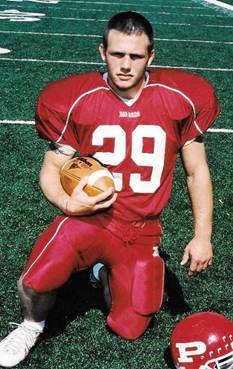 Clarence Murrin                 Matt Littleton
Murrin, Littleton To Enter PHS Football Hall Friday Night
A two-time first team all-stater on the only back-to-back state championship teams at Parkersburg High School and a member of one of the famous Big Red football families will be inducted into the PHS Football Hall of Fame Friday night prior to the Cabell Midland game at Stadium Field.
Matt Littleton and Clarence Murrin will enter the Hall of Fame as part of the Class of 2016.
Another in what seemed to be a long line of small, hard-hitting linebackers, Littleton earned the nickname "Dirt" as he led the 2006 state championship team in tackles and first team made all-state

Generously listed as 5-foot-8 and 175 pounds in the state playoff program for the number one ranked Big Reds, Littleton anchored the PHS prevent unit as a junior. He returned as a senior in 2007 to again make first team all-state and lead the Big Reds to another state title, marking the first time in history that PHS had won back-to-back crowns on the field.

He was also a top-notch wrestler in high school, finished state runner-up as a junior and finished third as a senior with a torn ACL. The Big Reds were state champions in wrestling both years and Littleton was team captain both years.

Since most colleges don't recruit small linebackers in football, Littleton turned to wrestling to continue his competitive career at West Liberty University and he was a four-year starter, being team captain one year. He was a national qualifier as a junior but lost in the All American round by one point. As a senior he was ranked sixth in the country but again tore his ACL and could no longer compete.

He graduated in 2014 and returned to coach at Wheeling Jesuit University as an assistant to help start the program there. He is currently a substitute teacher.

Murrin played on two state championship teams at Parkersburg High School and his teams won 24 games and lost only five during his illustrious career.

Murrin was a first-team all-state end in 1921 as the Big Reds went 9-0 and won their third state championship.  Remarkably, out of 22 first and second team all-state positions that year, Parkersburg filled eight of them!

He was a second-team all-state end as a senior in 1922 as PHS won back-to-back championships by public acclaim.  He was also a second-team selection as a sophomore when he led Parkersburg with four touchdown receptions and six total TD's.

Murrin's brother Julian was the team's leading rusher and scorer in 1921 and was selected a second-team all-stater while cousin George "Chunky" Murrin was the first-team all-state center in 1922 and a second-team selection in 1921.

Brothers Clarence and Julian both played collegiately at West Virginia University, beginning in 1924 – the year Old Mountaineer Field opened.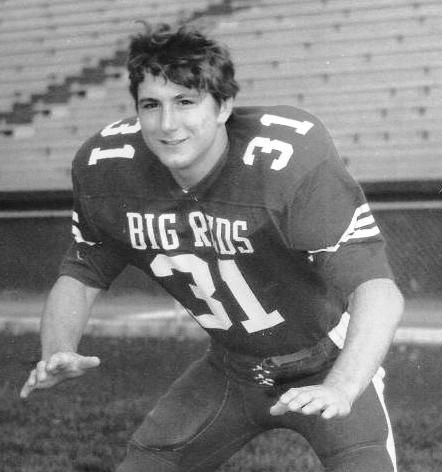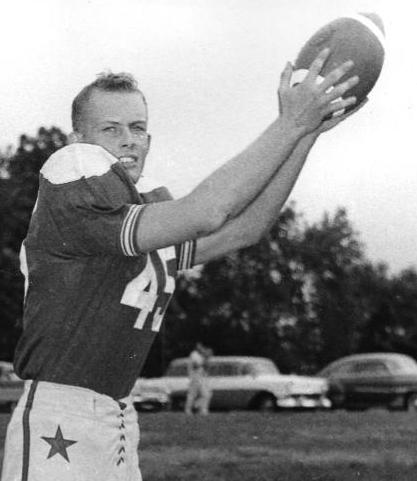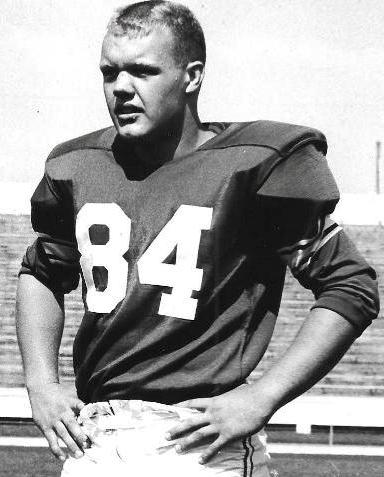 ...........Dennis Rexroad .......................Howard Cunningham ..................Jimmy Scott
Rexroad, Cunningham, Scott Enter Hall
The three latest members of the Parkersburg High School Football Hall of Fame prove you don't have to be a quarterback or running back to get your share of the glory and headlines.
A defensive end, a two-way end and a tackle that all earned all-state honors for the Big Reds are the newest Hall of Famers as Dennis Rexroad, Howard Cunningham and Jim Scott have been selected as part of the class of 2016.

The 1976 PHS football team is considered to be one of the best ever despite losing two regular season games. It was considered one of the best because of the way the players were able to bounce back from those two losses in the middle of the season and go on to put on the most dominating performance in the history of the West Virginia High School football playoffs.

For their efforts the Big Reds landed an unheard-of five players on the all-state first team – a feat that had never been achieved before and has never been topped since. Of those five first team all-staters in 1976, four are already in the Hall of Fame and now Rexroad completes the sweep.

A 145 pound state wrestling champion, Rexroad had 126 tackles from his end position during his senior season. That defense had six shutouts going into the playoffs. PHS did not even get a spot in the four-team playoffs until Beckley lost to Oak Hill in a make-up game on the last Saturday of the season. But once in the playoffs the team proceeded to knock off the number one and then number two ranked teams in the state. Both those teams were averaging 32 points per game. Top-rated Martinsburg hosted the Big Reds and were dominated in a 38-0 PHS victory over the future NFL star Fulton Walker-led Bulldogs. Then came DuPont and the final score was 30-0 in favor of the Big Reds, who shut down the explosive Panthers, holding them to 91 total yards after limiting Martinsburg to 92 total yards the week before.
Pressed into action on the offensive side of the ball as a running back in the championship game, Rexroad responded with a game-high 119 yards on 20 carries with a touchdown and a two-point conversion.
During his three-year career as a starter, Rexroad helped the Big Reds shut out 18 of 34 opponents. He was named Fellowship of Christian Athletes National High School Athlete of the Year as a senior. Now a successful businessman in Knoxville, Tenn., he graduated from Virginia Tech. He and his wife of 29 years, Laura, raised two sons and two daughters. He gives a special thanks to his mother, Betsy, whose efforts were "Hall of Fame worthy."

Coach Russ Parsons called Cunningham, "The finest end, pound for pound, I have ever coached. No one could turn his end."

And as proof of that fact, the 137 pounder was named all-state in 1959 and 1960.
Cunningham started for the Little Reds as a ninth grader and became a varsity starter who played both ways and on special teams as a sophomore. He held the Big Reds to a state championship in 1958 with a 10-0-1 record.

With an uncanny ability to break into the backfield and make tackles, Cunningham helped PHS back into the state championship game with an 8-1-1 record but the Big Reds fell in the title contest to Bluefield by a 19-13 score.

In 1960 the Big Reds became more of a passing team and Cunningham wound up catching 20 passes and scoring five touchdowns. PHS finished 8-2 that year meaning during his three years as a starter, the versatile end helped PHS compile a 26-4-2 record.
Cunningham went on to play at Marshall, where he met his wife of 51 years, Lana. He began teaching after college and returned to Wood County in 1966 where he put in most of his 35-year career in education. His two daughters, Amy Kay Smalley of Kentucky and Joe Ann Shujaat of Cincinnati, both graduated from PHS.

Scott becomes part of only the second father-son duo to make the PHS Hall of Fame as his joins his father, Coach Jimmy Scott, who was inducted in 2012.
The younger Scott, a teammate of hall of fame coach Buddy James, played a variety of positions in junior high (including quarterback) while also wrestling and throwing the shot and discus in track.
In 1953 as a junior he made honorable mention all-state as a guard. Switching to tackle as a senior he was even more effective and earned first team all-state honors, earning a football scholarship to West Virginia University.

Scott played guard and linebacker on the WVU freshman team before deciding to sit out a year to work out and hone his kicking and punting skills in Miami. Those efforts got him a walk-on invitation to Florida State but he wound up enlisting in the U.S. Air Force. During his time at WVU he suited up with some of the most legendary names in NFL football – Sam Huff (NFL Hall of Fame), Chuck Howley (Cowboys Hall of Fame), Bruce Bosley (49ers), Freddy Wyant (Pro quarterback and veteran NFL referee) and Joe Marconi (Bears and Rams).
1916 All-Staters, Jett To Enter Football Hall of Fame
Braden Alleman.................. Claude Crawford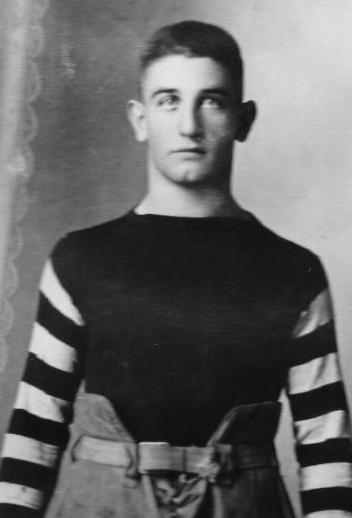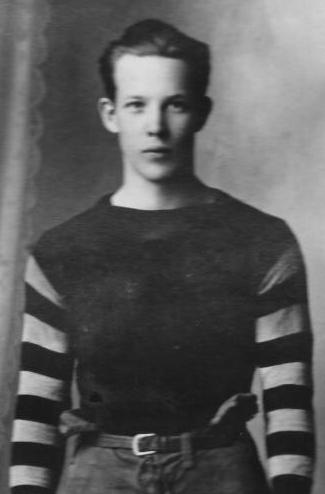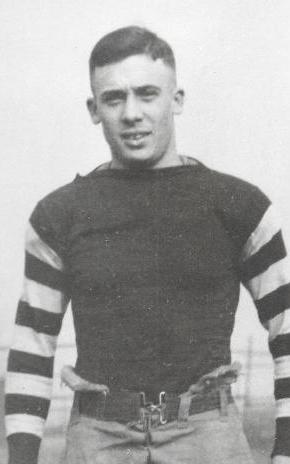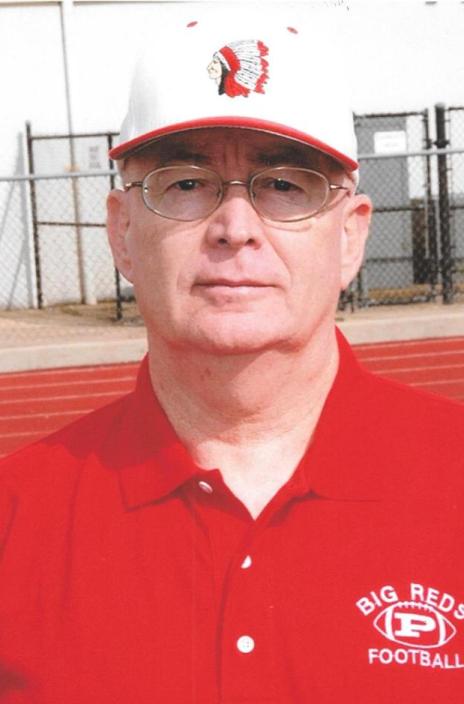 Harlan Devore............... Carroll Jett
One hundred years ago Parkersburg High School placed its first three football players on the All-State squad. Friday night at Stadium Field the Big Reds will honor the memory of  Braden Alleman, Claude Crawford and Harlan Devore by inducting them into the PHS Football Hall of Fame as they recognize their families for being the cornerstone of one of the most successful high school football programs in the United States.

The history of Big Reds football is legendary with 810 wins, 16 state championships, and 173 total first-team all-state selections represented by 142 different young men. It all began 100 years ago, in 1916, with these three all-state performers.

The fourth inductee Friday is, fittingly, PHS football statistician Carroll Jett who is responsible for chronicling the illustrious history of  Big Reds football.  His diligent research coupled with journalistic ability has allowed the Hall of Fame Committee to reach back into time and honor those that have made the PHS program great.

Alleman (1898-1945) was a solid 6-0, 185-pound all-around athlete, was the captain of the 1916 Big Reds.  He was also a two-time all-state basketball player, leading Parkersburg to titles in 1916 and 1917.
Alleman was so talented that he trained with West Virginia University prior to the 1916 season and was starting for the Mountaineers varsity at tackle prior to deciding to return to Parkersburg High to play his senior year and to graduate.

He scored five touchdowns as a senior and ran for two extra points.  As a junior he kicked two field goals and added 12 extra-point kicks.

After college Alleman coached football at Spencer and basketball at Morgantown before entering medical school.  Dr. Alleman practiced medicine in Cincinnati until his death. He and wife Ruth had one child, Dorothy Fessler, who lived in Buckhannon, WV.

Crawford (1898-1968) was the first two-time all-state football player at Parkersburg High School, earning those accolades in 1916 and 1917.  He was also an all-state performer in basketball in 1917. 

The 5-11, 155-pound fullback led the Big Reds in rushing for three straight seasons and scored 28 touchdowns and two extra points in his illustrious career.

In 1917, versus Middlebourne, Crawford scored six touchdowns in a game – a school record that has been matched but not surpassed.  He notched 20 touchdowns that year – the ninth best single season total in PHS history. 
A World War I veteran, Crawford attended Penn and Marietta College.  He and wife Maude owned Citizens Building and Supply in Parkersburg for many years and were the parents of a daughter and two sons.

Devore (1895-1986) was selected as an end on the 1916 all-state squad.  
A tough 5-8, 150-pounder, Devore caught two touchdowns and six extra points in an era before teams threw the ball.  Primarily a bruising blocker, he was a stalwart on both sides of the line of scrimmage for Coach Harry Buland's squad that went 6-1-3 in 1916 with its only loss to the Marietta College Reserves.

He was also a starter on the 1916 and 1917 state champion Big Reds basketball teams.

Devore left PHS before the end of his senior year to enter World War I.  Upon returning from overseas, he attended Mountain State College. While in Parkersburg, Devore worked for the Reps Furniture Company.  He and wife Helen moved to Mt. Lebanon, Pennsylvania in 1938 where he worked as a manufacturer's rep in the furniture business. They were the parents of two children.

Jett began covering the Big Reds in 1969 as a sportswriter for the Parkersburg Sentinel. He later became sports editor of the Sentinel and the Parkersburg News. Chairman of the all-state committee for several years, he covered the Big Reds during their state championship years of 1976 and 1978.

He left the newspaper in 1992 and went to work at the West Virginia Secondary School Activities Commission where he published a magazine entitled "High School Sports: Memories That Last a Lifetime."

He became the official PHS statistician in 1997 and shortly after took over the Big Reds football website. He was presented state championship rings in 1999, 2001, 2006 and 2007. He later started the football Facebook page. In 2009, after a year of research, he revived, updated and expanded the Big Reds Football Factbook, which he currently maintains. His research also enabled him to print a storybook, "Here Come The Big Reds."

A widower who has been a registered basketball and volleyball official for nearly 25 years, he was also an AAU basketball coach for 25 years, winning a national championship in 1999 to go with five state titles. Currently employed by the Wood County Recreation Commission, he has one son, Kevin and with wife Katie there are two grandchildren, Konnor and Kensie.
PHS Football Hall of Fame
2015
Rick Marshall
John Roberts

Billy Johnson
Josh Romeo
Joey Lindamood

Rob Lockhart
Carroll Swain
Dr. Randall Heavner

Bernie Buttrey
Fred Anderson
Connor Louden
Joe Miller

2014
George Elliott
Luke Spencer


Earle "Jubie" Davis
Clyde Way
Nathan Kirby

Matt Lindamood
Danny Eddy
Brian Delozier

Dr. Paul Brooks Jr.
Josh Jenkins ......... Al Hammell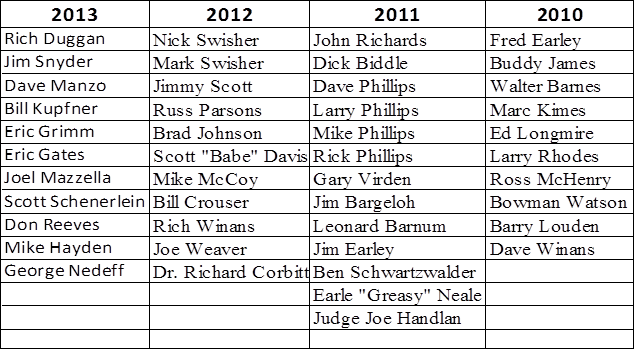 2015 Inductees
Buttrey, Anderson Complete 2015 Hall of Fame Class
The final two inductees for 2015 into the Parkersburg High School Football Hall of Fame were famous for being two timers, one as a coach, and the other as a player.
Bernie Buttrey, the only coach in PHS history to win back-to-back state championships, and Fred Anderson, a two-time all-stater and state wrestling champion, complete the Hall of Fame Class of 2015.
Both also played football at Marshall and will be inducted during pre-game ceremonies on Oct. 9 at Stadium Field prior to the St. Albans game.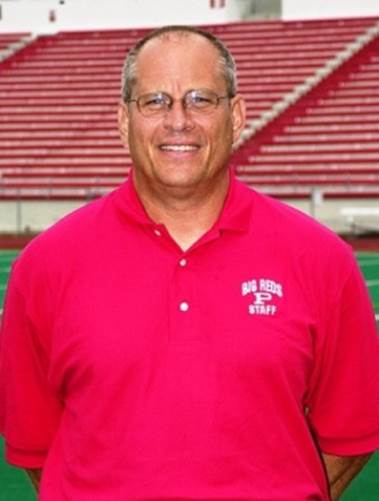 Charles "Bernie" Buttrey was a 1970 graduate of St. Marys High School, where he lettered in football, basketball and track. He was at Marshall on the freshman football team when the fatal plan crash wiped out the Thundering Herd football team. He played two years at Marshall before transferring to Glenville State and lettering there for two years. At GSC he was the Most Valuable Lineman and played on the NAIA semifinals.
From 1976-83 he was the head coach at West Preston High School before becoming an assistant and eventual head coach at Williamstown, where he took the Yellowjackets to the state semifinals in 2002. He had a 24-10 record at WHS.
He became the head coach at PHS in 2002 and went on to compile a 66-30 record, the third best in Big Red history. He finished with a 12-5 playoff record (second best in school history) and became the only back-to-back state champion coach in 2006 and 2007. He was the state Coach of the Year in 2006 and won three MSAC championships while earning Conference Coach of the Year honors.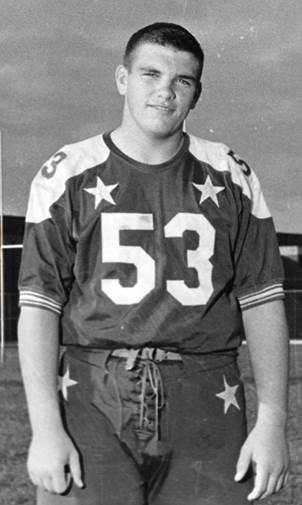 Anderson played four years of Big Red football, earning all-state honors in 1959 and 1960. He was a state champion wrestling in 1960 and finished third on the mat in 1961. He was also a two-year member of the track team.
The burly tackle was heavily recruited his senior football season by eight different schools including one Big Ten team before deciding to attend Marshall. In 1964 he suffered a serious neck injury and was unable to play for a year but came back and finished his collegiate gridiron career with the Thundering Herd. After college he played for the Wheeling Ironmen of the Continental Football League and also played for the independent Wood County Raiders. He attended summer camp with the Dallas Cowboys for a year and a half.
Anderson was an assistant coach with Gene Alkire in 1967 at Parkersburg Catholic High School. He passed away in 1997.
Lockhart, Swain Latest Hall of Fame Honorees
A rare two-time all-state captain and the player who started every play for the highest scoring team in Parkersburg High School football history are the latest members of the PHS Football Hall of Fame.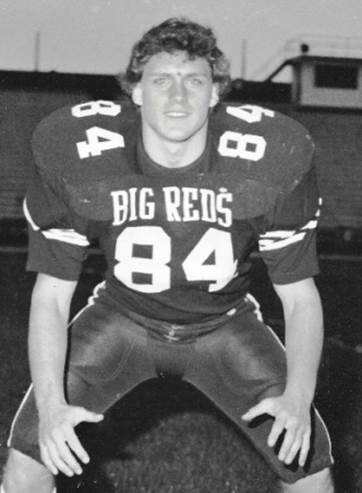 Rob Lockhart, a 1981 graduate, and Carroll "Towhead" Swain  from the class of 1945 will be inducted on Friday, Oct. 2, prior to the Beckley football game at Stadium Field.
During his 23 seasons as Parkersburg's head football coach, Buddy James built his great teams around hard-nosed defense and no one anchored the prevent unit better during that time than 1981 graduate Robbie Lockhart.
The 6-foot-3, 215-pounder was not only a two-time, first-team all-state selection at linebacker but was also the captain of the all-state squad both his junior and senior seasons.  A junior captain of the all-state team is a rare honor.
Called "the best linebacker in the past 25 years" by James, Lockhart averaged an amazing 12 solo tackles per game in 1979 with seven quarterback sacks on the state's top-ranked defensive unit.  That defense allowed only 35 points in 12 games while posting seven shutouts.  Only one opponent scored more than one touchdown against the Big Reds that season.
Lockhart repeated the feat as a senior as his injury-ravaged PHS team finished 10-2, allowing 92 points with five shutouts.
In his three-year career, Lockhart's PHS teams compiled a 30-7 record, winning the state title in 1978 and losing to the eventual state champions in the playoff semifinals in both 1979 and 1980.
Lockhart played collegiately at Morehead State.
Swain, better known as "Towhead" to family and friends, was the center on the 1944 All-State team.
At 5-feet, 10-inches tall and a sturdy 165 pounds, Swain anchored the line for coach Jimmy Scott's squad that finished the 1944 campaign with a 6-2-1 mark.  He was also a key contributor on the undefeated 1943 team that won the state championship and is still the highest scoring team in PHS history.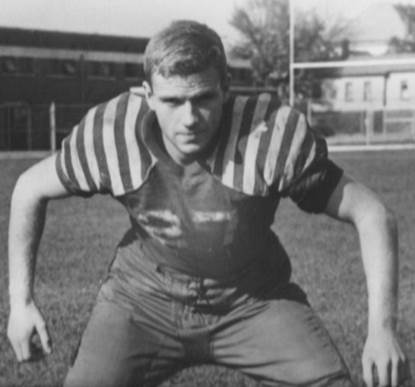 Swain received letters of intent from many colleges but World War II had other plans for him.  He enlisted in the US Navy and left for boot camp the day after graduation.  Following his discharge, Swain returned to Parkersburg and in 1952 married Greta Walker.  He joined the Parkersburg Police Department as a patrolman and retired 25 years later as a lieutenant.
After working 13 years in the real estate business, Carroll and Greta moved to Sanibel Island, Florida where they managed a condominium resort until retirement.  They are the parents of son Peter and daughters Michelle, Kelly and Deena.  They also have eight grandchildren and 15 great grandchildren.
Romeo, Johnson, Lindamood To Enter PHS Hall of Fame
The latest three inductees into the Hall of Fame include two members of very famous football families at Parkersburg High School and the most prolific single-season scorer in the long gridiron history of the Big Reds.
They will be inducted on Sept. 25 prior to the home football game with long-time rival Marietta.
Billy "White Shoes" Johnson, the first of the Johnson/Jenkins clan to make all-state and Joey Lindamood, the first of that incredible set of three brothers to earn post-season accolades, join an athlete who played just one season at PHS – but what a season it was for Josh Romeo.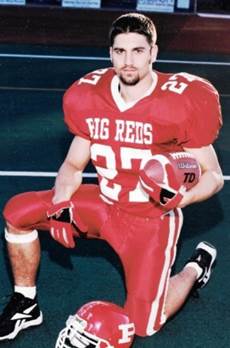 Romeo had been a three-year starter who scored 38 touchdowns at Ravenswood when he decided to transfer to PHS as a senior and try his hand against the "big" boys. He showed he could play at any level of competition and be one of the best.
In the 2000 season he wrote his name into the Big Red record book an amazing 26 times. He set the single-season scoring record with 236 points as he scored an all-time high 39 touchdowns while helping PHS to a state runner-up finish and a 12-2 record. He tied another all-time record by scoring six touchdowns against Logan and scored five touchdowns in a game three other times.
He led the Big Reds in virtually every statistical category as the versatile Romeo rushed for 1,626 yards and caught 35 passes for another 825 yards, giving him 2,451 yards rushing and receiving. Against rival Parkersburg South he set a series record with 230 yards rushing and five touchdowns.
Romeo was runner-up for the Kennedy Award and earned first team all-state honors. He scored three touchdowns in the North-South game and played one year at West Virginia University before transferring to Fairmont State where he was a four-year starter at slot receiver. A special honorable mention all-conference selection at FSC he was in the top 10 in the nation in all divisions on kickoff returns as a sophomore.
He now lives in Sandyville with his wife Nikki and daughter Emma, who turns three years old on the night of her father's induction, as well as nine-month old son Nash. He works for Sunshine Metals in Davisville.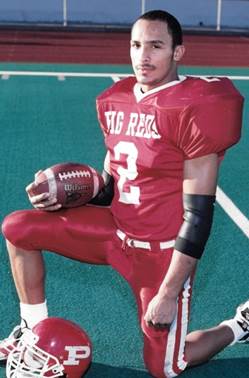 Johnson was the first of four brothers who had outstanding careers at PHS and joins one of his siblings, Josh Jenkins, in the PHS Hall of Fame. His brother Paul was a two-time second team all-state pick while baby brother Justin was a two-year starter.
Billy Johnson was a two time first team all-state selection as a defensive end on teams that finished as state runner-up in 200 and won the state championship in 2001. He was a two-time first team All-Conference selection and captain of the Mid-Ohio Valley All-Star team.
On the gridiron during the 2001 championship season Johnson recorded 87 tackles, six tackles for loss, eight quarterback sacks, three fumble recoveries and one interception.
He went to Ohio University on a full scholarship and after his playing days he coached Vienna Pee Wee football and was an assistant at PHS. Today he is the co-owner of Alpine Builders and resides in Mineral Wells with his fiance' Heather and their three children, Katelyn, J.J., and Kaidyn.
Another first-born of a famous family, Joey Lindamood was also a two-time first team all-state selection in 2004 and 2005 for coach Bernie Buttrey on playoff teams which won 18 of 25 games. He was a defensive selection as a junior and was named as a utility player as a senior.
He scored 20 touchdowns as a junior and finished his career with 188 points. He rushed for 210 yards against George Washington.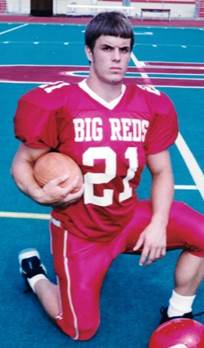 The grandson of PHS all-time football great Fred Earley, Joey played with younger brother Matt for one year before Matt went on to become the all-time leading rusher in school history. Those two were followed by baby brother Adam who became the third brother to make all-state and the trio combined for an amazing 8, 892 yards rushing during their careers.
Lindamood went on to enjoy a successful four-year career at the University of Charleston where he was a starting linebacker. He returned to PHS as an assistant coach and is currently a teacher in the Wood County school system. He and Kelsey have a 3-year-old daughter, Fallon.
Marshall, Roberts, Heavner Enter Hall
Three more members joined the Parkersburg High School Football Hall of Fame on Sept. 18 prior to the Big Reds hosting defending state champion Capital.
Record-setting quarterback Rick Marshall, a member of the current PHS staff, along with John Roberts, one of the first Big Red all-staters, and longtime team physician Dr. Randal Heavner were inducted in pre-game ceremonies.

Rick Marshall
A two-year starter for the Big Reds in 1987-88, Rick Marshall put up impressive numbers for coach Buddy James' squads, including the all-time single game high for passing yards and total offense.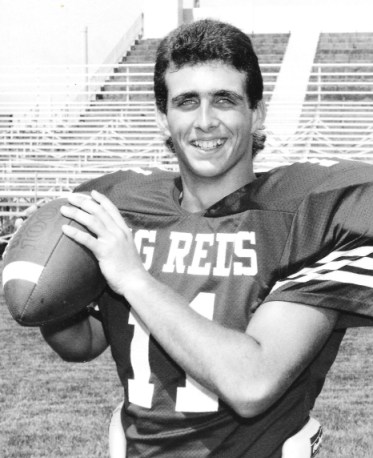 His performance in a 48-7 win over Parkersburg South in 1988 was the best single game effort of any Big Red player in history. He had 414 yards in totals offense, completing 15 of 27 passes for 343 yards, two touchdowns and two conversions. He also had 71 yards rushing.
He ranks fifth all-time in season total offense with 2,281 yards and is seventh in all-time career total offense with 3,505 yards. He also fifth in career passing yards with 2,586 and threw 20 touchdowns during his career. He scored 82 points in two years with 11 touchdowns, two conversions, one extra point kick and one field goal. He finished third in the Kennedy Award voting as a senior. A true triple-threat player, his punting earned him his all-state honors and a spot on the 1989 North-South All-Star game. He went on to play at Shepherd University.
Marshall was an assistant coach in 1996 for Team USA Football and has been an assistant coach at both Parkersburg South and PHS, where he is now the receiver and free safety coach. He is a two-time recipient of the United States Presidential Volunteer Service Award.
A member of the PHS National Champion A'Capella Choir as a senior, he is now a local financial advisor. He and his wife of 20 years Becky have two sons, Eli and Alec.
John Arthur Roberts (1906-1985)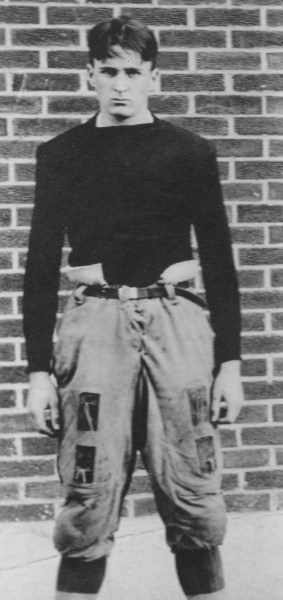 John Roberts was a rare four-year letter winner at Parkersburg High School and a first-team all-state tackle in 1923 as well as the team captain for coach Harry Gamage's squad that finished 6-4.  Roberts, an immovable object on the line of scrimmage, was also a contributing member of the 1921 and 1922 state championship teams and an all-state performer in track.
Roberts received a scholarship to the University of Pittsburgh and played football there for four years for legendary coach Jock Sutherland.  He played in the 1928 Rose Bowl, following the 1927 season, against Stanford.  That was Pitt's first-ever bowl game.
At Pitt, Roberts blocked for another famous former Big Red – Gibby Welch – who broke Red Grange's single-season rushing record and made first-team All-American.  For his blocking prowess, Roberts was awarded second-team All-American accolades.
Roberts graduated with a degree in Electrical Engineering and earned a Master's in Business from Pitt.
He and wife Mildred Martin (also a PHS graduate) had seven children – Donna Crumpler Davis, Jane Roberts Brumm, Linda Roberts Zacur, John Thomas Roberts, Randolph Roberts, Geoffrey Roberts and Rebecca Roberts Cillo.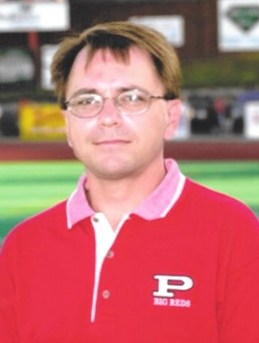 Dr. R. Randal Heavner, MD
Graduating from West Virginia University with a degree in Biology in 1982, Dr. Randal Heavner went on to graduate from the WVU School of Medicine in 1986 and then had three years of Family Medicine residency in Morgantown.
He joined Dr. Paul Brooks and Dr. John Beane at Rosemar Medical in 1989 and is currently practicing at Mid-Ohio Valley Medical Group in Vienna.
When he joined Rosemar in 1989 he also began working with the PHS football program and 26 years later is still an integral part of the Big Red staff.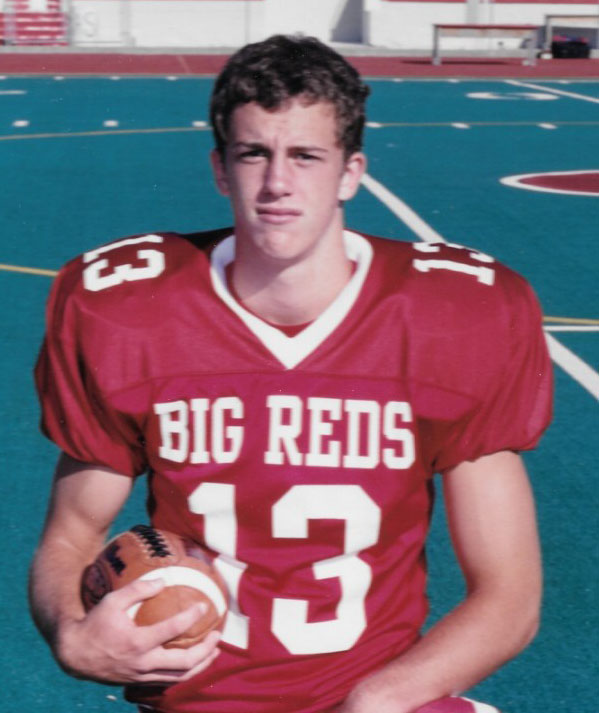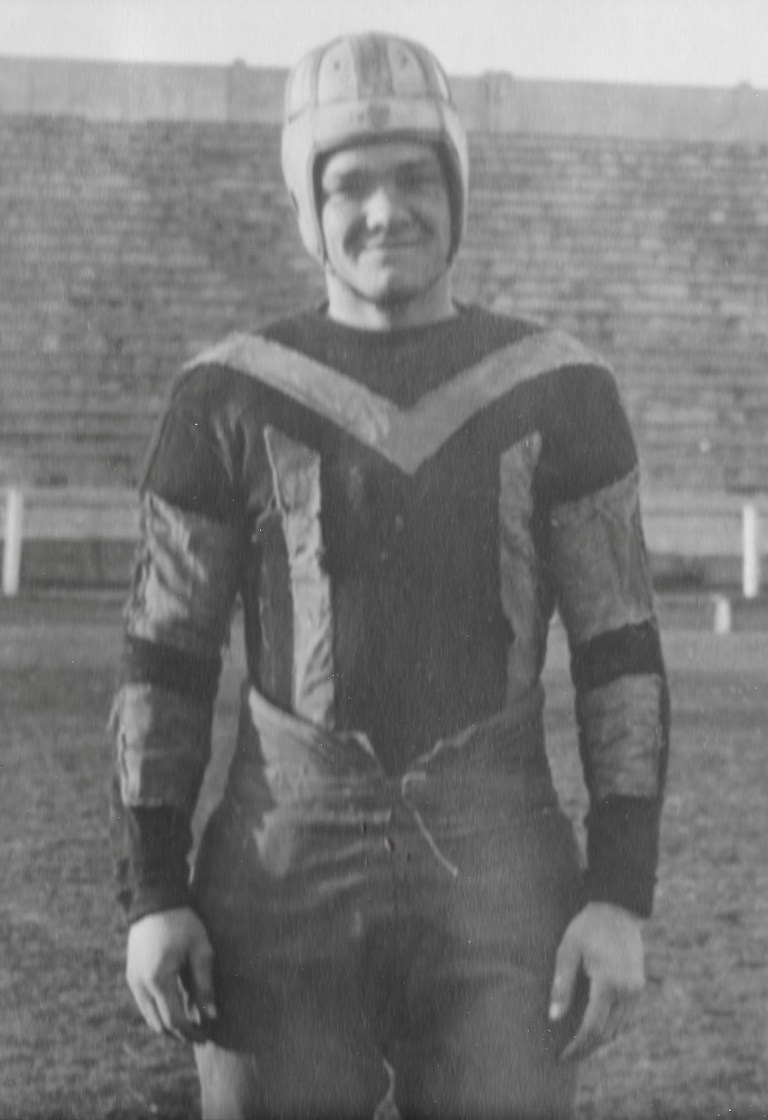 ...............................Connor Louden.............................."Fightin' Joe" Miller
Louden, Miller Are Hall of Fame Selections
The first two members of the Parkersburg High School Football Hall of Fame Class of 2015 were inducted Friday prior to the season opener against George Washington as Connor Louden and Joe Miller were honored.
Louden is the first kicker/punter to be inducted into the Hall of Fame although he did play quarterback and became an outstanding receiver as well. Joining his father Barry in the Hall of Fame, the duo becomes the first father-son pair to be enshrined.
The younger Louden began his football career under coach Don Reeves at Jackson Junior High and was the kicker/punter in all three of his high school seasons for special teams coach Mark McCullough and head coach Bernie Buttrey. He also played some quarterback and was a starting receiver and defensive back as a senior.
He is the all-time leading kick scorer in PHS history with 140 points (89 extra points and 17 field goals, both school records). He holds the Stadium Field record for field goal with 47 yards and fell one short of the West Virginia consecutive kickoff touchback record of eight). He is the 11th all-time leading scorer in PHS history with 206 total points. As a senior he caught 39 passes for 807 yards (over 20 yards per catch) and nine touchdowns.

Louden was a first team all-state punter as a junior and senior in 2003 and 2004 and has the seventh best single-season punting average while tying for the most field goals in a single season with nine. He also played in the 2004 North-South All-Star Classic.

Also an outstanding basketball player, Louden is the second-leading all-time scorer in that sport at PHS where he was a two-time all-state selection and Gatorade Player of the Year in West Virginia.
After graduation he went to Princeton University and was the starting kicker there for three years. He kicked 21 field goals for the Tigers and added 50 extra points while coming within two of the all-time school record for consecutive extra points. He kicked two game-winning field goals and hit one three-pointer to force overtime against Colgate (which was coached by another PHS Hall of Famer, Dick Biddle). He was awarded the Caldwell Scholarship at Princeton, presented to the top four athletes going on for advanced degrees after graduation.

Miller was considered the best player on two teams which compiled a 19-1-1 record. A 170 pound offensive and defensive guard on the undefeated 1927 squad he followed that by being the only first team all-stater from the 1928 team which went 9-1-1 and gave up just six touchdowns all year. His junior year he led a defense which gave up just three touchdowns and had seven shutouts. The only loss his senior season was a 6-0 defeat against Huntington. In his final high school game he had two interceptions as a down lineman against Columbus Central.

Coach Maurice Carlson gave him the nickname "Fighting" Joe for his tenacity and never-say-die attitude and said "He was a tower of strength on the line." He was the 23rd first team all-stater out of the 174 PHS players to earn that accolade. The other all-state guard in 1928 was a 170 pound Huntington High School player named Ben Schwartzwalder who would later coach at PHS and go on to even greater fame as the head man at Syracuse University.

In 1970 the Parkersburg Sentinel selected the all-time Mid-Ohio Valley football team and Miller earned a berth on the third unit.
2014 Inductees
Delozier, Kirby Final 2014 Inductees to Hall of Fame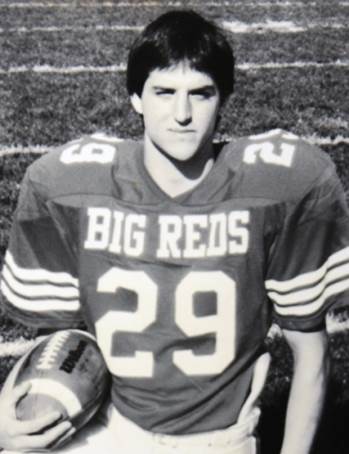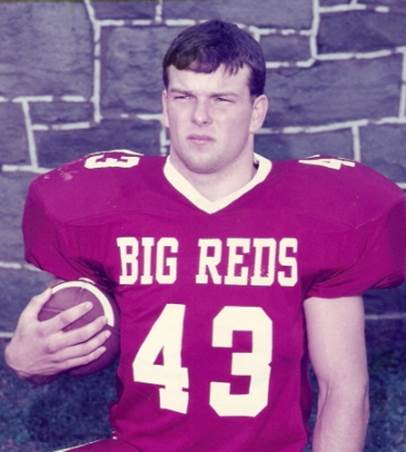 Brian Delozier                                                ................Nathan Kirby

One of the most versatile Big Reds ever and one of the best defensive players in the history of Parkersburg High School are the final two inductees of 2014 into the Football Hall of Fame at PHS.

They were introduced Friday night Nov. 7 at Stadium Field prior to the Parkersburg South game. A reception was held to honor the two former players in the Hall of Fame Museum room.

Brian Delozier (1986-88) was a three-year standout for coach Buddy James who scored 32 touchdowns in his illustrious career.  A two-time first team all-state defensive back, Delozier scored four touchdowns as a sophomore, 12 as a junior and 16 as a senior, helping the Big Reds compile an 18-12 mark.

Delozier amassed over 2,000 all-purpose yards during his career.  The epitome of an "all-purpose player", the 5-foot-10, 175-pounder scored touchdowns five different ways.  He tallied 21 rushing touchdowns and six receiving touchdowns.  He also returned two interceptions for scores, two punts for touchdowns and ran a kickoff back.

Delozier was a particular nemesis to cross-town rival Parkersburg South, tallying seven touchdowns in three games, including an interception return for a score as a sophomore and a punt return for a touchdown as a junior.

He and his family still reside in Parkersburg and his daughter Alex is a sophomore on the Parkersburg Big Reds girls basketball team.

Nathan Kirby (1993-95) was a three-year starter at linebacker, a two-time all-state performer and the 1995 Sam Huff Award winner as the top defensive player in West Virginia.

A rare sophomore starter at linebacker in 1993 as the Big Reds finished 4-6, the future grid star help lay the foundation for the team's return to prominence.

Anchored by the aggressive 6-foot, 195-pounder, PHS returned to the playoffs in 1994 for the first time in nine years.  Kirby led the team with 160 tackles as the Big Reds finished 7-4, losing an opening round playoff game to St. Albans – Parkersburg's first playoff contest since playing for the 1985 state championship.

Kirby won the high school version of "the triple crown" in 1995 as he was the captain of the all-state defense, the unanimous choice as the Huff Award winner as the outstanding defender and the Gatorade Player of the Year – one of only three Big Red players to ever earn that accolade.

He registered 122 tackles as a senior for a first-team defense that surrendered just 35 points and posted five shutouts.  The Big Reds finished the 1995 season with an 11-2 record, losing in the state semifinals to Hedgesville.

Also a city resident, Kirby played collegiately at Pitt
Jenkins, Hammell To Enter PHS Football Hall of Fame Friday
The most decorated lineman in the history of Parkersburg High School football and a player was so valuable to the team that he rarely left the field are the newest members of the Big Reds' Football Hall of Fame.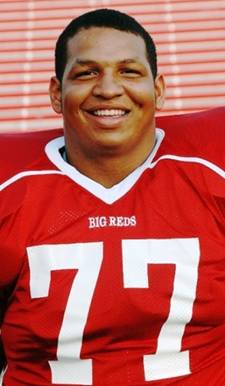 Josh Jenkins and Al Hammell will enter the Hall of Fame on Friday, Oct. 31, when the Big Reds host Riverside.
Jenkins was a lineman who earned virtually every award available to a high school football player and was the center of a nationwide recruiting effort by nearly every college in the country. He was that rare lineman who actually outshone the backs he blocked for as he led the Big Reds to back-to-back state championships.

Hammell played nearly every down for three years, helping the Big Reds win a state title and even making the rare transition from lineman to running back as a senior when he earned all-state honors as a linebacker.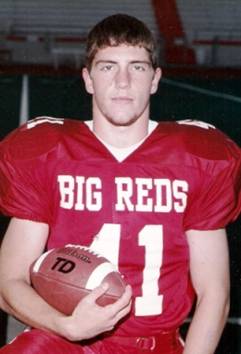 The common thread between the two standouts was their ability to help their teams win games.
Hammell's senior group set the standard with 37 wins over a three-year period with just four defeats. His teams went 11-3, 12-1 and then 14-0 in 1999, finishing second, third and first in the state over that period.

Jenkins' teams were second on
the all-time list for wins over a three-year period with 35 (against just five losses) and are the only team in PHS history to win back-to-back state titles in 2006 and 2007.

As a sophomore and junior Hammell played tight end and linebacker as well as being on all special teams. Even a broken hand as a junior did not keep him off the field.

After losing the likes of Nick Swisher and Mike Lerch from his junior team, Hammell was asked to switch to tailback as a senior and spent his summer increasing his speed and agility. He responded with 1,524 yards rushing and scored 22 touchdowns, including five against Musselman in the playoffs. He scored 16 rushing touchdowns, caught three TD passes and returned three interceptions for touchdowns (tying Howard Rutter's school record set back in 1926).

He also led the team in tackles with 122 which earned him the Huff Award as the state's top defensive player.

After graduation he played linebacker at Princeton and then worked in higher education in West Virginia, Oklahoma and New York City. He currently works in Student Financial Services for the University of Virginia and he and his new wife Sahtiya live in Charlottesville.

Jenkins started out as a basketball star and played that sport until his junior year when his 6-foot-4, 300-pound frame lent itself more to football, a sport he didn't start playing until the seventh grade.

As a sophomore at PHS he earned a starting position, helped the Big Reds make the state playoff quarterfinals and became a first team all-stater. As a junior he again earned all-state honors and helped the Big Reds go 14-0.

By the time his senior season rolled around he was sought by virtually every college in the country. He had an amazing 158 pancake blocks (where the defender is put to the ground), including 29 against Morgantown. In honor of that feat, current PHS head coach (then assistant) Don Reeves put a box of unopened pancake mix on top of his locker. He also found time to make 113 tackles, seven sacks and 15 tackles for loss while also rushing for a touchdown against arch-rival Parkersburg South.

He was USA Today first team All-American, Parade Magazine All-American, Gatorade Player of the Year, the first three-time first team All-State selection since Ross McHenry in 1922 and the first West Virginia player to participate in the U.S. Army All-American Bowl game in Texas.
He went on to West Virginia University where he played in five games as a freshman, started all 13 games as a junior, earning All-Big East third team status and started 11 games as a junior, making the All-Big East second team. He missed the 2011 season with a knee injury but returned to play the following year.
After tryouts with Seattle and Detroit of the NFL as well as a venture to Canada, Jenkins decided to try his hand at coaching and is now an assistant at Wingate University in North Carolina.
His family includes older brother Billy Johnson, a two-time PHS all-stater who played at Ohio University, Paul Johnson, who twice made second team all-state before also going to Ohio U. and who is now coaching at the University of Charleston, where youngest brother Justin Johnson is a starting lineman.
Eddy, Way To Be Inducted Into Football Hall of Fame Friday
Eddy and Way, two names not only familiar to Parkersburg High School football fans but very well-known in other sports as well, are the latest inductees into the PHS Football Hall of Fame.
Danny Eddy, a four-sport letter winner in 1984 for the Big Reds and Clyde Way, a two-sport all-stater in 1972-73, will be enshrined Friday prior to the Beckley Woodrow Wilson game at Stadium Field.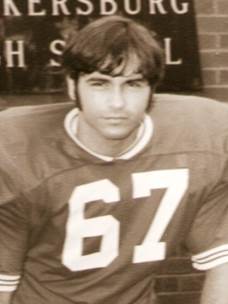 Way was an outstanding football and baseball player from his days in the Vienna Recreation Leagues through his Big Red career. He was one of the smallest first team all-state linebackers in history at 145 pounds in 1972 as the Big Reds went 7-2, gave up just 16 touchdowns and barely missed the playoffs. The following spring Way also made first team all-state as an outfielder.
Making up for his lack of size with great quickness and versatility, Way's motto was "Hit them before they hit you" and he seemed to have an instinct for reading plays before they were called.
Following graduation he earned a degree from WVU at Parkersburg and worked for Keene Corporation in Vienna before relocating to Toronto, Canada, and in 2006 transferred to Iraq after accepting a position with Halliburton. He returned to Parkersburg in 2012 and works for Myers Well Service. He is the father of three children, Arik, Ashley and Jordan, and grandfather of two.

Eddy carried on the proud family name by being a three-year starter for PHS as the Big Reds went 24-9 during that span. He played numerous positions, including quarterback, end and kicker, but earned all-state honors in 1983 and 1984 as a defensive back. As a senior he lettered in basketball, baseball and track as well, accomplishing a feat last achieved in 1958 by a young man named Chuck Eddy. He passed for 652 yards and five touchdowns while catching 68 passes (4th best in PHS history) for 820 yards and nine touchdowns. He also kicked 38 points including three field goals. In the North-South A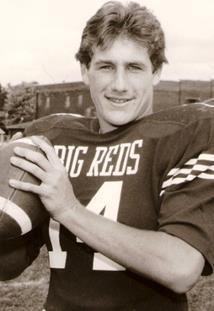 ll-Star game he played an amazing seven different positions.
After PHS, Eddy went to Virginia Tech on scholarship and played wingback for Bill Dooley, helping the team go 10-1-1 and winning the first bowl game in the history of the school. Then Frank Beamer became the head coach and Eddy moved to flanker where his finished his career, graduating in 1990.
Eddy currently resides in High Point, NC, with wife Christine (a former PHS Red Wing) and four children, Jacob, Rachel, Camille and Will.
Spencer, Brooks Enter PHS Grid Hall
A young man whose life was ended far too early but who left an indelible impression on Big Red football fans and a man who spent 17 years taking care of the health and well-being of the Big Red football team are the latest inductees into the Parkersburg High School Football Hall of Fame.
Luke Spencer and Dr. Paul Brooks Jr. are the second group of honorees to join the Hall in 2014. They were inducted prior to the South Charleston game on Friday.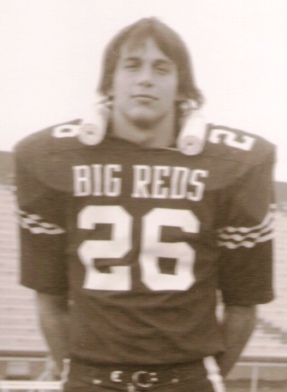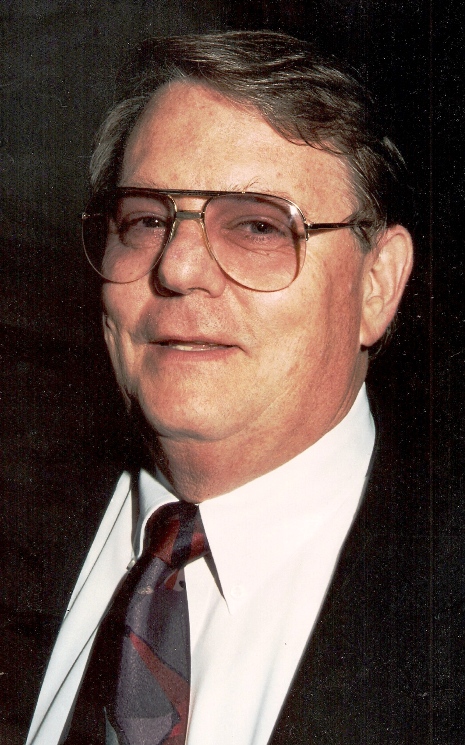 Luke Spencer | Dr. Paul Brooks Jr.
Spencer earned himself a special place in PHS gridiron history in one half of play against arch-rival Parkersburg South.
As a senior the state champion 185 pound wrestler made first team Class AAA all-state as one of the hardest-hitting linebackers to ever wear the Red and White.
But on a cold October day in 1975 coach Buddy James turned loose Spencer on the offensive side of the ball after his team had played a dismal first half against the Patriots. The powerful Spencer ran for 129 yards on 21 carries and scored a touchdown to lead the Big Reds to a 14-6 victory over the Patriots (who went on to make the playoffs with the same 8-2 record that PHS compiled).
Current PHS assistant coach Dave Manzo scored the other touchdown in that game.
For the season Spencer led the Big Reds in tackles while finding time to rush for 554 yards on 115 carries and scored nine touchdowns. He
led a defense that turned in four shutouts and held four other teams to just one touchdown. The team lost to Charleston and Stonewall his senior year and only the top four teams advanced to the playoffs.
As a junior he played on a Big Red team which went 10-2 and lost in the state finals to Stonewall Jackson.
After winning the state wrestling championship his senior year he went on to Marshall University and was expected to become the starting linebacker for the Herd only to have his life taken away in a tragic automobile accident.
Dr. Paul Brooks Jr. grew in Sissonville but became a Big Red as the football team physician in 1972, a post he held until 1989.
After a brief football career as an Indian at Sissonville, Brooks did his pre-med work at Morris Harvey and West Virginia State before graduating from the West Virginia School of Medicine in 1966. He did his internship at Cabell-Huntington Hospital in 1966-67 before joining the Air Force Medical Corp for a three-year stint. He then opened a private practice in Parkersburg in 1969 and maintained that until 1990.
He was awarded the State High School Athletic Directors Association Distinguished Service Award in 1986 for outstanding work and dedication to athletics and the community in the state of West Virginia.
During his tenure of helping the coaching staff, PHS administration and many others he helped institute the certified high school athletic program. This effort was a big step in player safety during practice sessions.
"I thoroughly cherish my years serving as team physician for a great group of players, coaches, other medical staff and school administration," said Brooks. "The personal rewards far outweigh any efforts by me. I thank all the participants in the program for giving me the opportunity to be a part of their lives.
Lindamood, Davis, Elliott Enter PHS Football Hall of Fame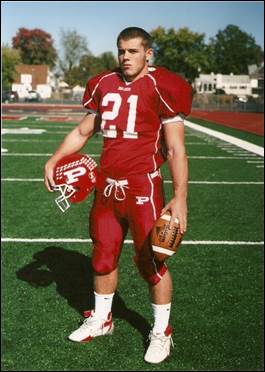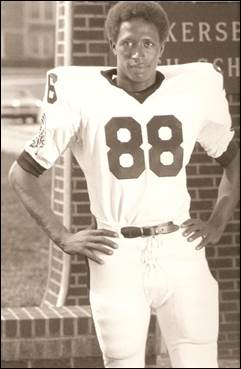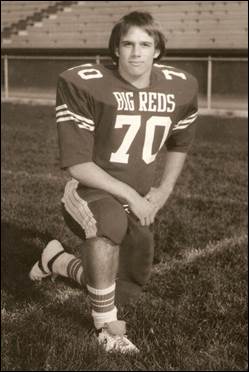 Matt Lindamood                                  Earl "Jubie" Davis Jr.                             George Elliott
The first group of inductees into the 2014 class of the Parkersburg High School Football Hall of Fame includes three athletes with more honors than could fit in a book about their exploits.
There is the all-time record holder for all-time records at PHS, Matt Lindamood.
There is the first African-American first team all-stater in the history of PHS, Earl "Jubie" Davis.
And there is George Elliott, the captain and defensive leader of the Big Red team with the most impressive championship playoff run in history.
And there is even a link between all three. Lindamood's uncle Mike was an all-stater and played on the same team with Davis while Matt's father Mark was the center on the same championship team with Elliott. It should be quite a reunion of families at midfield when these three are honored.
The trio will be inducted into the Hall of Fame on Friday, Sept. 12, prior to the home game with Cabell Midland.
A young man whose name appears in the PHS record book more than any other athlete, Matt Lindamood was a two-time all-state selection and lead his team to state championships in 2006 and 2007. During his three years as a starter, the Big Reds went 35-5 under coach Bernie Buttrey.
Twice the powerful, yet speedy runner scored five touchdowns in a game. He is the second-highest single season scorer with 232 points in 2007 (4 behind the all-time record of Josh Romeo). He is also the fifth all-time high scorer with 264 as a junior.  His totals of 38 and 27 touchdowns as a senior and junior rank him second and fourth all-time. For his career he ranks number one with 412 points (68 TDs and 2 ep), a whopping 80 points ahead of the second highest total.
Lindamood ranks first in single season and career rushing yardage and has the second and third highest single-game rushing performances. He gained 4,211 yards during his career (256 yards ahead of 3-time 1,000 yard rusher John Richards), and had season totals of 2,473 (including 695 in four playoff games in 2007) and 1,551 (6th best mark ever). He gained 297 yards and 287 yards in separate games as a senior with the record being 299 yards by Ryan Holbert.
As a senior he was runner-up in the Kennedy Award voting and went on to become a starting fullback at West Virginia University before an injury in 2012. After two years of mission work in Los Angeles, Israel and Ecuador he turned to strength and conditioning and is currently a sports performance coach at TCBoost in Northbrook, IL.
When Sumner High School closed its doors in 1954, the talented black athletes enrolled at PHS but it was not until 15 years later that one was voted first team all-state in West Virginia and that athlete was Earl "Jubie" Davis Jr., one of eight siblings to walk the Big Red halls.
Davis helped PHS to a 7-2-1 record as a senior under Buddy James, losing to Charleston and Stonewall Jackson but tying Weir 8-8 thanks to eight points scored by Davis. There were other talented black athletes on the Big Reds that year, players like quarterback Mike Allen and speedy halfbacks Mike Carr and Frank Spriggs but it was Davis who caught everyone's eye by catching seven touchdown passes and six two-point conversions while also returning a punt 48 yards for a score.
An outstanding athlete at an early age, Davis says one of his biggest thrills was being the only six year old to be picked on the Dils Brothers Little League team. Attending Jefferson Elementary and then Washington Junior High, Davis credits his later success with instruction given to him at the Boys Club under Frank Siebel and the coaching of Dike Goff in junior high. He was awarded the Most Valuable Player Award for all sports at WJHS.
The push for perfection at PHS by the Big Red coaching staff helped Davis go on to play football and track for two years at Fairmont State College before joining the Air Force in 1973. His tour of duty lasted 20 years and he served, among other things, as Master Drill Instructor, and was even chosen to retrain the marching unit that had been in Operation Desert Storm that was to march before the president. He is currently working in the U.S. Postal Service and living in Fort Worth, TX, with his wife Arlette and has five children, six grand children and five great-grand children.
Defense was the name of the game for PHS football in the 1970's and the biggest defensive name was George Elliott.
In 1974 he played on a state runner-up team that went 10-2. As a junior he had 82 tackles on a team which went 8-2, finished sixth in the state and had four shutouts. The 1975 team did not make the playoffs because only the top four teams qualified even though they beat one of those teams, Parkersburg South (14-6).  As a senior captain in 1976 the Big Reds went 10-2, winning the state title with an awesome show of defensive prowess – shutting out the two highest-scoring teams in the state that year, Martinsburg and DuPont. Elliott led the team with 130 tackles, an incredible 17 sacks, and six fumble recoveries. The Big Reds that year shut out eight opponents.
Elliott was not through with his football accomplishments, though. He helped return the Marshall University football program to prominence following the plane crash which wiped out the team. He was a four year starter as middle guard and defensive tackle under Frank Ellwood and Sonny Randle. As a junior he had 69 tackles and in 1978 was second on the team with 114 tackles and a fumble recovery. He was Southern Conference Player of the Week in September, 1978 after making 17 tackles against MAC champion Toledo.
He returned to PHS to coach as an assistant in 1983-86, helping the Big Reds reach the playoffs in 1983 and finish second in the state in 1986 while coaching three all-state linemen in Rick Phillips, Scott Swanson and Scott Adams. He then coached at four high schools in Virginia from 1987 to 1998.
2013 Inductees
Duggan, Snyder Final 2013 Inductees
The final two members of the Parkersburg High School Football Hall of Fame Class of 2013 include a quarterback who went from being an all-state passer at PHS to Most Valuable Player as a receiver at West Virginia University and the man generally regarded as the finest sportswriter in the history of Parkersburg and one of the best in the history of the state.
Rich Duggan, a three-year letterman and two year starter for the Big Reds from 1972-1974, and Jim Snyder, long-time sports editor of the Parkersburg News, are the latest in a distinguished line of famous Big Red football personalities.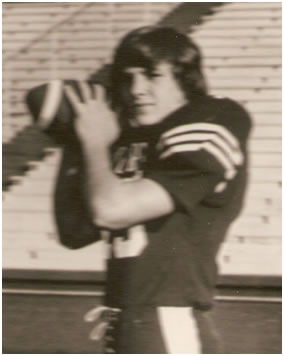 The two were prior to the George Washington game.
After being back-up quarterback as a sophomore, Duggan became the team's leader in 1973 and took the Big Reds to the playoffs where they lost to eventual champion East Bank and finished 9-2 overall. Duggan threw 14 touchdowns that year, including four against Charleston, and passed for over 1,000 yards.
As a senior Duggan took PHS took the state finals where they lost to Stonewall Jackson (the same team that handed the Big Reds their only regular season defeat). Duggan threw for 11 touchdowns and nearly 1,000 yards on a team known for its running game. He finished his career with 27 touchdown passes (5th all-time in school history) and 1,992 yards passing (6th all-time). For his efforts he was named first team Triple-A all-state quarterback.
He went on to become a 4-year letterman at WVU where he switched to catching passes instead of throwing them and was recipient of the Ira Rodgers MVP Award as a junior and was team captain as a senior.  He currently resides in Cranberry Township, PA.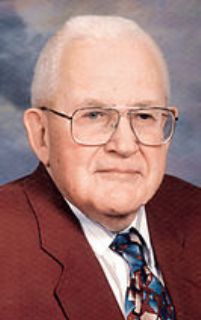 Born and raised in Baltimore where his father and brother were both newspapermen, Snyder graduated from W.Va. Wesleyan where he was the school's first Sports Information Director and was named to that school's Hall of Fame in 1995 for his work there.
He came to Parkersburg and became sports editor in 1957, a position he held until 1973 when he began a 20-year stay as city editor.  His incredibly insightful writing pleased every Big Red fan during the 1958 state championship season as well as two runner-up years in 1959 and 1962. He helped promote Jim Bargeloh to the Kennedy Award in 1957 as well as Gary Virden and Barry Louden to the Hunt Award.He has been honored as State Sports Writer of the year in 1971 and earned the Gene Morehouse Award in 1974. He was named to the Mid-Ohio Valley Hall o Fame in 1998. Accepting the award for the late sportswriter was his son Ross and daughter, Ann Baughn.
Manzo, Kupfner Enter PHS Grid Hall
The latest inductees into the Parkersburg High School Football Hall of Fame would have been an awesome center-quarterback combination – had they not graduated 12 years apart.
Dave Manzo, who led the 1976 state championship charge from his signal calling position, and Bill Kupfner, regarded as one of the best blocking centers to ever wear the Red and White, are the newest honorees into the Hall of Fame.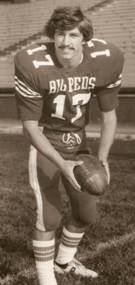 Manzo made up for his lack of size with speed, quickness and guile while his ball-handling ability was only matched by his shiftiness as a runner.  In the Big Reds' impressive march to the state title he scored an amazing 172 points which ranks fourth all-time in the 112 year history of PHS. He had 26 touchdowns and eight two-point conversions as a senior while rushing for 859 yards and passing for another 562 yards and six more touchdowns. His rushing total is still the most ever by a Big Red quarterback in the modern era.
He was runner-up for the Kennedy Award and was quarterback of the Class AAA all-state team which included four other Big Reds. Not surprisingly he was PHS Offensive Player of the Year.
After a career in football and baseball at Fairmont State, where he was Team MVP in football, he was assistant football coach for 28 years at Lake Worth High School and in 24 years as the head baseball coach there his teams won over 300 games including five district and three regional championships.
He has a daughter, Jessica, a son, Andrew, and a grandson, James.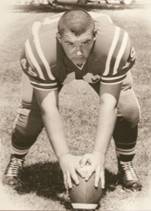 Kupfner was the starting center for three years at PHS under coach Russ Parsons on teams which won 25 games with only five losses and one tie. With him as the defensive leader, the Big Reds had 10 shutouts and 11 other games in which they allowed only one touchdown. He was also the team's placekicker, booting 54 extra points as a junior and senior to hold the school career record from 1964 until 1998.
He was named first team all-state in 1963 and second team all-state in 1964 as well as being named third team All-American as a senior. He went on to become the starting linebacker at West Virginia Tech in 1965 and 1966.
A two-time state heavyweight wrestling champion, Kupfner had the distinction of playing in two championship football games in the same day while in junior high at Hamilton.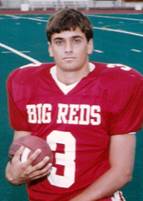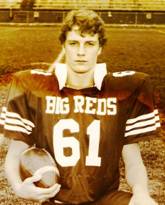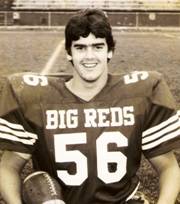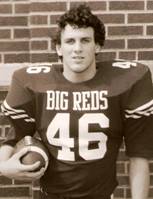 Eric Grimm                              Eric Gates                                  Joel Mazzella                      Scott Schenerlein
4 More Big Red Football Legends Enter PHS Grid Hall of Fame
Three defensive standouts and one of the hardest runners in Big Red history entered the Parkersburg High School Football Hall of Fame Friday night prior to the Marietta contest.
Eric Grimm, Eric Gates and Joel Mazzella, known for their defensive toughness, and Scott Schenerlein, who proved as tough to tackle as he was to beat in wrestling, were the latest inductees into the Class of 2013.
Grimm was starting quarterback for two years on teams that won 24 of 28 games, throwing for 18 touchdowns and 1,286 yards as a senior but was better known for his defense thanks to 13 career interceptions. He won the Huff Award as the state's outstanding defensive player as a senior on a team which tied the all-time PHS record of nine shutouts in a single season. The first team defensive unit was not scored upon the entire regular season and played in one of the most talked about games in the history of Stadium Field when the Big Reds lost to J.R. House and Nitro 24-15 in the state semifinals.  House threw 10 touchdown passes the following week in winning the state championship.
After high school, Grimm played four years of baseball at West Virginia University and signed a professional contract with the Baltimore Orioles. The son of Steve and Dee Grimm, he now works for Johnson & Johnson in Morgantown and recently became engaged to Amanda Kotarski.
Gates was the leading tackler from his middle linebacker spot as a junior and senior, being named team captain in 1985 when the Big Reds allowed just 75 points in 13 games, posted six shutouts and allowed fewer than 150 yards per game. He had 108 solo tackles, 62 assists and three interceptions (including two in a season-opening victory over Brooke, the team which would beat the Big Reds 7-0 in the championship game).
He went on to play collegiately at Ohio University and Marshall. Now living in Martinsburg, his son plays at Hedgesville High School.
On offense, Gates played offensive guard and joined all-state center Scott Adams and all-state tackle Mazzella to form the "Blocks of Granite" that controlled the line of scrimmage.
Mazzella, a 238 pounder who moved with cat-like quickness, was called by coach Buddy James, "The best pro prospect I ever coached."  He achieved a rarity on the all-state team by being named captain as an offensive lineman and was the runner-up for the Hunt Award as the state's best lineman. As a senior he helped the Big Reds to an 11-2 record with 98 tackles, three blocked punts, four fumble recoveries, three sacks and a safety from his defensive end position and led the way with his blocking for an offense that averaged 20 points per game.
Dr. Mazzella, who now lives with his family in Florida, played college ball at Kentucky.
Another first team all-state captain from PHS was Schenerlein, who achieved that honor in 1981 despite playing in only seven complete games due to a knee injury which would have sidelined most other players but not one with the toughness of Schenerlein. Still he rushed for 1,050 yards and scored 18 touchdowns on a 10-2 team.
He was also a stalwart on the 9-2 1980 team and was a member of the 1982 WVU Gator Bowl Team as a walk-on before transferring to West Liberty to play football and resume wrestling. He was a second-team all-conference fullback in 1985 and was 2-time National NAIA Runner-up in wrestling in 1986-87.
Scott and his wife Chris have two children, Blake, a senior cheerleader and track standout at PHS and Luke, a freshman athlete at Parkersburg Catholic.
There will be a reception in the Hall of Fame room at 6:15 p.m. Friday which is open to the public.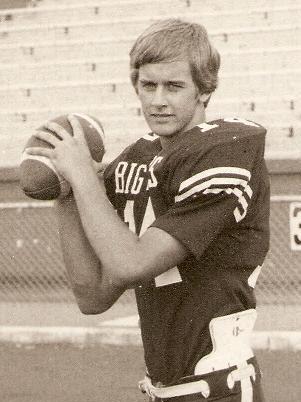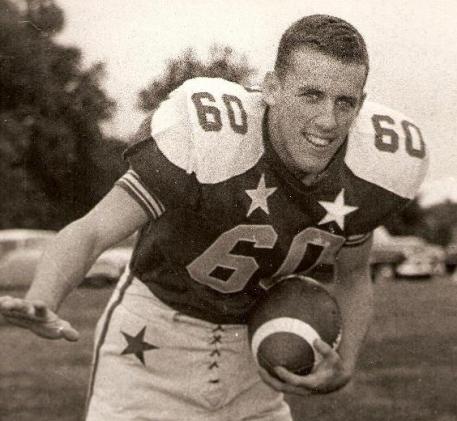 Reeves, Hayden To Enter PHS Grid Hall
Two men who have been outstanding both on and off the field and who are determined to carry on the Big Red tradition have been named to the Parkersburg High School Football Hall of Fame and will be inducted this Friday night prior to the first home game of the season.
Don Reeves from the Class of 1979 and Mike Hayden from the Class of 1960 are the latest members of the Big Red Hall.
The motto "Once a Big Red, Always a Big Red" is something Don Reeves takes to heart and goes above and beyond the call of duty as a former player and current head coach.
A multi-sport athlete at Jackson Junior High, Reeves became a Big Red in 1976 and threw a touchdown in his very first varsity game. He became a starter in 1977, throwing seven touchdown passes for a 9-2 team.
The following year the Big Reds won the state championship with probably the most impressive playoff run in history, shutting out all three opponents (who were all undefeated and averaging over 30 points per game). He passed for 13 touchdowns, 1,210 yards and ran for another 615 yards. Defensively, he had five interceptions and earned all-state honors as well as being named captain of the North team in the North-South all-star contest.
He went on to play quarterback at Morehead State, where he was captain as a  junior and senior, before returning to West Virginia to be assistant coach at North Marion and PHS. He coached football at Jackson Junior High from 1988-2006, winning 100 games, before becoming offensive coordinator on the state championship Big Red team of 2007. He also coached one year at Parkersburg South before taking the PHS helm three years ago. He also coached in the BACF game and the Chesapeake Bowl game.
Married for 26 years to Carole King, he founded the PHS Football Museum and helped start the PHS Football Hall of Fame. He has also worked tirelessly on the Save Stadium Field Project.
A man with impressive credentials both on and off the field, Hayden was born and raised in Parkersburg, becoming a Big Red football player in 1957. He made his first real impression in 1958 when he returned a kickoff 90 yards for a touchdown, a punt 65 yards for a touchdown and ran 15 yards for another score in a 69-7 win over Marietta. The following week he returned another punt for a 64 yard touchdown and played in the championship game win over East Bank.
Hayden became a first team all-stater in 1959 while running for 1,144 yards on just 122 carries and scoring 13 touchdowns while also throwing for two TDs. In the 19-13 loss to Bluefield in the championship game that year he scored a touchdown and completed six of eight passes for 71 yards. In six home games his senior year the Big Reds played before 50,496 fans.
After graduating from Morehead State in 1965 he earned his Master of Arts Degree from West Virginia University in 1980. He was assistant football coach at Massillon and Freemont, Ohio, as well at Parkersburg  before becoming the head football coach at Parkersburg South, where he took that school to its first ever playoff berth. He became athletic director at PHS in 1984, where he remained until 1999 when he took over at Executive Director of the WVSSAC for 8 years. While the AD at PHS, Big Red athletic teams won 35 state championships and had 10 runners-up. In 1996 the Stadium Facilities Improvement Committee was formed and in eight months the school had an artificial turf field, an all-weather track and a renovated pressbox.
He has been married to the former Cheryl Mauger for 51 years and has two married daughters with five grandchildren.
Nedeff Enters PHS Football Hall of Fame
From Parkersburg High School football and wrestling star to ordained Catholic priest, George Nedeff is the epitome of what hard work and sacrifice can accomplish.
And because of that he was inducte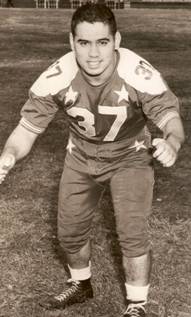 d into the PHS Football Hall of Fame Saturday night when the Big Reds played host to Warren Local at Marietta College's Don Drumm Field.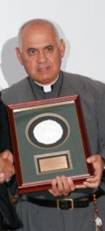 Nedeff, better known as "Poncho" to the people of Parkersburg, was one of the best all-around athletes to wear the Big Reds' colors. He was captain of the All-State Football team in 1958 as a 5-foot-8, 200 pound guard for the lineman for the undefeated (10-0-1) state champions of coach Russ Parsons. PHS beat East Bank 35-12 in the title game.
One of seven brothers who were all outstanding Big Red athletes, Nedeff also claimed the state heavyweight wrestling championship that year before going off to West Virginia University where he became a fixture.
At WVU he was captain of the wrestling team in 1963 and after graduation started his coaching career at Big Creek High School, where he began the wrestling program. In 1967 he returned to WVU to become the heading wrestling coach, compiling a 58-35-3 record over seven years.
He became director of Athletic Facilities at WVU in 1972 and continued through 1997.
A World War II veteran, Nedeff has been named to seven Halls of Fame, including Parkersburg High School, WVU Wrestling and Mid-Ohio Valley.
In 2007 he became an ordained Catholic priest and is currently serving as the Parochial Vicar at St. Anthony of Padua Parish in Robstown, Texas.
Father George was formerly married to Anita Rinehart Nedeff and is the father of two children, George Edward of Greenwood, IN and Cheryl Lewis of Fairmont: two grandchildren, Roman Michael and Tre.
2012 Inductees
Swisher Brothers Join Football Hall of Fame
Family has played a big part of the Parkersburg High School football tradition and famous brothers seem to be as common place as the victories that have come 795 times since 1900.
Two of the most famous brothers were the final inductees into the Class of 2012 of the PHS Football Hall of Fame this Friday night at Stadium Field as the Swisher brothers, Nick and Mark, joined the elite of the former Big Reds.
Although better known as a home run hitting major league baseball all-star, Nick Swisher's name is found throughout the Parkersburg football record book and usually at the top of the lists.
His name is among the leaders in scoring, rushing, kicking, receiving and even interceptions on defense.
As a sophomore in 1996, Swisher helped his team to a 7-4 record by scoring 49 points. As a junior the team went 11-3, losing in the state finals, a game Swisher had to miss with a shoulder injury. He led the team in receiving yards, was second in rushing with 962 yards and scored 65 points.
His senior year the versatile Swisher ran for 1,164 yards on just 140 carries and scored 17 touchdowns overall. He caught 16 passes and scored 160 total points as the team went 12-1 but lost in the semifinals to Nitro before one of the largest crowds to ever see a game at Stadium Field. He also had eight interceptions that year.
For his career he stands third on the all-time list in points scored with 274 and is seventh all-time in rushing with 2,229 yards on just under 300 carries. He is second in interceptions with 14 for his career and fourth with 10 field goals. He kicked 78 of 89 extra points including a record 32 in a row. His teams won 30 games.
He was twice named first team all-state running back.
He also managed to set a few records on the baseball field at PHS, establishing the state standard for home runs with 17 as a senior and is the only three-time all-state Big Red baseball player.
He was All-Big Ten at Ohio State before being drafted by the Oakland A's. He played four years in Oakland, one with the Chicago White Sox and the last four years with the New York Yankees, including a World Championship in 2009. He has 209 career home runs. His father, Steve Swisher, was a Big Red for one year and eventually became a major league all-star catcher himself.
There have only been two three-time first team all-state selections in the history of Parkersburg High School football. Ross McHenry was the first in 1920-21-22.  Mark Swisher was nearly the second. Josh Jenkins later earned that honor in 2005-06-07.
Swisher barely missed making first team all-state as an offensive lineman in his sophomore year of 1999. He was first team all-conference and All-MOV as well as helping his team win a state championship with the first 14-0 season in the history of the state. His junior year he was an overwhelming all-state selection as a linebacker on the 12-2 Big Reds, again making all-conference and All-MOV. As a senior he again swept honors as a linebacker, making all-conference, All-MOV and All-State as the Big Reds won the state championship again, this time with a 12-2 record.
He started all 42 games the Big Reds played during his three year career – and PHS won an amazing 38 of them.
As a senior he was also selected to play in the BACF All-Star game, which his team won and he was selected as the Defensive MVP after returning an interception a record 86 yards for a touchdown. He was later selected to play in the North-South All-Star game and again he helped his team to victory.
He was also a four-year letter winner in baseball at PHS and a four-year starter in football at Fairmont State University, earning captain honors as a senior. He graduated with a Bachelor of Science Degree in 2007 and is currently a licensed insurance agent in Columbus, Ohio.
"Big Red football is about tradition, honor and family," said Mark. "When you suit up and take that field, you are just not playing for yourself and your teammates. You are playing for all of the Big Reds who came before you and the ones who will come after you."
Former Big Red Coaches Scott, Parsons Selected For Hall of Fame
Two of the most successful coaches in the long history of the Parkersburg Big Reds will be inducted into the Parkersburg High School Football Hall of Fame this Friday night (Oct. 5) prior to the game against arch-rival Parkersburg South.
Jimmy Scott and Russ Parsons were the epitome of success during their tenures as the helm of the Big Reds, both winning over 70 percent of their games and winning three state championships between them during their 23 years as head coach. They stand as the third and fourth all-time winningest coaches in PHS history.
Scott was head coach for 11 seasons, from 1942-45 and then again from 1948-55, compiling an 86-28-2 record which included state championships in 1943 and 1950.
His undefeated 1943 squad is still the highest scoring team in Big Reds' history, averaging 39.6 points per game. The 1950 team defeated Oak Hill by a whopping 40-0 score in the state championship to cap a perfect 11-0 season.
He coached the 1950 Kennedy Award winner Jim Earley and had 13 first team all-state performers, including his son, tackle James Scott Jr., a 1954 selection.
Scott played high school football at Williamstown and earned a scholarship to West Virginia where he played for legendary former Big Red Earle "Greasy" Neale. Scott played at WVU from 1932-34 as a running back and kicker.
His first head coaching job was at Rainelle High School (now Greenbrier West) where he compiled a phenomenal 50-6-3 record including two perfect seasons. After leaving Parkersburg he coached at Miami Beach High School in Florida for nearly 20 years. He passed away in 1997.
Scott was also the first wrestling coach at PHS and in 2001 was inducted into the Mid-Ohio Valley Sports Hall of Fame.
Parsons was head coach at Parkersburg for 12 seasons (1956-67) where he posted an 85-34-4 mark and led the Big Reds to a 10-0-1 record and the 1958 state title, a 34-12 victory over East Bank. His Big Reds also appeared in the state championship game in 1959 and 1962, losing to Bluefield on both occasions.
Parsons' squads posted winning records in 10 of his 12 seasons and won at least seven games in nine of those years.
He mentored 14 first team all-state performers including 1957 Kennedy Award winner Jim Bargeloh, 1962 Hunt Award winner Gary Virden and 1967 Hunt Award recipient Barry Louden.
Parsons coached football for 35 years at four West Virginia schools, compiling an overall 267-84-19 record at Oak Hill, Charleston Catholic and Stonewall Jackson in addition to Parkersburg. He enjoyed equal success coaching track as his teams won 10 West Virginia state track championships, including an amazing eight straight from 1948-55 while at Stonewall Jackson.
Like Scott, Parsons was also inducted into the Mid-Ohio Valley Sports Hall of Fame, his selection coming in 1999.
Brad Johnson, "Babe" Davis Enter PHS Football Hall of Fame
Two Parkersburg High School football standouts from the 1990's who went from being Big Reds to Nittany Lions are the latest stars to be selected to the PHS Football Hall of Fame.
One of them was probably the fastest Big Red gridder ever while the other was simply known as "Babe."
Brad Johnson and Scott "Babe" Davis were inducted into the Hall of Fame prior to the Homecoming contest against Riverside. Johnson, a three-year starter and a two-time all-state selection, would beat every other Big Red runner in history in a foot race. As a junior he was state 110 meter hurdle champion and set state meet records in the 100 (10.6 to break James Jett's record) and 200 meters (21.8). A stress fracture kept him from running in the state meet as a senior.
He was equally outstanding in football, making first team all-state as a utility player in 1992 and as a punter/kicker in 1993 when he was runner-up for the Kennedy Award. He was McDonald's Player of the Year and All-American on five different teams – Scholastic Coach, Street & Smith's, Tom Lemming, Blue Chip and McDonald's.
He still holds PHS school records for career receptions with 94, career receiving yards with 1,636, is second in career receiving touchdowns with 14, third in single-season receiving yards with 818, fourth in single season receptions with 41, third in single game receiving yards with 197 and is fourth in field goals made in a season with six.
He went on to Penn State where he was red-shirted as a true freshman, then played and lettered 1995-1998. He played in the 1995 Rose Bowl against Oregon, the 1996 Outback Bowl against Auburn, the 1997 Fiesta Bowl against Texas and the 1998 Citrus Bowl against Florida. He had a hip fracture and did not play his fifth year of eligibility.
While Johnson relied on his great speed the other new Hall of Famer relied on brute size and strength.
A 6-foot-3, 250 pound sophomore who packed on 20 more pounds of muscle as a senior, Davis was fast enough to start three years at fullback and became the second all-time leading scorer in PHS history with 332 points including 55 touchdowns.
Davis was also strong enough to earn second-team all-state honors as a linebacker twice and finally make first-team all-state at linebacker as a senior when he was named USA Today West Virginia Player of the Year. During his senior year he had 86 tackles, 14 of them behind the line of scrimmage, plus two sacks.
He finished just 15 yards short of being only the second three-time 1,000 yard rusher in PHS history, gaining 3,083 yards for his career to place him fourth all-time. His season-by-season rushing totals were 1,085 as a sophomore, 985 as a junior and 1,013 as a senior – teams which had other 1,000 yard rushers each year.
But as impressive as Davis' individual statistics were as a player, the most impressive statistic of his career at PHS was the team's won-lost record. In three years as a two-way starter and leader of the team the Big Reds won 37 games and lost just four with years of 11-3, 12-1 and 14-0. As a sophomore the team lost in the state championship game to North Marion 16-6 and as a junior they fell to eventual state champion and J.R. House-led Nitro 24-15 in the semifinals before 14,000 fans at Stadium Field. As a senior the Big Reds won 31-28 over Riverside in the state title game to finish undefeated.
At Penn State, Davis was converted to an offensive lineman, lettering in 2003 and 2004. He played in 23 games as a Nittany Lion.
McCoy, Crouser Enter PHS Grid Hall of Fame
Durability and punishing are probably the two words to best describe the newest members of the Parkersburg High School Football Hall of Fame.
Mike McCoy, a bruising runner from the 1980's, and Bill Crouser, a bruising two-way end from the 1950 state championship team, have been selected as part of the Class of 2012 and were inducted on Sept. 14 at Stadium Field prior to PHS hosting Huntington.
Born in Vienna, Crouser would become one of the finest ends ever to play the high school game. He was a starting Big Red in 1949 for Coach Jimmy Scott before blossoming into a first-team all-stater as a senior, equally outstanding on offense and defense. He scored seven touchdowns, including three in one game. He anchored a defense which allowed just six touchdowns and posted seven shutouts en route to an 11-0 season.
In the state championship game against Oak Hill he put on a legendary performance at Huntington's Fairfield Stadium. Not only did the team win 40-0 over a previously undefeated team but Crouser scored three touchdowns himself, one a 46 yard pass from Jim Earley, the other a 14 yard end-around play and the final TD on an 83 yard scamper on a fake punt for which he was chastised by coach Scott for "running up the score." He also had a 66 yard punt and averaged 43.4 yards per punt in the game.
Crouser served in the Navy from 1951 through 1955 and played football for the Memphis Naval Air Station team where he was credited with a 95 yard punt which traveled 65 yards in the air. He returned to Parkersburg where he retired after 30 yards work with DuPont Washington Work. He was married to his high school sweetheart Shirley Longsworth and had four children, two sons, William Jr. and Thomas, and two daughters, Pamela and Prudence.
Thirty years later Mike McCoy earned a reputation for durability and consistency which would be hard to top.
After leading his Jackson Junior High teams to championships in football and basketball, McCoy became a fixture at PHS as a two-way starter during 1982 and 1983 and led the Big Reds to 19 wins and only four defeats.
As a junior he ran for 1,202 yards and 10 touchdowns, carrying the ball 236 times. As a senior he did even better, carrying 262 times for 1,343 yards and five touchdowns. He ran for 203 yards on 22 attempts against Bluefield and caught an 82 yard TD pass against Parkersburg South. His career total of 2,555 yards ranks him sixth all-time in PHS history while he scored a total of 18 touchdowns, caught 18 passes for 232 yards and had 54 tackles and five interceptions.
He was runner-up as a senior for the Kennedy Award as the top player in West Virginia, losing by one vote to Morgantown's Tony Johnson. The Big Reds' MVP scored a touchdown in the North-South all-star game in Charleston.
A versatile athlete, McCoy was also a starter in the outfield for the Big Reds from the middle of his sophomore season until graduation.
Although he was considered not big enough or fast enough to play college football, McCoy proved everyone wrong by walking on at Marshall University and two weeks into August practice had earned a scholarship and by the second game of his true freshman season he was the starting fullback. That year the Thundering Herd went 6-5 for the first winning season since the tragic plane crash of 1970. He became the team's leading rusher by 1985 and although his senior season was cut short by injuries he was still a four year letter winner and part of the national runner-up team of 1987. Marshall was 29-17-2 during his career.
After college he coached college football for 13 years including stops at Marshall, Rutgers, the Naval Academy, W.Va. Sate, Edinboro and Marietta College. He is married and lives in Moundsville with his wife Heather and two sons, Zachary, 14, and Rece, 9, where he has a State Farm Agency
Rich Winans, Joe Weaver, Dr. Richard Corbitt
Winans, Weaver, Corbitt To Enter PHS Football Hall of Fame
Two standout players from the 1970's and the Big Reds team doctor for nearly 30 years will be the first to be inducted into the 2012 edition of the Parkersburg High School Football Hall of Fame.
Rich Winans and Joe Weaver, two all-state defensive stars from the early and late 1970's will be joined by the man known simply as Doc by everyone associated with sports in Parkersburg, Dr. Richard Corbitt. Induction ceremonies will take place Friday night prior to the Cabell Midland game at Stadium Field.
Beginning his football career as a City Park Rambler, Winans went on to become a Washington Panther and a Little Red under Bob Dutton.
"I spent most of my early days on 12th Street and Quincy Hill playing ball with the Washingtons, the Browns, the Hendersons, the Thorntons, the Buttermores and the McLaughlins," said Winans. "We were always playing a different sport, throwing around old baseballs with torn covers and unraveling cores, flat footballs and shooting basketballs into rims with no nets."
The Ramblers were coached by former Big Reds like Jim Deem, Butch Shaver, H.K. Smith and Jim Winans (Rich's father).
"That's where I first heard, 'You want to be a Big Red?' I soon learned Big Reds are tough, I wanted to be a Big Red," he said.
His coaches at Washington Junior High were Dyke Goff, Larry Brothers and Bill Boggess. During the fall of 1970 he was a member of the Little Reds under Coach Dutton, the ultimate task-master.
"I remember Coach Dutton kicking me off the team bus for missing practice," Winans said. "I thought being hurt was a reason to miss practice, Coach Dutton didn't agree. His proverb was no practice, no play. He then told me to get off the bus and ride with the cheerleaders. I never missed practice again."
In 1971 he joined the Big Reds of coach Buddy James and although his team won just two games, the junior lineman was good enough to be a team captain four games, Assistant coaches Jay Yeardley, Tim Swarr and Dave Feola took a group of predominately juniors and molded them into a winning combination for the following season.
As a senior he was named team captain and earned first team all-state honors as a defensive tackle while leading the Big Reds to a 7-2 record and just missed making the playoffs when only four teams advanced. His younger brother Dave followed him onto the gridiron and twice made all-state.
After high school Winans became a four year starter for Coach Bill Kerr's Fairmont State College Fighting Falcons. Some of his teammates at FSC were Rob Collins, Paul Starcher, Greg Sams and brother Dave.
After graduating from Fairmont he pursued a career in business. In 1981 he started selling chemicals for LCP Chemicals and eventually wound up in the Cincinnati area where he married Maria Perrino of Cincinnati in 1995 and had one son, Jake in 1997.
The second honoree also played for Coach James in the 1970's, earning the starting linebacker position in 1977 and 1978. Although small in stature, Weaver was big in talent and desire – as were most of the Big Reds in the state championship season of 1978. He was a student of the game and called the defensive signals on the field from the mid-point of the season. He sparked a defense which gave up just 12 touchdowns in 13 games, 11 of them victories, and allowed only four touchdowns in the final seven games of the season including two shutouts in the two playoff games. He led the team in tackles with 178 while adding two fumble recoveries and five interceptions.
After graduation he earned a Doctorate degree from Southern College of Optometry and returned to Vienna to take care of the vision problems of this area.
"I attribute this honor to all my co-players, coaches and all families involved," he said. "The times of playing Big Red football will always be close to my heart."
Although he never played football, the final inductee was a member of the 1932 state championship track team at PHS and after earning his medical degree from the University of Maryland and a stint in the U.S. Navy during World War II where he earned two battle stars in the south Pacific, he returned to Parkersburg to begin his medical practice and his association with Big Red football and basketball teams.
For the next 27 years Dr. Richard Corbitt was on the sidelines for all PHS football games, home and away. He gave physicals, taped ankles, and treated injuries to thousands of Big Reds. He was responsible for making sure players had enough water during practice and games as a time when it was not a common practice. He developed a training program for athletic trainers and was chairman of the American Medical Association's Medical Aspects of Sports Committee. He was even made an honorary coach of the West Virginia Coaches Association and in recognition of his contribution to local sports the trophy presented annually to the winner of the PHS/South game is named in his honor.
"Doc" Corbitt was actively involved in community and state organizations. He served as the Wood County coroner for 27 years and was chairman of the Post Mortem Examinations Committee of West Virginia. He was chief of staff for both St. Joseph's and Camden-Clark Hospitals, an elder of the First United Presbyterian Church, a member of the Parkersburg Rotary Club and president of the Chamber of Commerce. He was also president of the Parkersburg Academy of Medicine, president of the West Virginia Medical Association, a fellow of the American College of Surgeons and a diplomat of the American Board of Urology.
2011 Inductees
2010 Inductees