Marietta Eyes Third Straight Over PHS To End 102 year Drought
Marietta and Parkersburg.
Divided by the Ohio River and 12 miles of road.
Began playing football in 1901. That's right 1901.
They meet for 113th time this Friday at Stadium Field and Marietta will be trying to accomplish something it has not done since 1915 – beat the Big Reds three times in a row.
PHS holds a 77-29-6 advantage in the series between the two ancient rivals but the Big Reds have lost two straight to the Tigers, something which over a 100 years ago would have been cause for near rioting in the streets. That's how fierce the rivalry once was between the two towns.
Marietta topped the Big Reds 20-17 two years ago on the Stadium turf and last year put it on PHS to the tune of 49-13 at Don Drumm Field. Only twice before in the previous 100 years had Marietta ever won two in a row (1966 and 1920).
This year Marietta started off with impressive wins against Morgan (26-7), Warren (50-16) and Williamstown (49-14) before running into a steamroller known as defending West Virginia Class A state champion St. Marys. When the dust settled from that game, the Tigers has been beaten 63-19.
Meanwhile, Parkersburg started with a big 49-10 win over St. Albans (which has since beaten Nitro 38-0 and Ripley 37-34 although losing to Spring Valley) and then faced the number two and three ranked teams in the state in Capital and Huntington. Although losing to both of those teams, the Big Reds gave an excellent account of themselves in the second half of both games and if they can recover from some minor injuries should be ready to go against the Tigers.
Marietta is a three-pronged offensive team led by running back Dominic Vanfossen. He scored twice and ran for 171 yards against that tough St. Marys team and now stands with 567 yards rushing in four games with seven touchdowns.
The Tigers of coach Andy Schob can also throw the ball with quarterback Corbin Alkire having tossed for 222 yards and a touchdown against St. Marys. Alkire, who is also a running threat, has completed 40 of 86 passes for 711 yards and eight touchdowns.
Tanner Stack is the big play receiver for Marietta with nine catches for 186 yards and a 72 yard touchdown against St. Marys. Stack now has caught 18 passes for 433 yards and two scores.
Meanwhile the Big Reds have been scoring over 30 points per game while throwing for 592 yards in three games and rushing for 417. They have turned the ball over four times (one interception) while getting seven takeaways (5 interceptions).
Tyler Moler has rushed for 321 yards and three touchdowns while Kam Mace has passed for 255 yards (12 of 24 with three touchdowns) and Jake Johnson has thrown for 337 (30 of 46 with four touchdowns).
The Big Reds have two primary receivers in Brenton Strange with 13 catches for 234 yards and Seth Dailey with 10 catches for 222 yards.  Both have three touchdown receptions.
Defensively, PHS is led by Wyatt Strobl and Strange with 27 and 25 tackles respectively while Brandon Braham and Kionte Peacock check in with 21 and 18 stops each. Dailey has two interceptions and C.J. Wade four tackles for loss and a sack.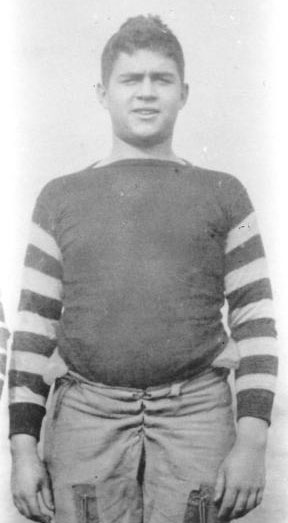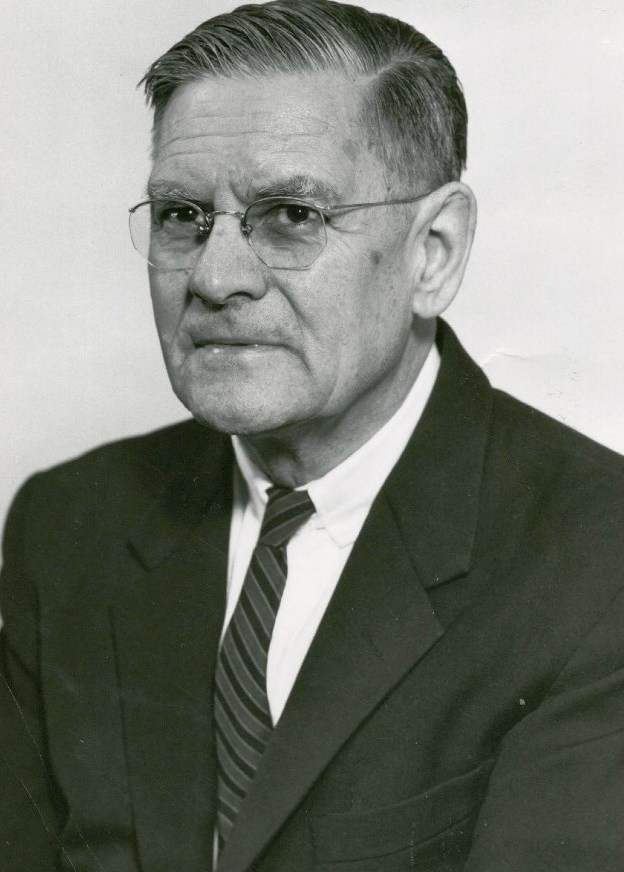 .................Joe Setron...........................................................Bill Babcock
Setron, Babcock Enter PHS Hall of Fame
A man who was a giant on the football field 100 years ago and another man who was a giant in the newspaper community will be honored Friday night as the latest members of the Parkersburg High School Football Hall of Fame.
Joe Setron, an all-stater from 1917, and Bill Babcock, a legend in the fourth estate and the greatest statistician of his time, will be enshrined prior to the Big Reds hosting ancient rival Marietta at Stadium Field.
Setron was indeed a man among boys. The 250-pound offensive guard and defensive tackle was a first-team all-state selection for Parkersburg High School thanks to his dominance along the line of scrimmage.
Often referred to as a giant because most players in that era weighed closer to 150 pounds than 250-pounds, Setron blocked and tackled the Big Reds to a 10-2 record. Parkersburg outscored its opponents 429-57 but suffered shutout losses to Charleston and Huntington.
The beneficiary of Setron's blocking was two-time all-stater Claude Crawford, who rushed for 20 touchdowns and two extra points in 1917.
Setron went on to play collegiately at West Virginia University from 1919-1922. He was a three-year starter, a second-team All-American guard and was named to WVU's all-decade team for the 1920's. He played in the Mountaineers first-ever bowl game in 1922.
After graduation Setron played one year in the NFL for the Cleveland Indians. That 1923 squad posted a 3-1-3 record. He then returned to West Virginia University where he served as the head coach of the freshmen team in 1925, 1926 and 1927.
He lived in Cleveland, Ohio at the time of his death. He will be represented at his induction by niece Nancy Setron Evans and her family.
Babcock was born in Vermont then moved to the Boston area. He moved to Parkersburg in 1931 as part of his job with the O. Ames Co. Although he worked as an accountant his passion was writing sports. In 1941 he became Tax Division manager for Parkersburg Rig and Reel, a position he held until forced to retire at age 65. He then moved to Kalamazoo IM where he died at 1966.
In 1935 he offered himself as a part-time employee of the Parkersburg News and later switched to the Sentinel. In all he worked 23 years for the fourth estate and covered 367 football games.
His first game was 1935 against Morgantown and ended in 1958 at Huntington East. In the dressing room after that last game he gave a brief talk and the team responded by vowing to beat Weirton the following week for Mr. Babcock as part of a cheer led by big Carl Elliott. The team presented the game ball to Babcock's wife at the post-season football banquet.
It is also recorded that he was a statistician who had no peer. Without the use of a calculator or computer, Bill not only kept the play by play accounts of during the football games but the individual yardage as well. And he could produce the figures at the drop of a hat. And he not only covered football, but also basketball, baseball, and track for PHS with the same precision and detail. And while he was first and foremost a Big Red fan, he also covered many games in L-K towns around Parkersburg and was the official scorer of the City Park baseball league. Additionally, he promoted bowling in Parkersburg, often serving as the official scorer for many bowling leagues. As a result of his efforts to keep the sport of bowling in the limelight, he was selected to be an honorary member of the Parkersburg Bowling Hall of Fame.
His family included his wife, Mildred Babcock, two sons Bill Babcock, Jr and Allan Babcock, and daughter Barbara Kight – all now deceased. Amongst his living relatives are his daughter Virginia (Ginny) Babcock Myers and her family which includes Deborah Myers Richardson; Barbara's son Fred Kight, and Allan's daughter Carol Babcock Straight.

PHS Falls To Huntington, 35-21
Game Statistics / Game Photographs
HUNTINGTON - It was another tale of two halves of football for the Parkersburg Big Reds here Friday night.
For the second week in a row it was a lackluster first half followed by a strong second half that caused the Big Reds to lose to second-ranked and undefeated Huntington by a 35-21 score. PHS fell behind 14-0 in the first half and 21-0 early in the third quarter before rallying to outscore the Highlanders 21-14 over the last 17 minutes.
A week ago against third ranked Capital, PHS fell behind 27-0 before outplaying the Cougars the entire second half.
Huntington turned loose a two-headed rushing attack and got some accurate passing from lefty Luke Zban to pile up 544 total yards. Chris Rogers rushed for 168 yards and Jadon Hayes 167 while Zban completed 12 of 22 passes for 209 yards and two touchdowns. Mikal Dawson caught both scores on plays covering 73 and 25 yards. Hayes had a 78 yard punt return touchdown while Rogers scored on runs of 42 and nine yards.
The Big Reds got three touchdown passes from Kam Mace, who returned to action from a shoulder injury to completed 12 of 24 passes for 255 yards including two long touchdowns to Brenton Strange and one to Seth Dailey. Strange tied a school record with an 88 yard touchdown reception while also catching one for 33 yards and finished with 123 yards on four catches. Dailey's scoring play covered 53 yards.
PHS finished with 375 total yards and 16 first downs after compiling just 69 yards and four first downs in the first half.
Huntington broke on top with 4:05 left in the first quarter when Zban found Dawson on a 73 yard touchdown play.
The Highlanders got a break moments later when they recovered a pooch kickoff on the Big Reds 41 and four plays later Zban found a slanting Dawson for a touchdown from 25 yards out.
The second half started with the Big Reds driving to the Huntington 28 before a fourth down sack ended the drive. After forcing a punt, PHS fared little better and Matt Curry, who kept the Huntington offensive bottled up most the night by averaging 44.7 yards on six punts including three inside the 20 (to the four, five and 10 yard lines), then kicked to the opponents 22 yard line but Hayes gathered it in and raced up the middle for the touchdown to make it 21-0.
The Big Reds' offense finally got untracked on its next possession when Mace hit Dailey with a 53 yard pass and run play with 4:05 left in the third quarter.
Huntington answered with a 42 yard scoring scamper by Rogers but the Big Reds took just two minutes to respond with a record-tying reception.  Strange went 88 yards to tie the record for longest receiving touchdown in school history (also held by Dan Fox from Josh Trembly in 2014). That cut the lead to 28-14 with 1:16 left in the third period.
The Highlanders were able to control the ball for most of the fourth quarter, adding a nine yard TD run by Hayes with 1:42 left although PHS scored again 74 seconds later on a 33 yard catch near the goal line by Strange.
Defensively, Strange had a big game with 13 tackles (one for loss) while Brandon Braham had 12 and Kionte Peacock contributed nine stops respectively.
Big Reds vs Highlanders (Sep 15, 2017 at Huntington)
Score by Quarters             1        2        3        4        Total
Big Reds                        0        0        14      7        21
Highlanders                  14      0        14      7        35
Qtr Time Scoring play
1st 04:05 HUNT - Mikal Dawson 73 yd pass from Luke Zban (I. Carpenter kick), 2-75 0:58
03:25 HUNT - Mikal Dawson 25 yd pass from Luke Zban (I. Carpenter kick), 4-41 0:35
3rd 05:52 HUNT - Jadon Hayes 78 yd punt return (I. Carpenter kick)
04:05 PHS - Seth Dailey 53 yd pass from Kam Mace (Christian Axman kick), 7-78 1:40
03:19 HUNT - Chris Rogers 42 yd run (I. Carpenter kick), 4-64 0:45
01:16 PHS - Brenton Strange 88 yd pass from Kam Mace (Christian Axman kick), 3-85 1:57
4th 01:42 HUNT - Chris Rogers 9 yd run (I. Carpenter kick), 11-90 4:02
00:28 PHS - Brenton Strange 33 yd pass from Kam Mace (Christian Axman kick), 4-67 1:05
..........................................................PHS HUNT
FIRST DOWNS                                         16 23
RUSHES-YARDS (NET)                           24-122 44-335
PASSING YDS (NET)                               253 209
Passes Att-Comp-Int                                  27-14-0 22-12-1
TOTAL OFFENSE PLAYS-YARDS                   51-375 66-544
Fumble Returns-Yards                               0-0 0-0
Punt Returns-Yards                                    0-0 2-77
Kickoff Returns-Yards                               5-53 1-0
Interception Returns-Yards                        1--3 0-0
Punts (Number-Avg)                                  6-44.7 1-35.0
Fumbles-Lost                                              1-1 0-0
Penalties-Yards                                           3-39 7-51
Possession Time                                          23:02 24:30
Third-Down Conversions                              4 of 11 5 of 10
Fourth-Down Conversions                            0 of 1 0 of 3
Red-Zone Scores-Chances                            0-0 1-3
Sacks By: Number-Yards                              0-0 2-14
RUSHING: Big Reds-Tyler Moler 16-80; Shane Miller 1-21; Brenton Strange 2-17; Jake Johnson 3-6; Kam Mace 2-minus 2. Highlanders-Chris Rogers 19-168; Jadon Hayes 22-167; Luke Zban 2-2; Jack Hiner 1-minus 2.
PASSING: Big Reds-Kam Mace 12-24-0-255; Jake Johnson 2-3-0-minus 2. Highlanders-Luke Zban 12-22-1-209.
RECEIVING: Big Red -Brenton Strange 4-123; Jake Johnson 4-47; Seth Dailey 3-57; Nathaniel Steed 1-18; Braedon Mason 1-5; Tyler Moler 1-3. Highlanders-Bryce Damous 5-54; Mikal Dawson 3-104; Jack Hiner 3-37; Stephen Perrine 1-14.
INTERCEPTIONS: Big Reds-Seth Dailey 1-minus 3. Highlanders-None.
Big Reds Fight Back But Fall Short To #3 Cougars By 40-21 Score
Game Statistics / Game Pictures
CHARLESTON - Trailing 27-0 with just over two minutes left in the first half against the number three ranked team in the state, most teams would have packed their bags and called it a night.
But the 2017 Big Reds are not like most teams.
They fought back to pull within six points at 27-21 late in the third quarter and made another run in the fourth quarter that was halted by a close call that cost PHS an interception return touchdown before bowing to host Capital 40-21 here Friday at the University of Charleston stadium.
As usual Capital took advantage of a couple of turnovers and some big offensive plays to build the 27-0 lead.
A tipped pass that was intercepted by Capital at the PHS 28 set up the game's first score, a four yard run by Kerry Martin. A 22-yard run by Keyshawn Gray was the big play on the three play drive.
Martin finished with 83 yards rushing on just eight carries and passed for 274 yards and three touchdowns.
The Cougars actually drove for their second score, a four yard run by Gray, who finished with 86 yards on 15 carries, but a fumble on the Capital 40 enabled them to go 60 yards on five plays with the big play being a 45 yard scramble by Martin. The touchdown came on a six yard run by 256 pound fullback Kalai Clark.
Generating no offense in the first half (0 rushing and 61 passing total), PHS went for it on fourth down from its own 40 and failed to pick up the yardage. On the next play Matin hit Deishawn Harper with a pass and run completiong for the touchdown. After a penalty, soccer player Zack Ihnat (who kicks for the football team only on game nights), booted the 43-yard extra point to make it 27-0 with 2:12 left in the half.
But the Big Reds started their comeback, led by junior Jake Johnson, and scored with no time left on the clock when the quarterback sneaked over from the one yard line. Johnson hit five of six passes on the 69 yard drive, finding Shane Miller three times for 29 yards and hitting Anthony Craig for 15 yards down to the one with 12 ticks remaining.
In the second half PHS was able to move the ball for nine first downs and 217 yards as Johnson scrambled, ran and passed with much more effectiveness. For the night he completed 22 of 33 passes for 269 yards and two touchdowns with Brenton Strange catching seven for 94 yards.
The visitors took the second half kickoff and drove to the 35 but a fourth down pass fell in complete and Capital responded by driving to the Big Reds' 26 where Kionte Peacock came up with an interception at the goal line and returned in 27 yards.
PHS then drove for its second score with Johnson completing four of six passes including the final one for eight yards to Seth Dailey after a wild scramble by Johnson to get clear. A 32 yard bomb behind the Cougar secondary to Anthony Craig after another scramble was the big play on the drive that just the lead to 27-14 with 3:49 on the third quarter clock.
Capital punted to the PHS 31 and on the next play Johnson found Shane Miller over the middle and the Big Red junior stepped out of the tackle at the 15 and went into the end zone to complete the long scoring play. Christian Axman's kick cut the lead to 27-21 with 35.4 seconds left in the third quarter.
The Cougars answered that score with another long one of their own when Martin threw over the middle to Kerion Martin, who stopped, sidesepped a defender and raced 56 yards to the end zone with just 14 seconds gone in the final quarter. The extra point pass failed and it was 33-21 on the scoreboard.
PHS had to punt and Capital got the ball back on its own 33 with 10:10 left in the game. The Cougars moved to near midfield but on third down Martin threw one deep that was tipped and landed in the hands of Peacock, who headed for the end zone.
However, the nearby official signaled incomplete pass and no interception even though it appeared the ball never touched the ground and there was no whistle blown. Peacock scored but most of the Cougars did not give chase, believing the play had been blown dead despite the lack of a whistle. After watching the replay on video, it did appear the ball hit the ground and bounced into Peacock's hands but there was also no whistle to stop play.
So Capital got the ball back and punted, thankful the touchdown which would have made it 33-28 with 7:52 remaining was disallowed.
The Big Reds had to start from their own 28 and moved to the Capital 30 thanks to a great catch off a tip by Strange which garnered 33 yards. But on fourth down Johnson was forced to scramble and threw incomplete.
Capital got a cushion TD with 2:25 left on a 28 yard pass to Harper to make it 40-21 only to have another weird officials' call follow two plays later.
The Big Reds, from their own 26, completed a pass to Tyler Moler for a gain of 12 yards but a flag was thrown, apparently for an ineligible receiver downfield. The penalty was apparently declined but the ball went back to the 26 yard line instead of the 36.
PHS was able to only advance to near midfield before a fourth down sack of Johnson ended any comeback hopes. Johnson was sacked or hit for total of 51 yards in losses during the game.
#13 Big Reds vs #3 Cougars (Sep 08, 2017 at Charleston)
Score by Quarters 1 2 3 4 Total
Big Reds .........0 ..7 14 ..0 - 21
Cougars ..........6 21 ..0 13 - 40
Qtr Time Scoring play
1st 04:00 CAPITAL - Kerry Martin Jr 4 yd run (Arlie Watson pass failed), 3-28 0:55
2nd 10:31 CAPITAL - Keyshawn Gray 4 yd run (Zack Ihnat kick), 8-69 4:29
04:03 CAPITAL - Kalai Clark 6 yd run (Zack Ihnat kick), 5-60 1:59
02:12 CAPITAL - Deishawn Harper 40 yd pass from Kerry Martin Jr (Zack Ihnat kick), 1-40 0:12
00:00 PHS - Jake Johnson 1 yd run (Christian Axman kick), 10-69 2:06
3rd 01:51 PHS - Seth Dailey 8 yd pass from Jake Johnson (Christian Axman kick), 10-73 3:49
00:36 PHS - Shane Miller 69 yd pass from Jake Johnson (Christian Axman kick), 1-69 0:14
4th 11:46 CAPITAL - Kerion Martin 56 yd pass from Kerry Martin Jr (Kerry Martin Jr pass failed), 2-64 0:42
02:25 CAPITAL - Deishawn Harper 28 yd pass from Kerry Martin Jr (Isaac Abdalla kick), 7-70 2:32
Sept. 11 at Stadium Field
Capital Jayvees                              6          24       6          0          -           36
Parkersburg Jayvees (0-1)....         0          0          0          0          -           0
C - Michael Robinson 10 run (run failed) 7:03 1st
C - Joshua Martinez 55 interception return (Robinson run) 7:30 2nd
C – Karrington Hill 34 pass from Elias Canterbury (Robinson run) 4:11 2nd
C – KJ Taylor 52 pass from Canterbury (Canterbury run) 2:01 2nd
C – Taylor 62 pass from Canterbury (run failed) 4:23 3rd
Team Statistics
First Downs – Capital 13, PHS 4
Rushes-Yardage – Capital 35-175, PHS 20-26
Passing Yardage – Capital 178, PHS 26
PA-PC-INT – Capital 5-6-0; PHS 4-18-2
Penalties – Capital 15-110, PHS 2-10
Punts – Capital 3-17.0, PHS 5-41.0
Individual Leaders
Rushing – Capital:  Michael Robinson 6-97, Elias Canterbury 11-40; PHS: Matt Curry 2-22.
Passing – Capital: Canterbury 5 of 6 for 178;  PHS: Jacob Modesitt 3 of 14 for 32 (1 int), Michael Owen 1 of 4 for minus 6 (1 int).
Receiving – Capital: KJ Taylor 3-130; PHS: Curry 2-26.
Leading Tackler – PHS: Carter Mills 10, Curry 7.

Lindamood, Maddox, Rayburn Lead Off
PHS Football Hall of Fame 2017 Class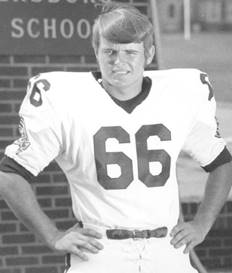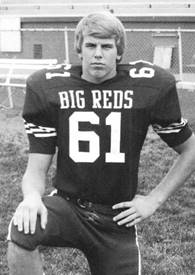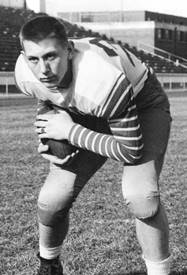 Mike Lindamood               .................John Maddox                     ..........Ed Rayburn
The eighth class of the Parkersburg High School Football Hall of Fame begins with the third member of a three generation Big Red family, a player who literally grew into Big Red gridiron stardom, and an all-around standout from the early 1950's.
Mike Lindamood, an all-stater from 1970, John Maddox, the captain of the 1977 team and Ed Rayburn, a clutch performer on the Big Reds in 1950 and '51, will enter the Hall of Fame on Aug. 25 in pre-game ceremonies to take place as PHS opens the 2017 season by hosting St. Albans.
The third member of the Lindamood family to enter the PHS Hall, Mike has the odd distinction of following two of his nephews – Matt and Joey, who were two of three outstanding brothers (Adam being the other) – into the cherished membership. His nephews were the offspring of brother, Mark, who also played for the Big Reds in the 1970's as did their father in the mid-1940's for coach Jimmy Scott.
After an outstanding career for the Vienna Wildcats and Jackson Generals, Mike Lindamood moved on to the Little Reds in 1968 and in 1969 he became a starting defensive linemen for the Big Reds.
He had a two-year reign as defensive star for PHS teams which lost just three times (with one tie) and gave up just 68 points one year and 108 the next. Thirteen times over that span the Big Reds gave up one touchdown or less. He was Indian of the Week seven times, had nine unassisted tackles in one game and graded out at 91% one game as a lineman. He was Defensive Player of the Year as a Senior on his way to first team all-state honors as a nose guard.
Lindamood went on to play football at Fairmont State and currently resides in Crystal Lake, Illinois. He and his wife Cindy have a son, MJ, and daughter, Yvonne, with five grandkids.
Maddox became an all-state football player during his three-year Parkersburg High career by getting bigger and better each year.  He morphed from a 6-3, 170-pound tight end that led the team in receiving as a sophomore to a more rugged 6-4, 190-pound guard on the 1976 state championship team and finally, to a 6-4, 225-pound senior behemoth on the line that opened holes for a rugged running attack led by three-time 1,000-yard rusher John Richards.
Parkersburg enjoyed great success during Maddox' stellar career, posting a 27-6 cumulative record.  The Big Reds won the title in dominating fashion in 1976 and then lost in the semi-finals to Beckley in 1977.
However, it was PHS' lack of offense in 1975, along with Maddox' growth spurt and commitment to the weight room, that led him into the trenches.
Buddy James' 1975 team compiled an 8-2 record but scored only 127 points.  Maddox was the leading receiver on that squad with 8 receptions for 112 yards and one touchdown and one extra point.  But, when he moved to the line in 1976 the offense coincidentally exploded to the tune of 352 points and over 2,000 yards rushing.
As an overpowering senior, and Captain of the '77 team, the Big Reds racked-up 242 points and accumulated more than 2,000 yards rushing.
A first team All-State selection Maddox was invited to play in the West Virginia North-South All-Star Football Classic. In addition to be selected Captain of the North squad the game took on special meaning as Maddox' father (James Maddox) also played in the N-S classic in 1946.
Maddox accepted a full athletic scholarship to the University of Kentucky where he played offensive guard and center. Awarded offensive lineman of the year, FCA player of the year and elected team Captain his senior year. 
Maddox graduated with a B.B.A. in Finance and is a partner in a privately held investment management firm located in Lexington, Kentucky. Married to Lynn (Shores) Maddox, originally from Charleston, WV and they have two daughters Tayler and Samantha. His wife's father is former Kennedy Award winner Hoppy Shores.
The final member of the first group of inductees was called by head coach Jimmy Scott the best all-around football player in the state of West Virginia as a senior in 1951.
Rayburn played both offense and defense for the Big Reds in 1950 and 1951 and was an integral part of the 1950 state championship squad that went undefeated (11-0) and clobbered Oak Hill 40-0 in the title game. PHS had seven shutouts in 1950, allowed just 39 points and averaged 28 points per game. The versatile Rayburn contributed three touchdowns.
As a senior, Rayburn and the Big Reds lost their dreams of back-to-back state titles with a regular season loss to Stonewall Jackson (only two teams made the championship round).
Playing right halfback or wingback from the winged-T formation Rayburn ran for eight touchdowns. He averaged 8.7 yards per carry and did all the kicking, including 21 extra points. He usually put the kickoffs into the end zone and averaged a whopping 41 yards per punt while completing seven of eight pass attempts including one for a touchdown to Bob Summers. On defense he was a linebacker.
Rayburn culminated his senior season by being named first team all-state and was selected as a High School All American.
Byus The Builder Must Rebuild Big Reds
By Rick Ryan, Charleston Gazette
Mike Byus has a rebuilding job on his hands, and it's not just any rebuilding job.
Byus takes over as coach at Parkersburg, which isn't called TitleTown for nothing. The Big Reds have captured 11 West Virginia football championships, the most of any current school in the state.
However, the Big Reds have made the Class AAA playoffs just once in the past five years and have not won a single playoff game since securing their last state title in 2007.
Enter Byus, a Madison native and Scott High graduate who knew nothing but success the past 12 years coaching East Lincoln High in Denver, North Carolina. The Mustangs won a pair of 2-AA state championships and 133 games under Byus, posting eight 10-win seasons and never finishing below .500.
The 56-year-old Byus, who attended college at both West Virginia University and WVU Tech, graduating from Tech in 1984, coached a total of 30 seasons in North Carolina, including 13 years in Wake County.
He's the lone first-year coach in the Mountain State Athletic Conference, and faces an uphill climb to get the Big Reds back to their preferred perch.
"They've fallen on hard times a little bit,'' Byus said, "and there's no shortcut answer to that. We've got to recruit our own building and get the kids playing that are in our school. All we can do is coach the kids in our schools. We want to keep these kids in our system.
"I like our kids. They're great. They work hard, the coaches work hard. We're just going to try and be positive and work hard and control the things we can control. We're working on getting better and we can't worry about everything else. I enjoy working with our kids and watching them develop from day to day.''
Byus had a proven system at East Lincoln, taking state titles in 2012 and 2014. Even last year, his Mustangs were 11-3 and reached the third round of the North Carolina playoffs.
And they did it with flair, many times throwing the ball all over the lot. Chazz Surratt, quarterback of the 2014 title team, finished the season with 53 touchdown passes and 19 TD runs as the Mustangs went 16-0, cranking out 42 points per game. Surratt is now a freshman QB at the University of North Carolina.
"We're going to install our basic offense,'' Byus said. "Our biggest thing is to take what they're giving us on defense. We've got two [ideas]: take what they give you, and find things your kids can do well. We're still working through that process to see what we do best.''
Byus inherits some talent from a squad that finished 4-6 in Don Reeves' final season as coach, most notably junior receiver Brenton Strange (6-foot-5, 212 pounds). Strange hauled in 45 passes last year for 489 yards and four TDs, making him a possible prime target.
Two more Parkersburg basketball players have come out for football and could help at wideout — junior Kionte Peacock (6-1, 151) and senior Seth Dailey (6-0, 148). They join hoops teammate and junior Jake Johnson (6-1, 170), who was already playing football as a backup quarterback, receiver and defensive back.
Byus said senior Kam Mace (6-1, 175) is leading the pack at quarterback so far.
"He's probably got as good a grasp on the offense,'' Byus said, "as anybody's ever had in this short amount of time.''
Byus also singled out junior running back Tyler Moler (6-0, 185) as one of the team's strong points, along with a pair of tackles — senior A.J. Nolan (6-0, 265) and junior Ryan Creech (6-3, 275).
"We're not very deep on the offensive line, but we're pretty good,'' Byus said. "We've got a nice set of wide receivers and the defensive backs are not bad. On the defensive line, we're looking for folks who can get the job done.
"For a 3-A program, we're having to play too many kids on both sides of the ball. That hurts us some in the fourth quarter, so we want to work into better condition so we can still be effective in the fourth quarter.''
In the near future, Byus plans on familiarizing himself with teams and tendencies in the MSAC, but hasn't had the chance yet.
"We want to watch last year and see what we're up against,'' he said. "We've had a limited amount of time since we've been here. We're really trying to get our stuff right, and then we will start looking at [opponents].
"We know we have one of the toughest schedules in the state, and we'd like to be ready for that the best we can. Right now, we're learning, developing, working. Trying to learn to put two consistent practices together and work hard all the way through.''
The Big Reds work out Saturday in his former back yard, as they venture to Madison to scrimmage Scott and Chapmanville.
Byus said getting back to family ties in West Virginia played a role in his taking the position at Parkersburg. In fact, his brother-in-law was the one who informed him of the Big Reds opening.
"Partly, I wanted to get close to mom,'' he said, "because we lost dad this spring. I just spent a weekend with my mom, and it's always good to do that. I look forward to being able to do that more often.''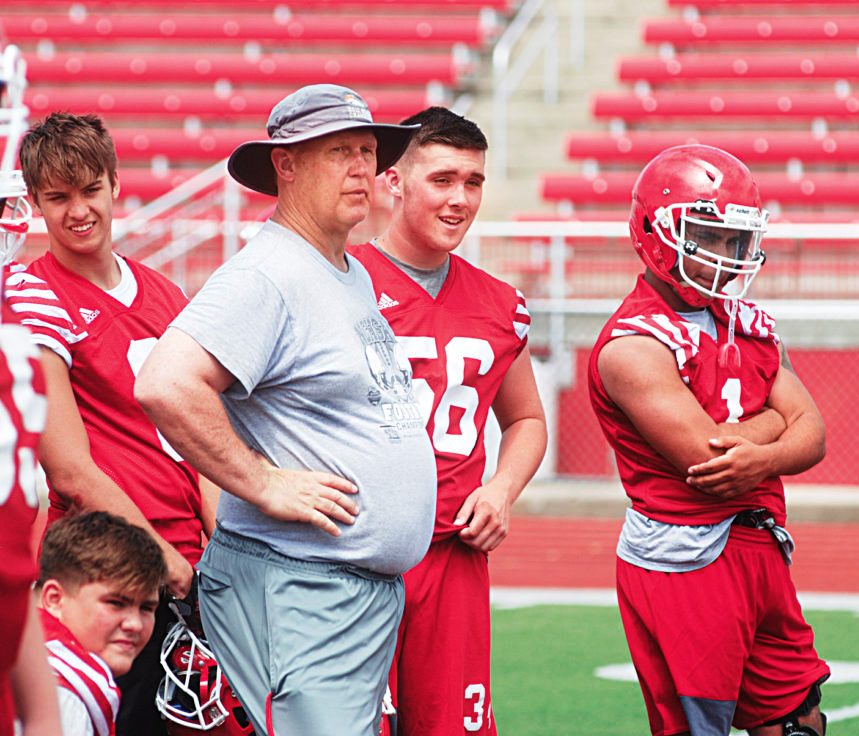 By Jay Bennett, Parkersburg News & Sentinel
PARKERSBURG — Mike Byus hasn't been a Big Red for very long, but the first-year Parkersburg High School head football coach has hit the ground running during the three-week summer period.
The new leader of the red and white comes to PHS following a 12-year stint at East Lincoln High School in North Carolina where his teams never had a losing record and twice won the 2A state title — 2012 and 2014.
"There's always a transition period," admitted Byus, who has a career record of 210-104 while also having coached at Robbinsville and Raleigh Athens Drive. "We have to be patient. Right now, the kids, what they thought was an apple is an orange. We are learning terminology, but the kids are starting to learn what we call things. They've picked it up fast."
With various athletes working in different sports during the three-week period, the Big Reds have 70-plus, including freshmen, out for football.
"It's not too late. We are in search of Parkersburg athletes who want to play football so please come on out," said the coach. "We've got one more week of the three-week period and I'd love to see you come and start learning what we are doing and get involved in workouts.
"You know, that's my first priority. It's the kids of Parkersburg staying here and playing athletics for our school. It's Parkersburg High School and all I'm asking is please do things for your school. That's all I'm asking.
If you are on your way up, stay here. Let's do this thing together."
The physical education teacher stressed "I'm not one of those single-sport guys. I don't want my guys playing football all year. That's what's hard about the three-week period. We want guys doing multiple sports, first of all. We encourage our guys. Our guys, when football is over should go wrestle or play basketball and if they are not then they need to start getting in the weight room.
"If they are wrestlers, I hope we can work it out where that during the fall it's not wrestling season, I hope they are out here helping us win football games. I hope our football players go help them win wrestling matches. I hope our basketball players come out here and help us win football games and I hope our football players go help them win basketball games."
PHS is coming off consecutive 4-6 campaigns, but qualified for the Class AAA playoffs in 2014. The Big Reds finished 6-5 after losing 45-42 in overtime to Cabell Midland in the opening round.
"First of all, this is our team and if somebody wants to join it, that's awesome," Byus expressed. "But, you are working with that guy beside of you and we are just going to go to work and do the best we can. Nobody says we're going to ever win every game. I don't even talk to them about winning games. I talk to them about preparing mentally and physically, work ethic and how you behave on the field. I talk to them about all those things.
"You got to do all those other little things before you can ever worry about the outcome of a game. We're just going to work hard and learn as much as we can and put them in situations in practices that we think we'll see in the games and pass that on and go play with great effort and the best sportsmanship and let the chips falls where they may."
Coach Byus, who left Wednesday evening to head back to North Carolina to fulfill a prior commitment, added "I'm up right now by myself and I've got a place to stay. Everybody has been super nice and they are taking care of me. These first couple weeks almost every day I've had somewhere to go, somewhere to be, something to do."
The new head man also emphasized "you have to mentally focus and you have to physically be able to get the job done. We're just out their going to work and we are learning.
"We are learning as we go. The kids have been like sponges. I'm proud of them. They've been working hard and they've been learning well."
Committee Nominates Byus To Be New Big Red Football Coach
The Parkersburg High School football program has its next head coach pending Board of Education approval at the June 13 meeting.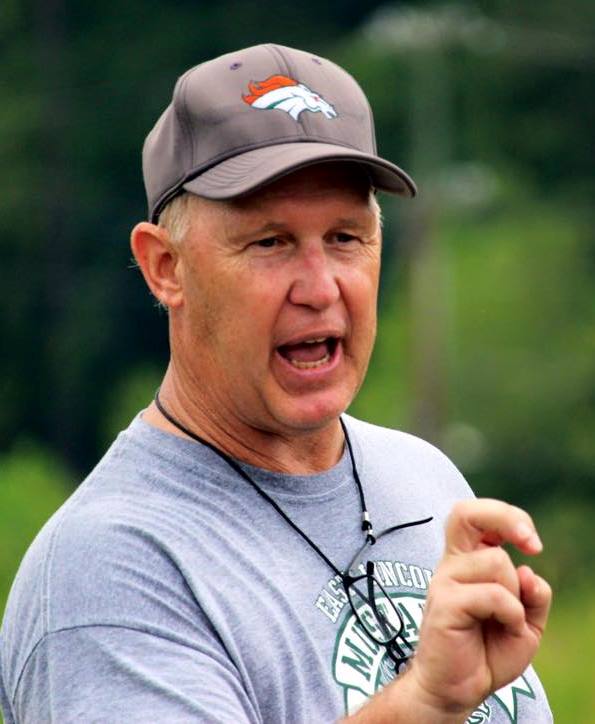 Michael A. Byus was selected by a committee composed of former PHS athletic director Jim Hamric, former head of the West Virginia Secondary Schools Activities Commission Mike Hayden, former Wood County Schools Superintendent and PHS principal Bill Niday, former PHS head football coaches Buddy James and Bernie Buttrey, as well as Big Red principal Kenneth DeMoss.
"We had a lot of good applicants," said DeMoss, who provided the information to the News and Sentinel. "The committee felt he was the best guy to lead us into the future. This was a very important hire for the community as it affects our support and are junior programs. We are super excited for him."
The Madison, W.Va., native assumes the Big Reds' helm after a highly successful 12-year stint at East Lincoln High School in Denver, North Carolina. Under his leadership, the program captured two state titles, played for another, secured a 30-game winning streak, had eight 10-win seasons, seven conference championships and never finished below .500 in any season.
He retired from his position at the school Feb. 17 after an 11-3 campaign and a trip to the third round of the 2-AA playoffs.
Also the athletic director for the Mustangs, Byus compiled a 134-37 record (including 29-10 in the playoffs). His last three teams were 41-4 and outscored opponents 41.5 to 17.8.
When he became the head coach at Easton Lincoln the team was coming off a 2-9 season and had just one conference title and two playoff wins in the history of the school. He left as the all-time winningest coach in school history.
He had previously coached at Robbinsville and Athens Drive in Raleigh. He won his 200th game during the 2016 season.
The new Big Reds' leader was adamant it would take a lot of hard work to reach the top again.
"I can promise you there are no shortcuts," said Byus. "There is one way to end up being successful – You have to work hard.
"This can't be done by just one person. I have never accomplished anything by myself. It starts with a great coaching staff and the great group of guys Mr. DeMoss tells me we have."
"If you are a Big Red and have always dreamed of playing Big Red football we would sure love to have you," he added.
News of the position's availability first reached Byus from his brother-in-law Micky Thompson.
A succession of events followed and eventually led to him applying for the position.
"I came up for the interview and just loved the city and the school is beautiful," said Byus. "And just the feel from being here. You can feel the rich tradition and I just thank everybody involved and the first class manner in which Mr. DeMoss and the interview committee went about things. I thought it was tremendous and (Mr. DeMoss) was a big reason why I accepted and he did a tremendous job of putting things in place to try and move forward with the program."
Byus inherits a gridiron squad mired in a tough stretch of football. The Big Reds finished 4-6 the last two seasons and are more than seven years removed from their last second-round appearance in the Class AAA playoffs as of the beginning of next season.
Reeves Steps Down As Coach
After seven years as the head football coach at Parkersburg High School Don Reeves has resigned that position.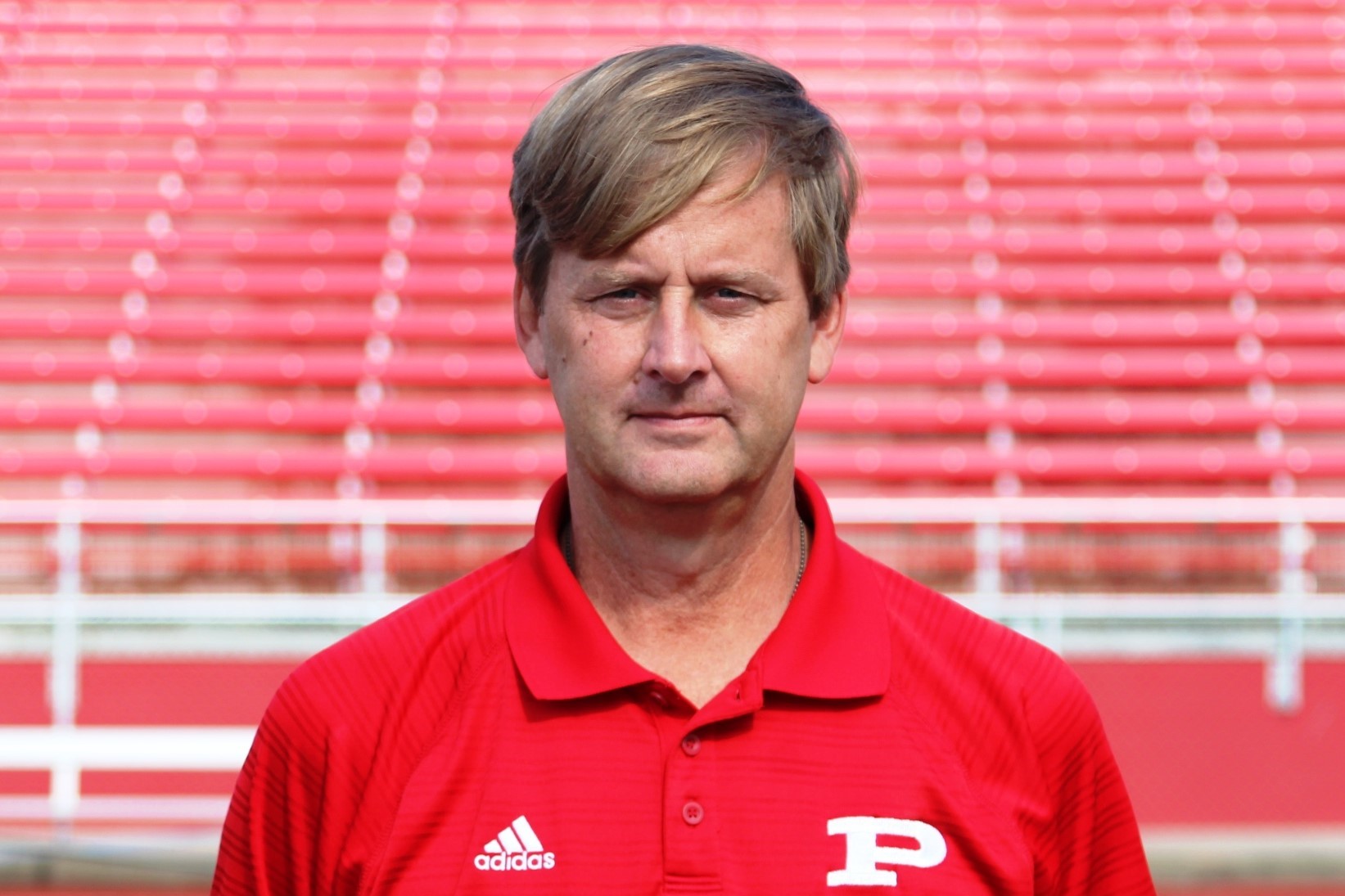 Wood County Schools Superintendent John Flint confirmed Wednesday, April 26, that Reeves had resigned as PHS football coach.
The community had speculated an employee hearing would be held after a flier was circulated saying Reeves was to be terminated. Officials have said the flier did not come from Wood County Schools.
"Don came to my office this morning and submitted his resignation," said Flint. "I then called PHS Principal Kenny DeMoss and let him know, as well as the board members."
Reeves' resignation will take effect May 9, and the football job will be posted the next day.
Taking over for Bernie Buttrey after the 2009 season, Reeves went 35-38 over seven years with the program. His teams made the playoffs three times but was not able to advance past the first round. The Big Reds finished 4-6 this season.
He was the quarterback of the 1978 championship team and made first team all-state. He went on to play quarterback at Morehead State Univeristy, and after a successful head coaching job at Jackson Junior High School, he was an assistant coach at Parkersburg High before taking over the program in 2010. He was also head coach one year at Parkersburg South High School.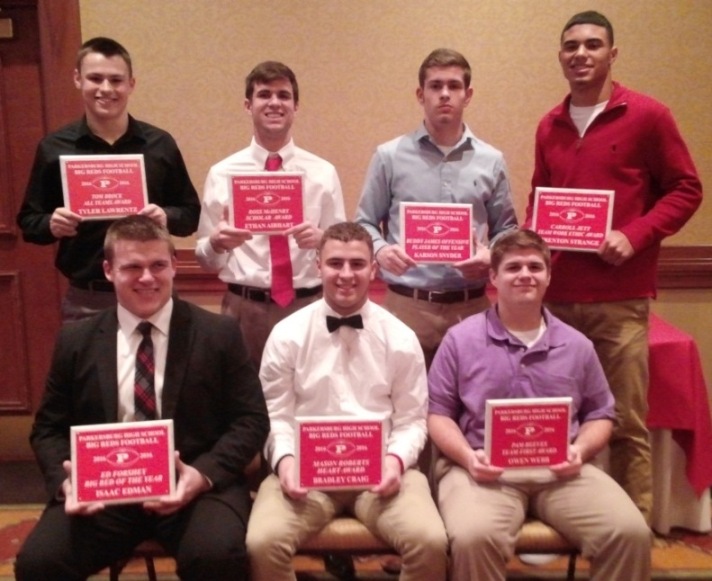 Year-end award winners for the 2016 PHS football team were announced Sunday evening at the annual banquet at the Grand Pointe Center in Vienna. Seated from left: Isaac Edman (Ed Forshey Big Red Award), Bradley Craig (Mason Roberts Heart Award) and Owen Webb (Pam Reeves Team First Award); Standing from left: Tyler Lawrentz (Tom Brock All Teams Award), Ethan Airhart (Ross McHenry Scholar Award), Karson Snyder (Buddy James Offensive Player of Year) and Brenton Strange (Carroll Jett Team Worker Award). Absent was Davey McNemar (Russ Parsons Defensive Player of Year).
Snyder Earns 2nd Team All-State
Karson Snyder, who set several school records for receiving this season, has earned second team Class AAA all-state honors.
The senior end set a single season record for receptions with 54 catches while also establishing a new record with 12 touchdown receptions in a single season. He tied the career record of 20 TD passes caught held by Jeremy Bell.
Sophomore Brenton Strange and senior Tyler Lawrentz earned special honorable mention all-state honors. Strange caught 45 passes this year and that total added to Snyder's 54 gave the duo 99 receptions (the best all-time one-two receiving punch in school history). Lawrentz had an outstanding season at linebacker leading the team with 88 tackles and his play earned him an offer to be an invited walk-on at West Virginia University.
Strange earned second team All-Mountain State Athletic Conference honors as a wid receiver while Snyder and Davey McNemar were special honorable mention all-conference and Lawrentz and Easton Martin were honorable mention.
Kemp Leads Patriots Over Big Reds 19-13 In Double Overtime
The 50th "Battle of the Burg" will be remembered as one of the best.
For the first time in history the two teams battled through two overtimes to determine the winner in a wild game that saw PHS dominate the first half, South the second and then came some plays to remember in the extra periods.
J.T. Kemp was without a doubt the hero for South as the 6-foot-2, 230 poound junior ran over and through the PHS defense in the second half and overtime periods for 151 yards on 22 carries and a pair of touchdowns, including the game-winner in the second OT.
The win enabled South to finish 5-5 while PHS ended 4-6. Losses by Hedgesville and Elkins probably means the Patriots will not advance to the playoffs.
Kemp, who was bigger than virtually anyone PHS had on defense, was held to just eight yards rushing on four attempts in the first half as South was totally dominated through the first 24 minutes. The Big Reds held South to just two first downs and only 18 yards rushing in the first half. The Patriots completed just one pass (for 28 yards on a screen play) and PHS enjoyed a whopping 17:39 to 6:12 advantage in time of possession. The Big Reds had 182 yards in the first half.
Despite the one-sidedness of the first half in their favor, the Big Reds could produce just one touchdown and that didn't come until the final 1:18 of the second quarter. They were held to two field goal tries, 32 and 37 yards, and both were missed.
On the first series of the game, PHS drove to the South six yard line but a dropped snap from center lost nine yards and Christian Axman came on to try a 32 yard field goal which was wide right.
On their second series the Big Reds again moved the ball deep into South territory, going to the 13 before the team was hit with a holding penalty and on third down a South blitz sacked Bradley Craig for a 14 yard loss. The big play on that drive ws a 21 yard gain on a hook-and-ladder pass and lateral to Brenton Strange and then Easton Martin.
While stopping South on virtually every play, PHS could not capitalize offensively. The Big Res' third series went to the South 14 but a penalty and two incomplete passes (one to Strange in the end zone which he almost caught for a score) forced another field goal try with the same results as the first.
With just over five minutes left in the half, PHS started its next possession on its own 31 and on the first play Craig scrambled right, then reversed his field and went all the way for a touchdown, only to have it called back by a personal foul penalty which came very late and 15 yards behind the play. That put the ball back to the South 29 and although it took eight plays, the Big Reds scored when Martin went over left guard from two yards out.
Axman then barely missed the extra point attempt for a 6-0 lead.
It was not until the last five minutes of the third quarter that South realized it had a runaway freight train in Kemp and all the Patriots had to do was give him the ball and get out of the way. Starting at the South 40, Kemp led the way with six rushes for 48 yards for the touchdown on a run which saw him carry defenders into the end zone.
The Nick Yoho's extra point kick was blocked by Karson Snyder and the score stood 6-6 with 11:53 left in regulation.
The Big Reds got one first down on their ensuing series but had to punt and South took over on its own 25. Seven carries by Kemp for 42 yards moved the ball to the 22 but on fourth and two, Davey McNemar broke through to stop Kemp for no gain.
Neither team threatened the rest of the way and on came overtime for only the second time in the PHS-South series (1984 being the other).
South took possession first and scored on third down from the one when quarterback Brandon Hall tried to sneak it over with a helping push from behind by Kemp but he lost the ball. However, Kyle Shreeves picked it up from between the legs of a Big Red lineman like a rugby scrum and stepped into the end zone.
Yoho's kick made it 13-6.
PHS answered despite a couple of penalties when Craig found Karson Snyder in the end zone from the 25. On the play before Snyder had been bumped in the end zone on an incompletion with no flag being thrown.
Axman's kick tied the game at 13-all.
PHS self-destructed on the first possession of the second overtime with a fumble, two incomplete passes and a bad snap sack.
South then rode Kemp to the victory by giving him the ball four times for the required 20 yards and a touchdown as he ran over two would-be tacklers and then plowed into the end zone for the victory.
While Kemp had 159 of his team's 235 yards, PHS got 171 of its 231 yards through the air as Craig completed 16 of 25 with one interception. Strange caught a record-tying 10 passes for 92 yards while Snyder's touchdown was the 20th of his career, tying the school record set by Jeremy Bell and was the 12th of the season to set a new all-time record.

In the second half, South a 16:34 to 7:26 margin in time of possession.
Park. South Patriots vs Parkersburg Big Reds (Nov 4, 2016 at Parkersburg)
Score by Quarters                    1 2 3 4 OT -        Total
Park. South Patriots             0 0 0 6 7 6 -        19
Parkersburg Big Reds            0 6 0 0 7 0  -        13
Qtr Time Scoring play
2nd 01:18 PHS - Easton Martin 2 yd run (Christian Axman kick failed), 9-69 3:39
4th 11:53 SP - J.T. Kemp 7 yd run (Nick Yoho kick failed), 11-60 5:09
OT 12:00 SP - Kyle Shreeves 1 yd run (Nick Yoho kick), 10-0 0:00
12:00 PHS - Karson Snyder 25 yd pass from Bradley Craig (Christian Axman kick), 10-0 0:00
12:00 SP - J.T. Kemp 1 yd run, 5-20 0:00
...........................................................SP               PHS
FIRST DOWNS                                         11            12
RUSHES-YARDS (NET)                           48-200        33-60
PASSING YDS (NET)                               35               171
Passes Att-Comp-Int                               7-3-1           25-16-1
TOTAL OFFENSE PLAYS-YARDS              55-235        58-231
Fumble Returns-Yards                             0-0              0-0
Punt Returns-Yards                                 0-0              1-1
Kickoff Returns-Yards                              2-30            2-42
Interception Returns-Yards                      1-0              1-25
Punts (Number-Avg)                               4-36.8         4-25.5
Fumbles-Lost                                          5-1              2-0
Penalties-Yards                                       9-63            8-60
Possession Time                                     22:46          25:14
Third-Down Conversions                           3 of 11        7 of 15
Fourth-Down Conversions                         2 of 4          0 of 1
Red-Zone Scores-Chances                          2-3              2-5
Sacks By: Number-Yards                           2-20            1-5
RUSHING: Park. South Patriots-J.T. Kemp 26-159; Brandon Hall 16-41; Nick Yoho 1-8; Brant Freeland 2-minus 1; Gavin Perkins 1-minus 3; Tyee Gibson 2-minus 5; Kyle Shreeves 0-1. Parkersburg Big Reds-Bradley Craig 12-28; Easton Martin 14-28; Karson Snyder 2-6; Brenton Strange 2-2; Rylan Hamilton 3-minus 4.
PASSING: Park. South Patriots-Brandon Hall 3-7-1-35. Parkersburg Big Reds-Bradley Craig 16-25-1-171.
RECEIVING: Park. South Patriots-Brant Freeland 2-33; Nick Yoho 1-2. Parkersburg Big Reds-Brenton Strange 10-92; Karson Snyder 4-73; Rylan Hamilton 2-6.
INTERCEPTIONS: Park. South Patriots-Nick Yoho 1-0. Parkersburg Big Reds-Brenton Strange 1-25.
FUMBLES: Park. South Patriots-Brandon Hall 2-0; Gavin Perkins 1-0; J.T. Kemp 1-1; Nick Yoho 1-0. Parkersburg Big Reds-Rylan Hamilton 1-0; Bradley Craig 1-0.
Park. South Patriots (5-5) vs. Parkersburg Big Reds (4-6)
Attendance: 4000
Kickoff time: 7:00 • End of Game: 9:37 • Total elapsed time: 2:37
SACKS (UA-A): Park. South Patriots-Cole Burrows 1-0; Will Varner 1-0. Parkersburg Big Reds-Wyatt Strobl 1-0.
TACKLES (UA-A): Park. South Patriots-Brant Freeland 8-1; Brandon Hall 6-0; Nick Yoho 5-0; Hunter DeLong 5-0; Dylan Deems 2-0; Zach Thompson 2-0; Gavin Perkins 1-1; Garrett Wolfe 1-1; Hunter Shank 1-1; Jack Raitz 1-0; Gavin Haught 1-0; Jeffry Vucelick 1-0; Ryan Kirk 1-0; Zane Hinzman 1-0; Brayden Mooney 1-0; Tyee Gibson 1-0; Will Varner 1-0; Cole Burrows 1-0. Parkersburg Big Reds-Brenton Strange 7-3; Davey McNemar 5-3; Tyler Moler 4-4; Jake Johnson 5-2; Max Turner 3-2; Tyler Lawrentz 1-3; Bradley Craig 1-3; Wyatt Strobl 2-1; Isaac Edman 1-2; Shane Miller 1-2; 69 1-0; Easton Martin 1-0; Karson Snyder 1-0.
PHS Now 10th In All-Time Win Rankings
All-Time High School Football Wins

Official National Federation High School Association Record
Rank
Wins
School
State
Overall
First Year
2016
1
907
Valdosta
GA
907-220-34
1913
14-2
2
879
Fort Thomas Highlands
KY
879-231-26
1915
3-8
3
869
Louisville Male
KY
869-325-49
1893
10-3
4
861
Massillon Washington
OH
861-286-36
1894
8-3
5
851
Mayfield
KY
851-258-32
1919
15-1
6
838
Mount Carmel
PA
838-321-59
1893
5-6
7
820
Canton McKinley
OH
820-349-42
1894
6-5
8
819
Muskegon
MI
819-278-43
1895
12-2
9
814
Easton
PA
814-343-54
1894
7-6

10

813

Parkersburg

WV

813-318-22

1900

4-6

11
803
Everett
MA
803-373-79
1893
11-2
12
799
Hampton
VA
799-259-43
1920
12-2
13
797
Berwick
PA
797-331-43
1888
8-5
14
791
Steubenville
OH
791-317-34
1900
13-2
15
790
Lawton
OK
790-346-34
1902
8-5
16
788
Clinton
OK
788-277-38
1919
10-3
16
788
Brockton
MA
788-378-64
1897
5-6
18
784
Little Rock Central
AR
784-333-43
1907
3-7
19
783
Pine Bluff
AR
783-334-53
1901
8-3
20
778
Bakersfiled
CA
778-259-43
1897
11-3
21
774
Sioux Falls Washington 
SD
774-324-38
1899
12-0
21
774
Kingsport Dobyns-Bennett
TN
774-239-28
1921
6-6
23
773
Haynesville
LA
773-175-22
1907
13-1
24
772
Paducah Tilghman
KY
772-324-25
1904
6-6
25
766
Danville
KY
766-243-34
1924
12-2
26
765
New Britain
CT
765-340-51
1892
6-5
27
761
East St. Louis Senior
IL
761-199-36
1925
14-0
28
748
Louisville St. Xavier
KY
748-294-20
1917
10-4
29
738
Lawrence
KA
738-288-38
1891
6-4
30
734
Owensboro
KY
734-375-30
1893
10-3
31
731
Steelton Highspire
PA
731-432-58
1894
6-8
32
727
New Castle
PA
727-343-69
1892
8-5
33
724
Ann Arbor Pioneer
MI
724-432-38
1891
3-6
33
724
Temple
TX
724-359-51
1907
12-4
35
721
Amarillo
TX
721-312-19
1920
7-3
35
721
Jeannett
PA
721-314-40
1900
12-2
37
712
Chattanooga Baylor
TN
712-306-39
1908
8-5
38
705
Arcola
IL
705-334-40
1894
7-3
39
702
Williamsport
PA
702-463-55
1892
12-2
39
702
Philadelphia Central
PA
702-410-61
1887
9-1
41
700
Thomasville
GA
700-335-46
1910
5-5
42
695
Omaha Creighton Prep
NE
695-221-23
1893
9-3
43
693
Seminole
OK
693-354-34
1912
3-8
44
692
Martins Ferry
OH
692-367-36
1907
6-4
45
688
Phil. William Penn Charter
PA
688-366-53
1887
6-3
46
686
Greensburg Salem
PA
686-369-39
1894
5-5
46
686
Fostoria
OH
686-453-42
1896
4-6
48
683
Huntingdon
PA
683-365-39
(NA)
6-6
49
682
Dover
OH
682-356-44
1896
7-4
50
678
Somerset
KY
678-397-43
1907
7-5
51
675
Pottsville
PA
675-514-46
(NA)
9-2
(Battle of the 'Burg) Documentary Youtube Video
Contribution Information
Commemorative t-shirts and bracelets are available and donations can now be made online here at the football web site by clicking on the PayPal icon under the t-shirt photograph on the left side of the page. Online contributions will be added to the sponor lists if the amount is sufficient.Contributors are reminded that tax deductible checks will be accepted. They should be made out to PHS Stadium Committee.
Sponsors are being sought with 10 levels of donations - Seat Named $200, Bronze $500, Silver $1,000, Gold $2,000 and Platinum $2,500, Team Captain $5,000, Reserved Seat Row $10,000, White $15,000, Team Spirit $20,000, PHS Big Red $50,000. Sponsors will have three years to honor their pledges. Sponsors meeting any of the pledge levels will be listed on a plaque to displayed prominently in the Stadium.
Donations from fans and alumni who are proud of Stadium Field and its storied 93 year history may also be sent to Parkersburg High School in care of Charlotte Potter, Stadium Field Committee, 2101 Dudley Avenue, Parkersburg, WV 26101.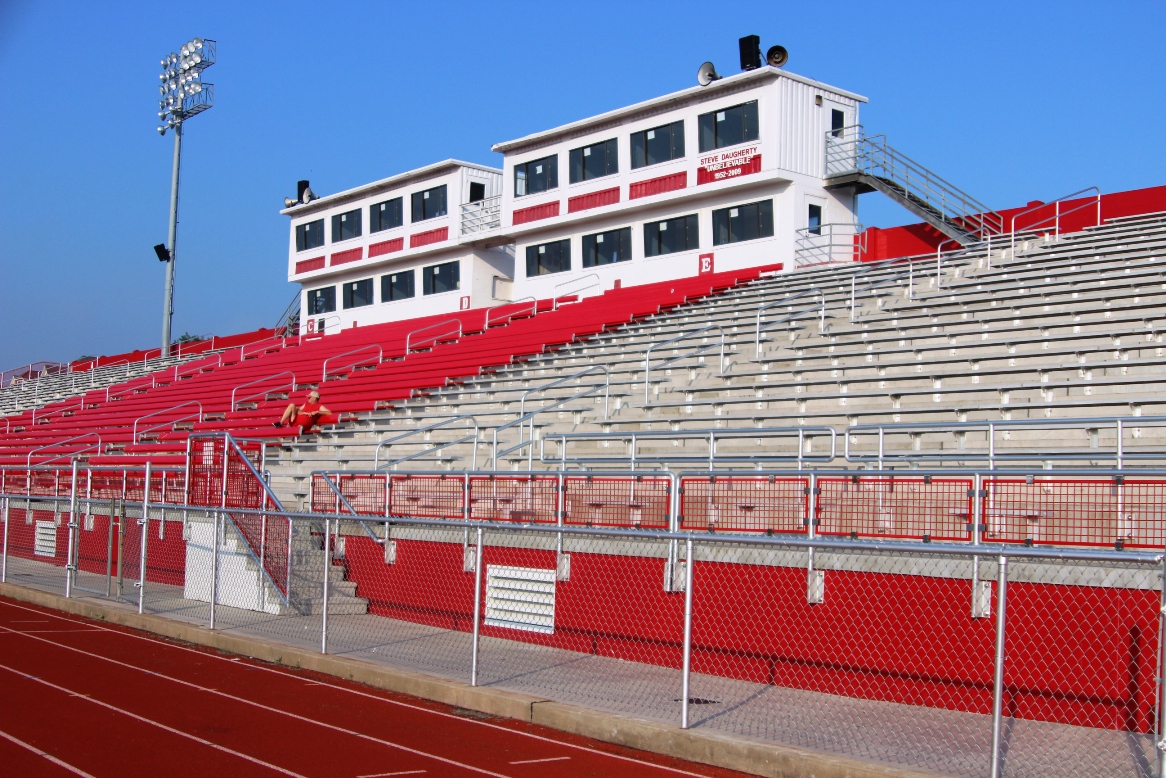 The home side finished product!
History of Stadium Field
In the spring of 1923 a group of men got together to form a stadium committee whose sole intent was to build a stadium for the newly constructed Parkersburg High School.
Those men included John S. Echols, President of the Board of Education, C.M. Martin, Sherman Dils, J.H. Biddle, C.T. Hitshaw, Herbert Smith, John Randolph, and Paul L. Summers. The committee was incorporated on July 14, 1923 and became known as the Parkersburg High School Corporation. The process of forming a corporation was necessary because the bonded indebtedness of the Board of Education was then at the peak permitted by law. Also serving on this committee was Fayette Smoot, H.L. Martin, Edward Doesch, H.R. Debussey and W.O. Holiday. The corporation leased the back campus from the Board of Education. It was impossible, according to the law of the time, for such a corporation to build any structure on land owned by a board of education. Therefore, the board had to turn over the land known as Stadium Field, on a 99-year lease to this corporation. The bonds were then released. The money for the bonds was to be recovered through football games and other activities held at the stadium.
The stadium was the first of its kind (concrete) in West Virginia and must have been the first of its kind to be built for the use of tax-supported institution without the investment of a single tax dollar.
The plans were to build one side of the stadium in 1923 and to build the other side the following year. The end of the U-shaped stadium was to be completed in the third year. When finally, completed it was to seat about 13,000 people. The end or bowl section of the stadium was never completed according to plans. The total cost of construction for the two sides was $104,000.
In just one day after the meeting in which the stadium plan was revealed, a total of $33,000 worth of bonds was sold.
In September of 1923 the first concrete was poured for the West stands of the stadium and on Oct. 4, 1923, the first game in the new stadium was played between the Big Reds of Parkersburg High School and Athens, Ohio. The Big Reds won by a 14-13 score. Ticket prices were 25 cents for student seating, 15 cents for student standing room. For the general public, the price was season ticket was $5 for seats and $4 for standing room.
In 1925 the stadium was officially dedicated. As part of the dedication, a race from Parkersburg to Marietta was held.
The installation of the stadium lights during the fall of 1940 made it possible for football games to be played at night. Until that time, most games were played on Saturday afternoon. The lights were installed by the Parkersburg Junior Chamber of Commerce at a cost of $7,000.75. The electric bill for the use of the lights was $3.25 per hour or about $10 for each game.
The lights were put in for the dual purpose of protecting the health of the players from the intense heat and to increase attendance. Among other reasons cited for the lighting was so that persons who worked Saturday afternoon could see the Big Reds play and so that the Stadium could be used for the purpose of holding other outdoor events such as political rallies or church events. Businessmen also felt that by playing Friday night games, Saturday afternoon business would be bolstered.
The first night game at PHS Stadium was Sept. 6, 1940 with the Big Reds beating Grantsville 50-0.
During the 1984-85 football season part of the stadium stands were closed for safety reasons. On June 13, 1988 it was recommended that both sides of the stands be closed. On June 14 the Board of Education accepted that recommendation.
During the summer of 1988 temporary bleachers were purchased and put up. Remodeling was done with funding help from C.O. Erickson and began in 1992. It was totally completed in 1994 with structural steel and concrete used to repair the stands.
In 1995 PHS qualified for home playoff games. After beating North Marion in the first round, the Big Reds were scheduled to host Wheeling Park. The Patriots protested the playing conditions at Stadium Field (no grass and nothing but mud) and a state inspection committee upheld the protest – moving the game to Tyler Consolidated High School. PHS won that game 28-7 and got to host the semifinal game after much work was done to repair the turf. But Hedgesville won the game 18-0 and the drive to install artificial turf on Stadium Field began in earnest.
The Stadium Renovation committee had its first planning session on Jan. 4, 1996 with more than two dozen members. In almost no time there were plans for an artificial surface to be added to the football field along with an 8-lane Eurotan track surface, new sidewalks, asphalt parking lot and refurbished concession stands.
On Aug. 30, 1996 the first game was played on AstroTurf Xl surface between Parkersburg South and Wheeling Park. On Sept. 6 the Big Reds played host to Hurricane on the new turf.
The cost of the new surface and renovations came to $1.25 million dollars which included $400,000 worth of in-kind services, $400,000 for advertising signs, $250,000 in donations and five bank loans of $400,000.
New light standards were installed in 1998. In 1999 new locker rooms were built in the Mary Lou Hague Memorial Sports and Arts complex at a cost of $536,390. In 2005 the restoration of the concrete stands was done at a cost of $129,356. In 2006 the turf was replaced at a cost of $295,000 with ProGrass artificial surface. In 2009 a new concession stand and restrooms were built on the home side at a cost of $195,000. The track was resurfaced in 2010 at a cost of $75,000 and in 2012 handrails were installed at a cost of $68,090.
In 2013 the home side bleachers were replaced in time for the second home game of the season. New seats were also installed with backs for the reserved seat section. The visiting bleachers still need to be replaced and contributions are still being taken.