Bridgeport Ground Game
Beats PHS Frosh 37-22
Bridgeport's steady ground game did in the Parkersburg freshmen Tuedsay night at Stadium Field as the Indians posted a 37-22 victory.
The visiting Indians ran for 345 yards and never attempted a pass. J.T. Muller ran for 129 yards and scored three times while J.D. Love had 143 yards and one touchdowns.
Parkersburg quarterback Michael Owen completed 19 of 25 passes for 179 yards and one touchdown while Carter Mills scored twice and Bryant Walker had the other TD on a 12 yard run with a backward pass reception while also catching seven passes for 74 yards.
Brady Howerton and Aaron Kupfner had nine tackles each for PHS while Casey Mahoney and Mills had eight stops each on defense.
The Big Reds got on the board first with a 13-play, 81 yard drive that took over five minutes and featured seven pass completions in eight attempts. Owen and Mills hooked up for the final 11 yards.
But it took Bridgeport just two plays to go ahead for good when Love broke loose from the Stick-I offense to race 58 yards for the touchdown and the ensuing extra point kick made it 7-6.
PHS put together an 11-play drive following that score but a pass was tipped at the line and intercepted to end the threat inside the red zone at the 17.
Bridgeport then drove 83 yards on 11 plays to score on a two yard run by Miller. The Indians added a field goal on the last play of the half for a 17-6 advantage at the break.
PHS went for it on its first possession of the second half on the Big Red 40 yard line but the pass fell incomplete and Bridgeport proceeded to go 40 yards on eight plays to make it 23-6.
The Big Reds got back on the board with a 15-play, 81 yard drive that saw Walker score on a backward toss in the backfield. Owen passed to Danny Jones for the conversion to make it 23-14 with 7:12 remaining in the game.
Bridgeport tacked on two short-field touchdowns to run the score to 36-14 before PHS finished the night with an 11 yard backward toss to Mills.
9th Grade Football
Oct. 17 at PHS Stadium Field
Bridgeport       7     10   6     14   -      37
Parkersburg     6      0    0    16   -      22
P – Carter Mills 13 pass from Michael Owen (pass failed) 4:57 1st
B – J.D. Love 58 run (Austin Springer kick) 4:03 1st
B – J.T. Muller 2 run (Springer kick) 5:15 2nd
B – Springer 22 field goal, 0:00 2nd
B – Muller 2 run (kick blocked) 2:36 3rd
P – Bryant Walker 12 run (Danny Jones pass from Owen) 7:12 4th
B – Muller 4 run (Springer kick) 4:44 4th
B – Nathan Brazier 5 run (Springer kick) 2:07 4th
P – Mills 11 run (Walker run) 00:16 4th
Team Statistics
First Downs – Bridgeport 18, PHS 16
Rushing – Bridgeport 45-345, PHS 31-95
Passing Yards – Bridgeport 0, PHS 179
PA-PC-INT – Bridgeport 0-0-0, PHS 19-25-1
FBL – Bridgeport 1-1, PHS 2-0
Penalties – Bridgeport 1-5, PHS 6-35
Punts – Bridgeport 0, PHS 0
Individual Statistics
Rushing – Bridgeport: Love 16-143, Muller 20-129, Brazier 4-38, Owen Bennington 4-26, Hayden Moore 1-4. PHS: Justin Waybright 11-36, Brady Howerton 6-29, Michael Owen 12-15, Bryant Walker 1-12, Carter Mills 1-11.
Passing – Bridgeort: none. PHS: Owen 19 of 25 for 179 yards (1 int).
Receiving – Bridgeport: none. PHS: Walker 7-74, Teddy Turner 5-21, Mills 4-54, Howerton 2-12, Jones 1-6.
Tackles – PHS: Howerton 9, Aaron Kupfner 9, Casey Mahoney 8, Mills 8, Will Coffman 7, Jake Barnette 3 (one FBR).
PHS Jayvees Fall To Midland
Jakob Caudill scored two touchdowns in the third period to break open a close game and lift visiting Cabell Midland to a 44-14 victory over Parkersburg Monday night in a junior varsity game at Stadium Field.
Midland scored on two long pass plays in the second quarter to offset two PHS touchdown pass from Jake Bock to Anthony Craig. The Big Red scores came on plays covering 57 and 68 yards.
Cabell Midland JV 8 16 12 8 - 44
PHS Jayvees          0  14  0  0 - 14
CM – 1st 4:50 Austin Kitchens 6yd run (Jakob Caudill run)
P – 2nd 5:43 Anthony Craig 57 pass from Jake Bock (pas failed)
CM – 2nd 4:16 Hayden Hass 45 pass from Drew Elkins (Hunter Church run)
CM – 2nd 2:18 Church 90 pass from Hass (Hass run)
P – 2nd 1:55 Craig 68 pass from Bock (Matt Curry pass from Bock)
CM – 3rd  Caudill 18 run (run failed)
CM – 3rd 1:40 Caudill 22 yd run pass failed)
CM – 4th 0:21 Hayden Hass 16 run (Drew Elkins run)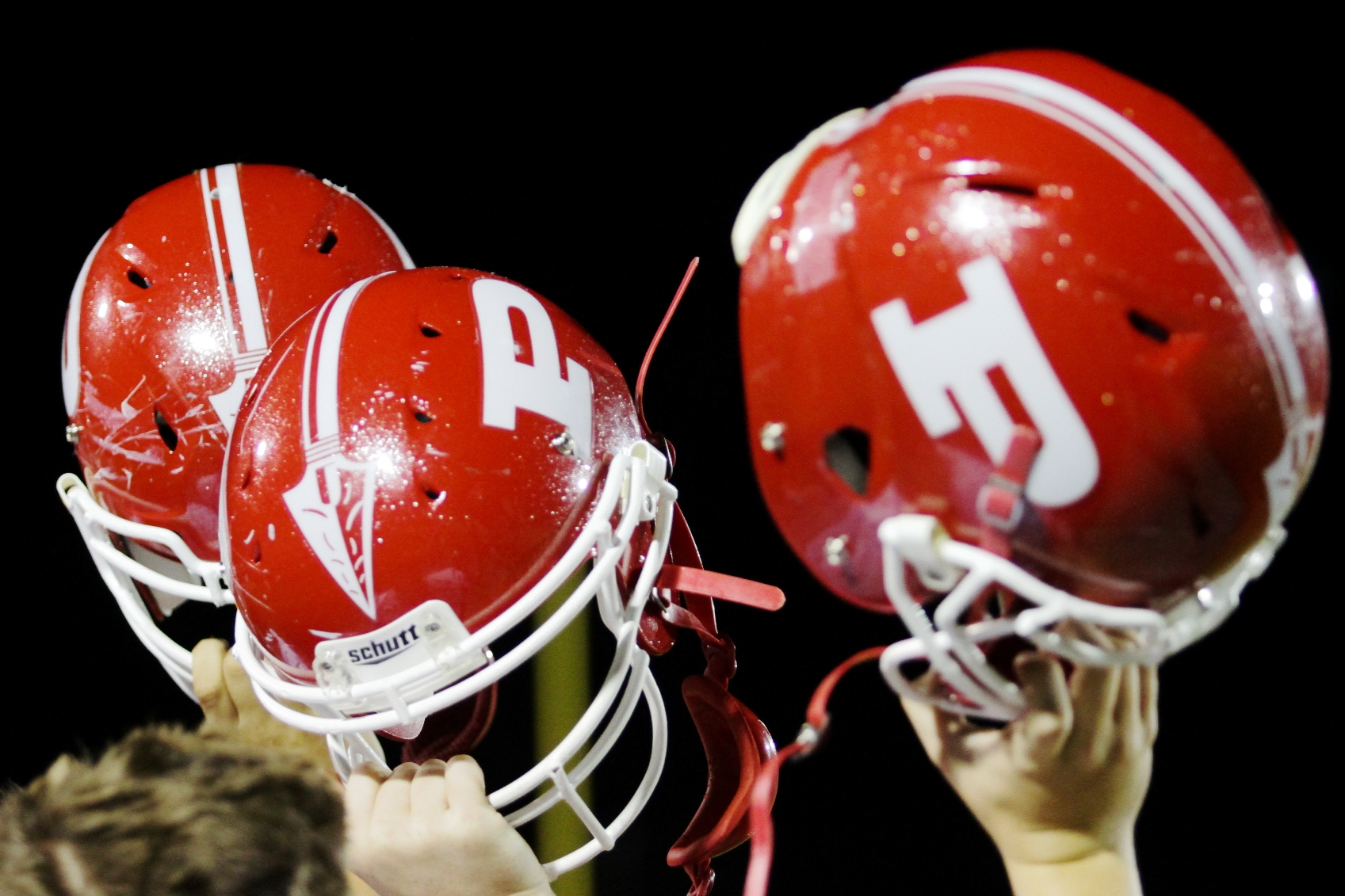 (click on Story Book link above)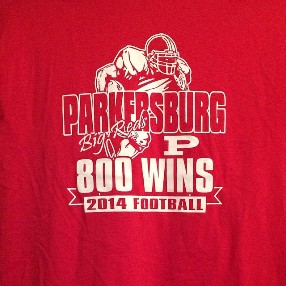 If you wish to donate to Stadium Field, please click below: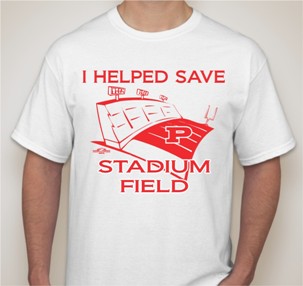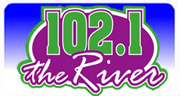 -------------------
2017 Probable
Starting Lineups
Offense
QB – Kam Mace (6-1, 175 sr.) or Jake Johnson (6-1, 170 jr.)

RB – Tyler Moler (6-0, 185 jr.)

SE – Seth Dailey (6-0, 148 sr.)

WB – Jake Johnson (6-1, 170 jr.)
WB – Brenton Strange (6-5, 198 jr.)

TE – Dylan Richards (6-3, 210 sr.) or Nathaniel Steed (6-2, 213, sr.)

C – Jalen King (5-9, 185, jr.) or Drew Moore (6-1, 200 so.)
RG – Gage Fiore (6-0, 200, So.) or Parker Olson 6-1, 220 jr.)

LG - Greyson Cooper (5-11, 275, jr.)
LT – A.J. Nolan (6-0, 265 sr.)
RT – Ryan Creech (6-3, 275 jr.)

PK – Christian Axman (6-0, 181, sr.)

Defense

RE – Zion Atkinson (5-10, 204, sr.)

LT – Ryan Creech (6-3, 275 jr.)
NG - Shane Miller (6-1, 205 jr.) or C.J. Wade (6-1, 180 so.)
RT – Joe Robinson (5-10, 350, sr.) or Shane Sibley (6-1, 250 sr.)

LE – Nathaniel Steed (6-2, 213, sr.)

LB –Wyatt Strobl (6-0, 210 sr.)
LB - Brenton Strange (6-5, 212, jr.)

LB – Josh Ankrom (5-10, 188 jr.)

S - Kionte Peacock (6-1, 151, jr.)
CB – Jacob Woodyard (6-3, 165, jr.) or Brandon Braham (5-7, 145, jr.)
S – Jake Johnson (6-1, 170, jr.)

S – Seth Dailey (6-0, 148, sr.)

P – Christian Axman (6-0, 181, sr.)
2017 Varsity Schedule
08/25/17 7:30PM H - ST. ALBANS (Win 49-10)
09/01/17 - OPEN
09/08/17 7:30PM A - CAPITAL (Loss 21-40)
09/15/17 7:30PM A - HUNTINGTON (Loss 21-35)
09/22/17 7:30PM H - MARIETTA, OH (Win 45-10)
09/29/17 7:00PM A - WHEELING PARK (Win 43-36)
10/06/17 7:30PM H - WOODROW WILSON (Win 34-8)
10/13/17 7:00PM A - CABELL MIDLAND (Loss 35-63)
10/20/17 7:30 PM H - HURRICANE
10/27/17 7:30PM H - RIVERSIDE
11/03/17 7:00PM A - PARKERSBURG SOUTH
2016 Results
Aug. 26 - at St. Albans (Win 57-14)
Sept. 2 - at Hurricane (Loss 18-31)
Sept. 9 - Capital (Loss 19-41)
Sept. 16 - Huntington (Loss 6-28)
Sept. 23 - at Marietta, O. (Loss 13-49)
Oct. 7 - at Beckley WW (Win 52-15)
Oct. 14 - Cabell Midland (Loss 8-56)
Oct. 21 - Warren Local, O. (Win 55-26)
Oct. 28 - at Riverside (Win 48-35)
Nov. 4 - Park. South (Loss 13-19 2 ot)
Evenly Matched Teams Square Off Friday As PHS Hosts Hurricane
On paper it would appear Friday night's Mountain State Athletic Conference contest between Hurricane and Parkersburg at Stadium Field will be a struggle between two evenly matched teams which are vying for playoff spots.
So the difference may come down to the intangible known as home field advantage.
Both teams are 4-3 on the year and have lost to or beaten four of the same teams.
Hurricane beat Beckley 42-28 while PHS defeated the Eagles 34-8.
Both teams lost to Capital, Hurricane by a 34-16 margin, PHS by a 40-21 score. They both lost to Huntington, Hurricane 34-14, PHS 35-21. They both lost to Cabell Midland, Hurricane 41-21, PHS by a 63-35 margin.
Hurricane is ranked number eight in Class AAA while the Big Reds are 12th.
Both teams like to throw the ball around and have an outstanding running back and quality receivers.
Hurricane quarterback Nathan Roy, who played at St. Albans last year, has completed 73 of 124 passes (59%) for 1,146 yards with 14 touchdowns and two interceptions.
Parkersburg quarterback Kam Mace has completed 87 of 132 passes (66%) for 1,329 yards with 14 touchdowns and four interceptions. However, Mace has his totals in five games while Roy has played in all seven. Overall, PHS has completed 117 of 180 passes for 1,666 yards with 18 touchdowns and five interceptions.
Hurricane running back Christian Hill has 1,021 yards on 175 carries with six touchdowns while Tyler Moler of PHS has 822 yards on 113 carries with 12 touchdowns.
Dakota Williams of Hurricane has caught 26 passes for 597 yards and seven touchdowns while teammate Curon Cordon has 26 catches for 243 yards and four scores. The Redskins also have Bo Adkins with 12 receptions for 262 yards and three touchdowns.
Parkersburg answers with Brenton Strange and his 37 receptions for 633 yards and eight touchdowns as well as Jake Johnson with 27 catches for 502 yards and two scores. The Big Reds can also throw in Seth Dailey, who missed last week's game with an injury but has 18 receptions for 204 yards and four touchdowns.
Hurricane kicker Timothy McCutcheon has converted five of eight field goals and all 23 of his extra points. PHS' Christian Axman has hit both his field goals and 26 of 30 extra points.
Although the Parkersburg defensive secondary was tested only twice last week by Cabell Midland, it has still come up with 15 interceptions while Hurricane has just four picks this season.
Defensively, Hurricane is led by Payton Lunsford with 82 tackles while J.T. Cooper has 79 stops. The Redskins have 11 sacks and nine fumble recoveries.
Wyatt Strobl leads PHS with 71 tackles while Strange has 57. The Big Reds have five sacks and five fumble recoveries.
Last year Hurricane beat PHS for the first time in five meetings between the two schools as Dylan Plumley passed for two touchdowns and ran for two more to lead his team to a 31-18 victory. Penalties and fumbles plagued PHS in that game, which saw the statistical battle nearly even (317 yards for the winners to 293 for PHS). Two Hurricane scores came after fumble recoveries and PHS had a kickoff return touchdown by Rylan Hamilton called back for a penalty.
Newest Hall of Famer One of Only 4 Select Grid, Cage All-State Honorees
In the storied history of Parkersburg High School athletics there have been 142 men earn first-team all-state status in football.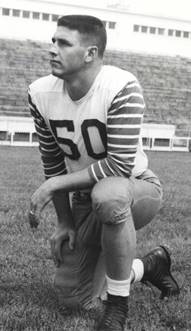 However, the list of men to earn the highest honor in both football and basketball is quite short.  It totals just four - Braden Alleman and Claude Crawford from a hundred years ago, Leonard "Feets" Barnum from the 1930's and this year's newest Hall of Fame inductee from 1953-54, Dick Custer.
He will be inducted into the Big Red Football Hall of Fame Friday night prior to the Hurricane game at Stadium Field.
Custer, 6-feet, 5-inches tall and weighing 225 lbs. was the all-state tackle in 1953 as he led the Big Reds to an 8-2 campaign.  He followed that up in the winter as he guided PHS to the state basketball tournament and was named first-team, all-state center.   Later that spring the well-rounded Custer was named all-state in choir as a member of Parkersburg's A Cappella Choir.
Parkersburg was 8-2 during both Custer's junior and senior seasons, allowing just 59 points in 1952 and 64 points in 1953.  Coach Jimmy Scott's 1952 team, anchored by the brawn of Custer, posted three consecutive shutouts and allowed just two teams to score two touchdowns.   The 1953 team also logged three shutouts and gave up two touchdowns in a game three times, including both losses.
Called "the highest rated college football prospect in the state" by the all-state committee, Custer was the heaviest man at 225 pounds on the all-star squad, illustrating again how much football has changed.  At 6-5, he was also the biggest boy on the all-state basketball team.
Custer played one season of basketball at Indiana University.
He is survived by wife Judith (Norris) Custer and children Paul Custer Jr., Kathy Riotto, Shelly Turner and Teresa Wynn.
Midland Outscores PHS 63-35 In Wild, Wild Football Contest
ONA - To say the game between Parkersburg and Cabell Midland was a wild one would be an understatement.
To say there was some incredible statistical numbers put up would be an understatement.
To say it was a basketball type score with track meet overtones might not be far from the truth.
The final score of Midland 63, PHS 35 pretty much sums up the game.
Take a look at these numbers and form opinions yourself:
Total Points In Game: 98
Total Touchdowns In Game: 14
Total First Downs In Game: 59 (27 for PHS, 32 for Midland)
Total Rushing Yards In Game: 868 (163 for PHS, 705 for Midland)
Total Offense In Game: 1,203 (487 for PHS, 716 for Midland)
Total Plays In Game: 136 (72 for PHS, 64 for Midland)
Throw in this fact. Midland nearly had two players rush for 300 yards EACH!
The Knights tried just two passes and never had to punt.
Ivan Vaughn, Midland's returning all-state running back, rushed for 298 yards and scored five touchdowns while Isaiah Duncan added 287 yards and three scores.
Parkersburg's Kam Mace threw for 324 yards and two touchdowns while setting a single game pass completion record - for the second week in a row - by hitting 27 of 45 passes.
Brenton Strange became the Big Reds' all-time career and single-game receiving leader as he caught 12 passes (record was 11 set last year by Karson Snyder) and now has 106 career receptions (old record was 94 by Brad Johnson in 1992).
Tyler Moler ran for three PHS touchdowns while gaining 131 yards on 14 carries.
Needless to say the defenses took the night off.
Midland took the opening kickoff and went 53 yards on 10 plays with Vaughn covering the final 17 yards to give the Knights the lead for good on their homecoming.
PHS responded by driving to the Midland 12 but Mace threw the first of his two interceptions and the Knights were off the races again with a seven-play, 64 yard drive with Duncan running it in from the 14.
The Big Reds retaliated with a 44 yard scoring pass play to Jake Johnson, who caught eight passes for 140 yards on the night. But Midland was on a roll and went 65 yards in five plays with Vaughn scoring again.
The second quarter saw the Big Reds pull to within six at 20-14 when Moler broke loose for a 22 yard TD run with 9:14 left in the half but the Knights tacked on three more touchdowns in the final 4:31 as Vaughn had a three-yard run and Duncan scored on scampers of 29 and 80 yards to make it 42-14 at the half.
The Big Reds had one other scoring chance in the first half that was thwarted by an end zone interception.
PHS got the ball to start the second half and put together an impressive drive of 10 plays to the Midland 19 but came up one inch shy on a fourth down run attempt by Johnson. The Knights then covered that distance in seven plays and got another TD run by Vaughan to go up 49-14.
A 38-yard run by Moler enabled PHS to get back into scoring position minutes later and the junior tailback reached the end zone from the three with 3:18 left in the third quarter to cut the margin to 49-21.
A fumble recovery by Zion Atkinson stopped Midland for the only time during the game and the Big Reds put together a 73-yard scoring drive to make it 49-28 and keep PHS hopes of a comeback. Moler did the scoring honors again on that eight play drive.
But it took Midland just four plays to score again and make it 56-28 while the Big Reds matched that with a 49 yard scoring pass to Strange with 7:13 left in the game to make the score 56-35.
The Knights' final TD came with 3:18 remaining in the game when starting quarterback Jovaun Light ran it in from the three yard line for the final 28-point margin.
Big Reds vs Knights
Score by Quarters 1   2   3   4 - Total
Big Reds        7     7   7   14 -  35
Knights        13 29   7   14  -  63
Qtr Time Scoring play
1st 08:19 MIDLAND - Ivan Vaughn 17 yd run (Mason Flynn kick), 10-53 3:41
02:56 MIDLAND - Isaiah Duncan 14 yd run (Mason Flynn kick failed), 7-64 2:27
02:51 PHS - Jake Johnson 44 yd pass from Kam Mace (Christian Axman kick), 5-58 0:00
2nd 11:10 MIDLAND - Ivan Vaughn 7 yd run (Mason Flynn kick), 6-65 2:04
09:14 PHS - Tyler Moler 22 yd run (Christian Axman kick), 8-65 1:56
04:31 MIDLAND - Ivan Vaughn 3 yd run (Mason Flynn kick blocked), 9-63 4:37
02:14 MIDLAND - Isaiah Duncan 29 yd run (Ivan Vaughn rush), 4-83 1:13
00:16 MIDLAND - Isaiah Duncan 80 yd run (Ivan Vaughn pass from Jovaun Light), 1-80 0:00
3rd 04:36 MIDLAND - Ivan Vaughn 23 yd run (Mason Flynn kick), 7-82 2:39
03:18 PHS - Tyler Moler 3 yd run (Christian Axman kick), 6-65 1:13
4th 10:10 PHS - Tyler Moler 2 yd run (Christian Axman kick), 8-73 2:23
09:07 MIDLAND - Ivan Vaughn 22 yd run (Mason Flynn kick), 4-61 1:03
07:13 PHS - Brenton Strange 49 yd pass from Kam Mace (Christian Axman kick), 6-65 1:53
03:18 MIDLAND - Jovaun Light 3 yd run (Mason Flynn kick), 7-80 3:55
..............................................PHS              MIDLAND
FIRST DOWNS                      27                32
RUSHES-YARDS (NET)        27-163        62-705
PASSING YDS (NET)            324              11
Passes Att-Comp-Int               45-27-2       2-1-0
TOTAL OFFENSE PLAYS-YDS 72-487  64-716
Fumble Returns-Yards            0-0              0-0
Punt Returns-Yards                0-0             1--16
Kickoff Returns-Yards            8-104         5-81
Interception Returns-Yards     0-0             2-35
Punts (Number-Avg)               2-33.5         0-0.0
Fumbles-Lost                          0-0              3-1
Penalties-Yards                       3-30            8-98
Possession Time                     20:00          28:00
Third-Down Conversions        6 of 10        3 of 6
Fourth-Down Conversions      2 of 3          3 of 3
Red-Zone Scores-Chances       2-4              5-5
Sacks By: Number-Yards        0-0              0-0
RUSHING: Big Reds-Tyler Moler 14-131; Kam Mace 3-21; Jake Johnson 4-14; Shane Miller 3-3; Brenton Strange 2-minus 1; Aurelius Edmonds 1-minus 5. Knights-Ivan Vaughn 24-298; Isaiah Duncan 21-287;
Jovaun Light 10-95; Griffin Adkins 1-13; Isaiah Vaughn 3-6; Jakob Caudill 2-4; Micaiah Roberts 1-2.
PASSING: Big Reds-Kam Mace 27-44-2-324; Jake Johnson 0-1-0-0. Knights-Jovaun Light 1-2-0-11.
RECEIVING: Big Reds-Brenton Strange 12-146; Jake Johnson 8-140; Braedon Mason 3-17; Nathaniel Steed 3-15; Tyler Moler 1-6. Knights-Micaiah Roberts 1-11.
INTERCEPTIONS: Big Reds-None. Knights-Griffin Adkins 1-35; JJ Roberts 1-0.
FUMBLES: Big Reds-None. Knights-Isaiah Duncan 1-0; Jakob Caudill 1-0; Isaiah Vaughn 1-1.
Big Reds (4-3) vs. Knights (4-3)
Date: Oct 13, 2017 • Site: Ona • Stadium: Knights Stadium
Attendance: 3000
Total elapsed time: 2:51
TACKLES (UA-A): Big Reds-Wyatt Strobl 6-3; Brenton Strange 5-4; Zion Atkinson 4-3; C.J. Wade 3-4;
Kionte Peacock 4-1; Gavin Perkins 3-1; Braedon Mason 3-1; Jacob Woodyard 3-1; Aurelius Edmonds 2-2;
Jeremy Walls 2-2; Nathaniel Steed 2-1; Jordan Batten 1-1; Chace Mathess 1-0; Brandon Braham 1-0;
Caden Florence 1-0; Josh Ankrom 1-0; Kam Mace 1-0; T.J. McIntosh 0-1; Jake Johnson 0-1.
Bell, Taylor Inducted Into Hall
The two newest members of the illustrious Parkersburg High School Football Hall of Fame knew how to do one thing – win football games.
Both were the key players on undefeated state championship teams as Bill Bell led the Big Reds to the 1938 title with a 10-0 record while nearly 70 years later Charlie Taylor did the same as he powered PHS to the 2006 state crown and a 14-0 record.
They were inducted into the Hall of Fame Friday night prior to the Big Reds' game at Stadium Field against Beckley Woodrow Wilson.
Harold William (Bill) Bell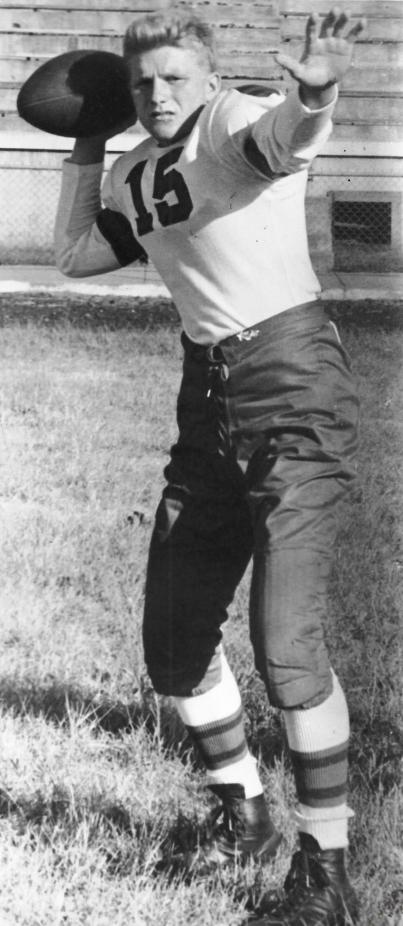 A football life.
Those three simple words summed up the illustrious career of Bell, who was an all-state performer at Parkersburg, an All-American halfback at Muhlenberg College in Pennsylvania, a coach on the 1959 national champion Syracuse squad and a scout for the Houston Oilers and San Francisco 49ers in the NFL.  From his beginnings as a Big Red in the late 1930's until his retirement in the late 1980's, Bell's football career spanned 50 years.
At PHS Bell quarterbacked the Big Reds to the 1938 state championship, throwing for over 800 yards and rushing for 800 more with 14 touchdowns.  He had a five-touchdown game that year against East Fairmont. 
As a senior in 1939 he was named captain of the all-state team after passing for more than 1,000 yards and rushing for nearly 800 more and 11 TD's.  In his career he scored 31 touchdowns and rushed for nearly 1,800 yards as the Big Reds compiled a lofty 26-3-2 mark, including a perfect 10-0 in 1938.
Bell played football at West Virginia University in 1941 before joining the Army Air Corps as bombardier and navigator during World War II.  He finished college at Muhlenberg in Allentown, PA, where he played both football and baseball and was inducted into that school's Hall of Fame in 1982.
After college Bell followed his former Parkersburg coach Floyd "Ben" Schwartzwalder to Syracuse and was an assistant on the national championship team.  He left coaching in 1968 and scouted for the next 20 years.
Bell, who passed away in August of last year,  is survived by three daughters, Betsy Ward of Winter Park, Florida, Cynthia Andrews of Fabius, New York and Keryn Piersa of West Palm Beach, Florida.
Charlie Taylor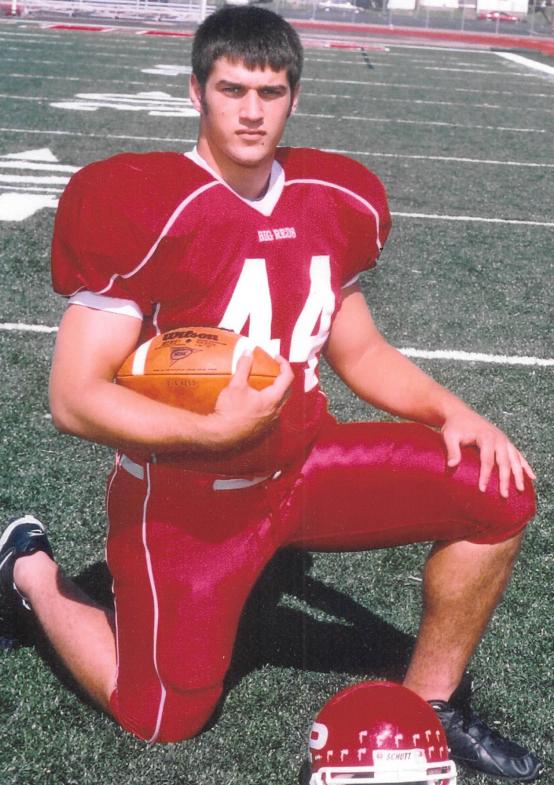 Parkersburg High School's last undefeated team was indeed Taylor's team.  The 6-1, 230-lb. fullback and linebacker was the glue that kept the team together according to coach Bernie Buttrey and was as well-respected for his leadership and for his on-field performance.
In that undefeated 2006 season, Taylor rushed for 1,150 yards and caught passes for another 191 yards while scoring 11 touchdowns.  He also collected 71 tackles including 13 for loss on a team that outscored its 14 opponents by a margin of 412-89.  He was at his best in Parkersburg's state title run, scoring touchdowns in all four playoff games.  He culminated his senior season with a 123-yard effort against Martinsburg for the championship.
Taylor will be forever remembered for the play of the season against defending state champion Morgantown in the state semifinals.  Facing a third-and-22 dilemma, Taylor caught a screen pass and turned it into a momentum changing 42-yard touchdown.  He broke six tackles on the play and refused to go down until he reached the end zone.  PHS went on to win that game in convincing fashion, 42-14.
He finished his career with 1,528 yards rushing and bulled his way to a career-best 221 against St. Albans during that magical 2006 season.
Most importantly, Taylor finished his career as a 4.0 student.  He graduated from WVU and is a civil engineer with United Construction in Parkersburg.
PHS 10th In All-Time Win Rankings
All-Time High School Football Wins

Official National Federation High School Association Record
Rank
Wins
School
State
Overall
First Year
2016
1
907
Valdosta
GA
907-220-34
1913
14-2
2
879
Fort Thomas Highlands
KY
879-231-26
1915
3-8
3
869
Louisville Male
KY
869-325-49
1893
10-3
4
861
Massillon Washington
OH
861-286-36
1894
8-3
5
851
Mayfield
KY
851-258-32
1919
15-1
6
838
Mount Carmel
PA
838-321-59
1893
5-6
7
820
Canton McKinley
OH
820-349-42
1894
6-5
8
819
Muskegon
MI
819-278-43
1895
12-2
9
814
Easton
PA
814-343-54
1894
7-6

10

813

Parkersburg

WV

813-318-22

1900

4-6

11
803
Everett
MA
803-373-79
1893
11-2
12
799
Hampton
VA
799-259-43
1920
12-2
13
797
Berwick
PA
797-331-43
1888
8-5
14
791
Steubenville
OH
791-317-34
1900
13-2
15
790
Lawton
OK
790-346-34
1902
8-5
16
788
Clinton
OK
788-277-38
1919
10-3
16
788
Brockton
MA
788-378-64
1897
5-6
18
784
Little Rock Central
AR
784-333-43
1907
3-7
19
783
Pine Bluff
AR
783-334-53
1901
8-3
20
778
Bakersfiled
CA
778-259-43
1897
11-3
21
774
Sioux Falls Washington 
SD
774-324-38
1899
12-0
21
774
Kingsport Dobyns-Bennett
TN
774-239-28
1921
6-6
23
773
Haynesville
LA
773-175-22
1907
13-1
24
772
Paducah Tilghman
KY
772-324-25
1904
6-6
25
766
Danville
KY
766-243-34
1924
12-2
26
765
New Britain
CT
765-340-51
1892
6-5
27
761
East St. Louis Senior
IL
761-199-36
1925
14-0
28
748
Louisville St. Xavier
KY
748-294-20
1917
10-4
29
738
Lawrence
KA
738-288-38
1891
6-4
30
734
Owensboro
KY
734-375-30
1893
10-3
31
731
Steelton Highspire
PA
731-432-58
1894
6-8
32
727
New Castle
PA
727-343-69
1892
8-5
33
724
Ann Arbor Pioneer
MI
724-432-38
1891
3-6
33
724
Temple
TX
724-359-51
1907
12-4
35
721
Amarillo
TX
721-312-19
1920
7-3
35
721
Jeannett
PA
721-314-40
1900
12-2
37
712
Chattanooga Baylor
TN
712-306-39
1908
8-5
38
705
Arcola
IL
705-334-40
1894
7-3
39
702
Williamsport
PA
702-463-55
1892
12-2
39
702
Philadelphia Central
PA
702-410-61
1887
9-1
41
700
Thomasville
GA
700-335-46
1910
5-5
42
695
Omaha Creighton Prep
NE
695-221-23
1893
9-3
43
693
Seminole
OK
693-354-34
1912
3-8
44
692
Martins Ferry
OH
692-367-36
1907
6-4
45
688
Phil. William Penn Charter
PA
688-366-53
1887
6-3
46
686
Greensburg Salem
PA
686-369-39
1894
5-5
46
686
Fostoria
OH
686-453-42
1896
4-6
48
683
Huntingdon
PA
683-365-39
(NA)
6-6
49
682
Dover
OH
682-356-44
1896
7-4
50
678
Somerset
KY
678-397-43
1907
7-5
51
675
Pottsville
PA
675-514-46
(NA)
9-2
(Battle of the 'Burg) Documentary Youtube Video
Contribution Information
Commemorative t-shirts and bracelets are available and donations can now be made online here at the football web site by clicking on the PayPal icon under the t-shirt photograph on the left side of the page. Online contributions will be added to the sponor lists if the amount is sufficient.Contributors are reminded that tax deductible checks will be accepted. They should be made out to PHS Stadium Committee.
Sponsors are being sought with 10 levels of donations - Seat Named $200, Bronze $500, Silver $1,000, Gold $2,000 and Platinum $2,500, Team Captain $5,000, Reserved Seat Row $10,000, White $15,000, Team Spirit $20,000, PHS Big Red $50,000. Sponsors will have three years to honor their pledges. Sponsors meeting any of the pledge levels will be listed on a plaque to displayed prominently in the Stadium.
Donations from fans and alumni who are proud of Stadium Field and its storied 93 year history may also be sent to Parkersburg High School in care of Charlotte Potter, Stadium Field Committee, 2101 Dudley Avenue, Parkersburg, WV 26101.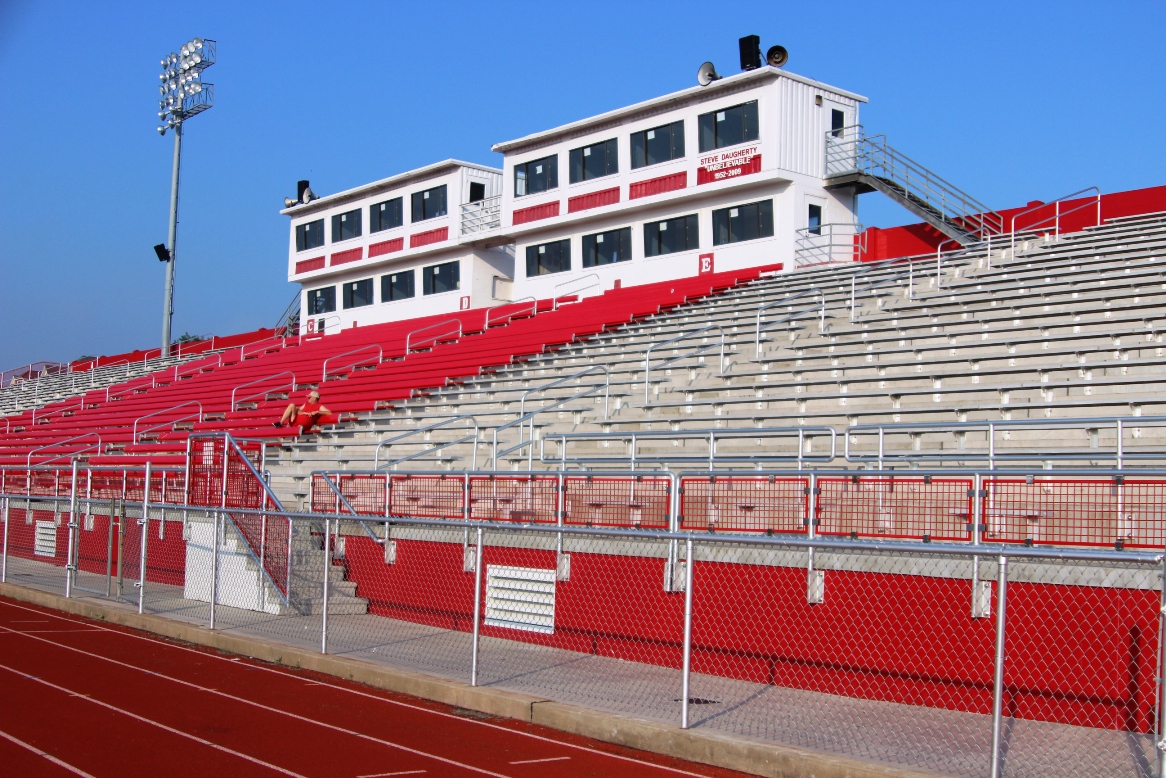 The home side finished product!
History of Stadium Field
In the spring of 1923 a group of men got together to form a stadium committee whose sole intent was to build a stadium for the newly constructed Parkersburg High School.
Those men included John S. Echols, President of the Board of Education, C.M. Martin, Sherman Dils, J.H. Biddle, C.T. Hitshaw, Herbert Smith, John Randolph, and Paul L. Summers. The committee was incorporated on July 14, 1923 and became known as the Parkersburg High School Corporation. The process of forming a corporation was necessary because the bonded indebtedness of the Board of Education was then at the peak permitted by law. Also serving on this committee was Fayette Smoot, H.L. Martin, Edward Doesch, H.R. Debussey and W.O. Holiday. The corporation leased the back campus from the Board of Education. It was impossible, according to the law of the time, for such a corporation to build any structure on land owned by a board of education. Therefore, the board had to turn over the land known as Stadium Field, on a 99-year lease to this corporation. The bonds were then released. The money for the bonds was to be recovered through football games and other activities held at the stadium.
The stadium was the first of its kind (concrete) in West Virginia and must have been the first of its kind to be built for the use of tax-supported institution without the investment of a single tax dollar.
The plans were to build one side of the stadium in 1923 and to build the other side the following year. The end of the U-shaped stadium was to be completed in the third year. When finally, completed it was to seat about 13,000 people. The end or bowl section of the stadium was never completed according to plans. The total cost of construction for the two sides was $104,000.
In just one day after the meeting in which the stadium plan was revealed, a total of $33,000 worth of bonds was sold.
In September of 1923 the first concrete was poured for the West stands of the stadium and on Oct. 4, 1923, the first game in the new stadium was played between the Big Reds of Parkersburg High School and Athens, Ohio. The Big Reds won by a 14-13 score. Ticket prices were 25 cents for student seating, 15 cents for student standing room. For the general public, the price was season ticket was $5 for seats and $4 for standing room.
In 1925 the stadium was officially dedicated. As part of the dedication, a race from Parkersburg to Marietta was held.
The installation of the stadium lights during the fall of 1940 made it possible for football games to be played at night. Until that time, most games were played on Saturday afternoon. The lights were installed by the Parkersburg Junior Chamber of Commerce at a cost of $7,000.75. The electric bill for the use of the lights was $3.25 per hour or about $10 for each game.
The lights were put in for the dual purpose of protecting the health of the players from the intense heat and to increase attendance. Among other reasons cited for the lighting was so that persons who worked Saturday afternoon could see the Big Reds play and so that the Stadium could be used for the purpose of holding other outdoor events such as political rallies or church events. Businessmen also felt that by playing Friday night games, Saturday afternoon business would be bolstered.
The first night game at PHS Stadium was Sept. 6, 1940 with the Big Reds beating Grantsville 50-0.
During the 1984-85 football season part of the stadium stands were closed for safety reasons. On June 13, 1988 it was recommended that both sides of the stands be closed. On June 14 the Board of Education accepted that recommendation.
During the summer of 1988 temporary bleachers were purchased and put up. Remodeling was done with funding help from C.O. Erickson and began in 1992. It was totally completed in 1994 with structural steel and concrete used to repair the stands.
In 1995 PHS qualified for home playoff games. After beating North Marion in the first round, the Big Reds were scheduled to host Wheeling Park. The Patriots protested the playing conditions at Stadium Field (no grass and nothing but mud) and a state inspection committee upheld the protest – moving the game to Tyler Consolidated High School. PHS won that game 28-7 and got to host the semifinal game after much work was done to repair the turf. But Hedgesville won the game 18-0 and the drive to install artificial turf on Stadium Field began in earnest.
The Stadium Renovation committee had its first planning session on Jan. 4, 1996 with more than two dozen members. In almost no time there were plans for an artificial surface to be added to the football field along with an 8-lane Eurotan track surface, new sidewalks, asphalt parking lot and refurbished concession stands.
On Aug. 30, 1996 the first game was played on AstroTurf Xl surface between Parkersburg South and Wheeling Park. On Sept. 6 the Big Reds played host to Hurricane on the new turf.
The cost of the new surface and renovations came to $1.25 million dollars which included $400,000 worth of in-kind services, $400,000 for advertising signs, $250,000 in donations and five bank loans of $400,000.
New light standards were installed in 1998. In 1999 new locker rooms were built in the Mary Lou Hague Memorial Sports and Arts complex at a cost of $536,390. In 2005 the restoration of the concrete stands was done at a cost of $129,356. In 2006 the turf was replaced at a cost of $295,000 with ProGrass artificial surface. In 2009 a new concession stand and restrooms were built on the home side at a cost of $195,000. The track was resurfaced in 2010 at a cost of $75,000 and in 2012 handrails were installed at a cost of $68,090.
In 2013 the home side bleachers were replaced in time for the second home game of the season. New seats were also installed with backs for the reserved seat section. The visiting bleachers still need to be replaced and contributions are still being taken.