Announcements
Freshmen football meeting will be held Thurdsay, May 11, 5:30 p.m. in the locker room.
PHS Boosters golf scramble will be held June 3 at the Worthington Golf Course. Contact Tom Curry (304-834-4008) if interested in playing.
A Player/Parent Booster Meeting will be held Monday, May 15, at 5:30 p.m. at the PHS cafeteria. This is for all players/parents for the 2017 season (including incoming freshman). Player practice pack orders, payments & payment arrangements will be done at this time. Order forms will be available at the meeting.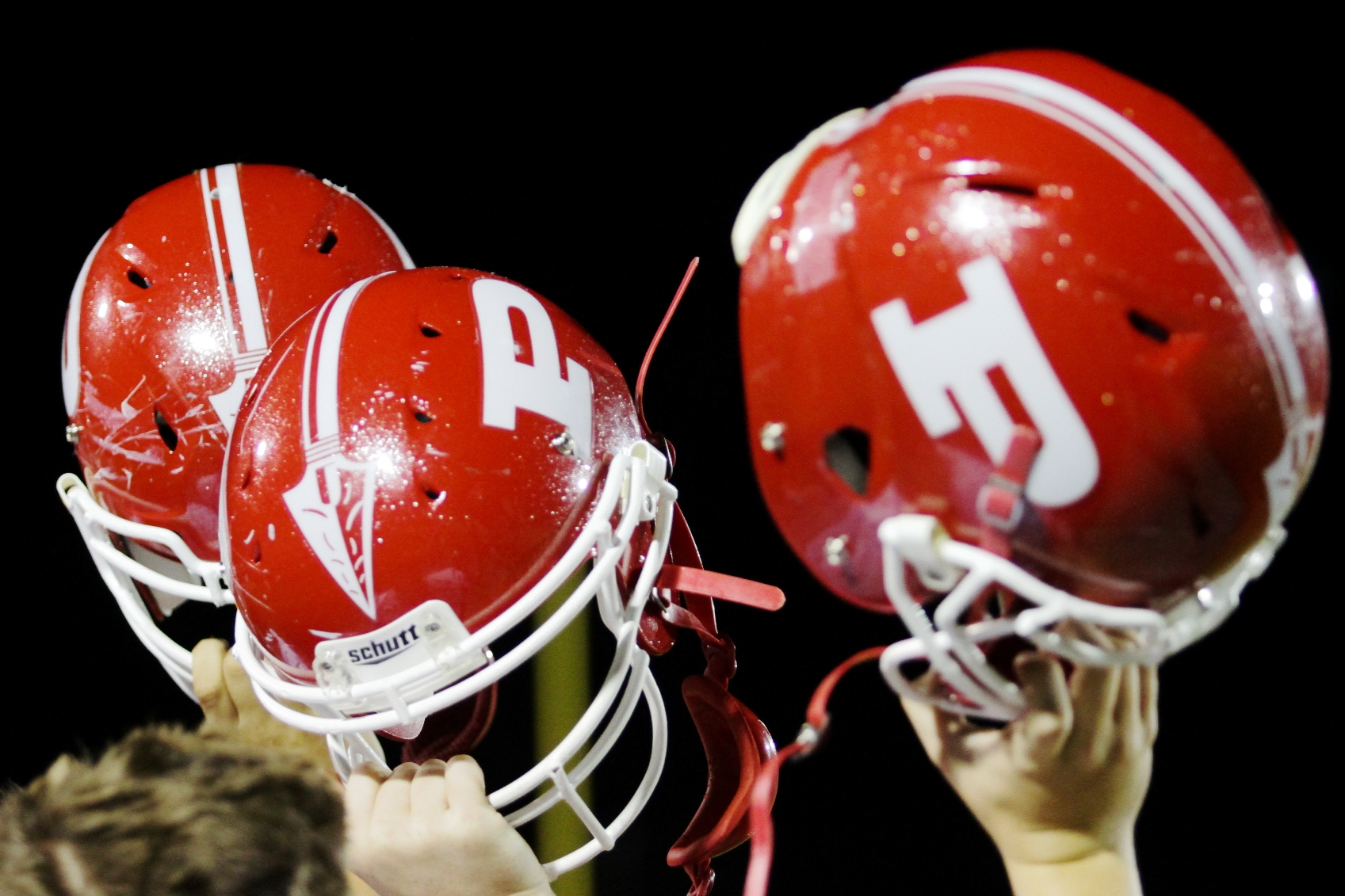 "Here Come The Big Reds" story book now online
(click on Story Book link above)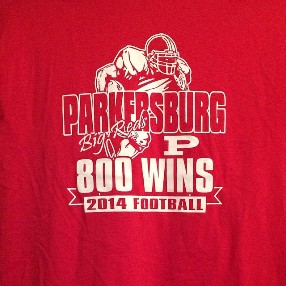 If you wish to donate to Stadium Field, please click below: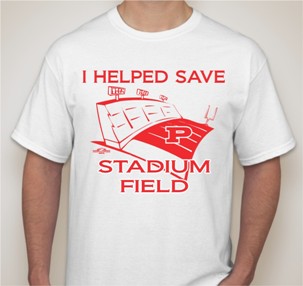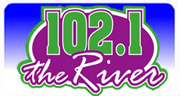 -------------------
2016 Starting Lineups
Offense
QB – Ethan Airhart (6-0. 175 sr.)

RB – Easton Martin (6-3, 200 sr.)

SE – Chance Rawson (5-8, 140 sr.)

WB – Karson Snyder (6-2, 180 sr.)

WB – Brenton Strange (6-5, 198 so.)

TE – Tyler Lawrentz (6-2, 195 sr.)

C – A.J. Nolan (6-0. 260 jr.)

RG – Owen Webb (5-8, 210 sr.)

LG - Davey McNemar (5-10, 200 sr.)
LT – Isaac Edman (5-10, 240 sr.)
RT – Ryan Creech (6-3, 260 so.)

PK – Christian Axman (5-11, 160 jr.)

Defense

LE – Shane Miller (6-0, 205 so.)

LT – Max Turner (6-0, 210 sr.)

RT – Isaac Edman (5-10, 240 sr.)

RE – Davey McNemar (5-10, 200 sr.)

LB –Wyatt Strobl (6-0, 200 jr.)

LB – Tyler Lawrentz (6-2, 195 sr.)

LB - Brenton Strange (6-5, 198 so.)

SS – Tyler Moler (6-0, 180 so.)

WC – Bradley Craig (5-8, 175 sr.)

FS – Jake Johnson (5-10, 160 so.)

SC – Easton Martin (6-3, 200 sr.)

P – Christian Axman (5-11, 160 jr.)
2016 Schedule
Aug. 26 - at St. Albans (Win 57-14)
Sept. 2 - at Hurricane (Loss 18-31)
Sept. 9 - Capital (Loss 19-41)
Sept. 16 - Huntington (Loss 6-28)
Sept. 23 - at Marietta, O. (Loss 13-49)
Oct. 7 - at Beckley WW (Win 52-15)
Oct. 14 - Cabell Midland (Loss 8-56)
Oct. 21 - Warren Local, O. (Win 55-26)
Oct. 28 - at Riverside (Win 48-35)
Nov. 4 - Park. South (Loss 13-19 2 ot)
Reeves Steps Down As Coach
After seven years as the head football coach at Parkersburg High School Don Reeves has resigned that position.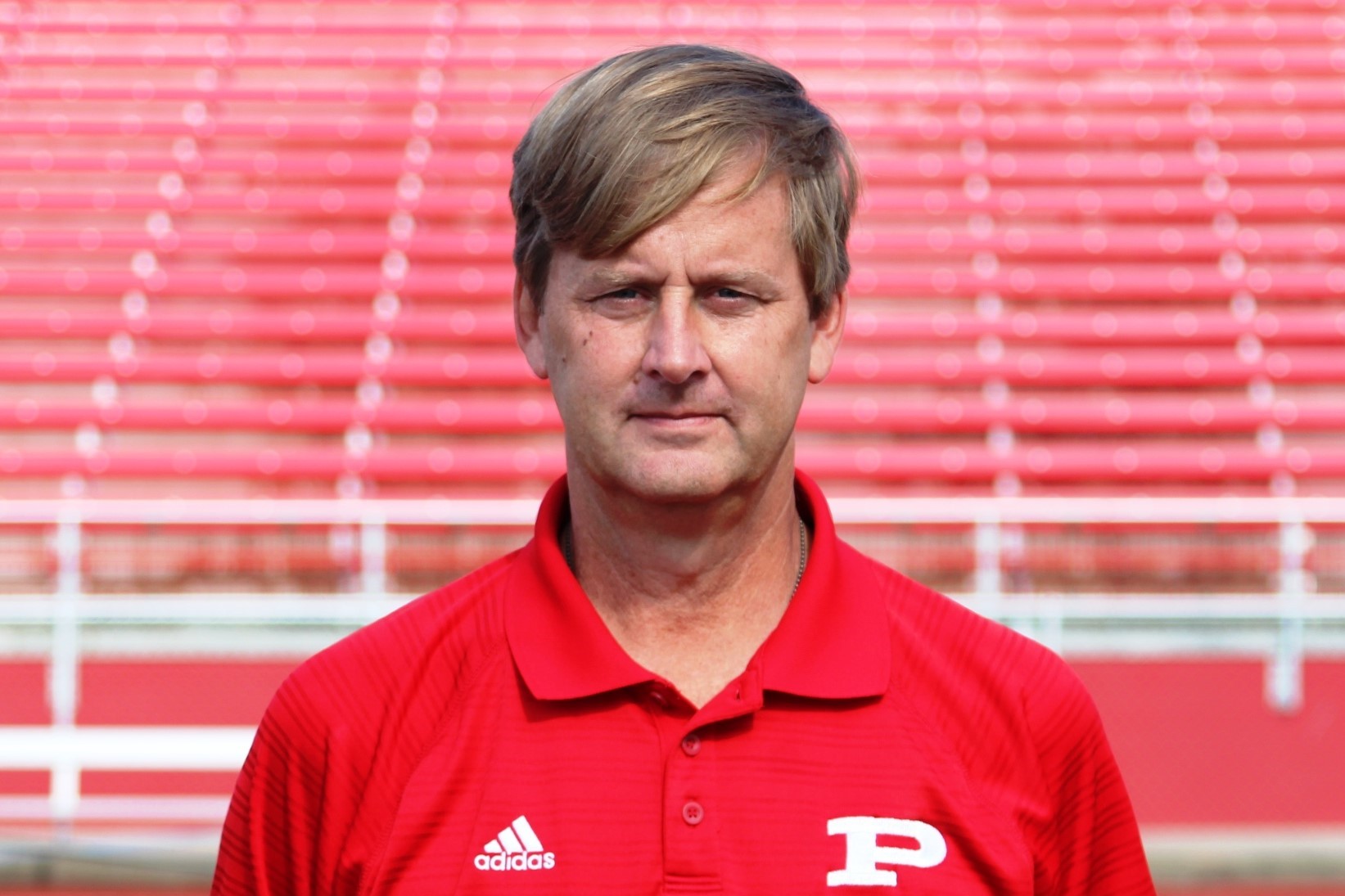 Wood County Schools Superintendent John Flint confirmed Wednesday, April 26, that Reeves had resigned as PHS football coach.
The community had speculated an employee hearing would be held after a flier was circulated saying Reeves was to be terminated. Officials have said the flier did not come from Wood County Schools.
"Don came to my office this morning and submitted his resignation," said Flint. "I then called PHS Principal Kenny DeMoss and let him know, as well as the board members."
Reeves' resignation will take effect May 9, and the football job will be posted the next day.
Taking over for Bernie Buttrey after the 2009 season, Reeves went 35-38 over seven years with the program. His teams made the playoffs three times but was not able to advance past the first round. The Big Reds finished 4-6 this season.
He was the quarterback of the 1978 championship team and made first team all-state. He went on to play quarterback at Morehead State Univeristy, and after a successful head coaching job at Jackson Junior High School, he was an assistant coach at Parkersburg High before taking over the program in 2010. He was also head coach one year at Parkersburg South High School.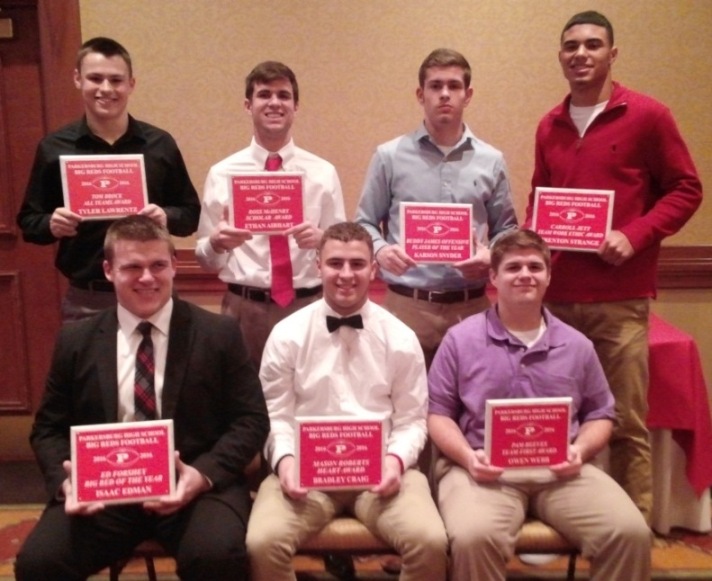 Year-end award winners for the 2016 PHS football team were announced Sunday evening at the annual banquet at the Grand Pointe Center in Vienna. Seated from left: Isaac Edman (Ed Forshey Big Red Award), Bradley Craig (Mason Roberts Heart Award) and Owen Webb (Pam Reeves Team First Award); Standing from left: Tyler Lawrentz (Tom Brock All Teams Award), Ethan Airhart (Ross McHenry Scholar Award), Karson Snyder (Buddy James Offensive Player of Year) and Brenton Strange (Carroll Jett Team Worker Award). Absent was Davey McNemar (Russ Parsons Defensive Player of Year).
2017 Schedule Announced
The 2017 Big Red football schedule has been announced.
There is one change, near-by Warren Local has been replaced by recent powerhouse Wheeling Park.
PARKERSBURG
Senior Football Schedule
Events
1 08/25/17 7:00PM H - ST. ALBANS HIGH SCHOOL -
2 09/01/17 7:00PM H - HURRICANE -
3 09/08/17 7:00PM A - CAPITAL HIGH SCHOOL -
4 09/15/17 7:00PM A - HUNTINGTON -
5 09/22/17 7:00PM H - MARIETTA,OH H.S. -
6 09/29/17 07:00PM A - WHEELING PARK -
7 10/06/17 7:00PM H - WOODROW WILSON -
8 10/13/17 7:00PM A - CABELL MIDLAND -
9 10/27/17 PM H - OPEN WEEK -
10 10/27/17 7:00PM H - RIVERSIDE -
11 11/03/17 7:00PM A - PARKERSBURG SOUTH -
Snyder Earns 2nd Team All-State
Karson Snyder, who set several school records for receiving this season, has earned second team Class AAA all-state honors.
The senior end set a single season record for receptions with 54 catches while also establishing a new record with 12 touchdown receptions in a single season. He tied the career record of 20 TD passes caught held by Jeremy Bell.
Sophomore Brenton Strange and senior Tyler Lawrentz earned special honorable mention all-state honors. Strange caught 45 passes this year and that total added to Snyder's 54 gave the duo 99 receptions (the best all-time one-two receiving punch in school history). Lawrentz had an outstanding season at linebacker leading the team with 88 tackles and his play earned him an offer to be an invited walk-on at West Virginia University.
Strange earned second team All-Mountain State Athletic Conference honors as a wid receiver while Snyder and Davey McNemar were special honorable mention all-conference and Lawrentz and Easton Martin were honorable mention.
Kemp Leads Patriots Over Big Reds 19-13 In Double Overtime
The 50th "Battle of the Burg" will be remembered as one of the best.
For the first time in history the two teams battled through two overtimes to determine the winner in a wild game that saw PHS dominate the first half, South the second and then came some plays to remember in the extra periods.
J.T. Kemp was without a doubt the hero for South as the 6-foot-2, 230 poound junior ran over and through the PHS defense in the second half and overtime periods for 151 yards on 22 carries and a pair of touchdowns, including the game-winner in the second OT.
The win enabled South to finish 5-5 while PHS ended 4-6. Losses by Hedgesville and Elkins probably means the Patriots will not advance to the playoffs.
Kemp, who was bigger than virtually anyone PHS had on defense, was held to just eight yards rushing on four attempts in the first half as South was totally dominated through the first 24 minutes. The Big Reds held South to just two first downs and only 18 yards rushing in the first half. The Patriots completed just one pass (for 28 yards on a screen play) and PHS enjoyed a whopping 17:39 to 6:12 advantage in time of possession. The Big Reds had 182 yards in the first half.
Despite the one-sidedness of the first half in their favor, the Big Reds could produce just one touchdown and that didn't come until the final 1:18 of the second quarter. They were held to two field goal tries, 32 and 37 yards, and both were missed.
On the first series of the game, PHS drove to the South six yard line but a dropped snap from center lost nine yards and Christian Axman came on to try a 32 yard field goal which was wide right.
On their second series the Big Reds again moved the ball deep into South territory, going to the 13 before the team was hit with a holding penalty and on third down a South blitz sacked Bradley Craig for a 14 yard loss. The big play on that drive ws a 21 yard gain on a hook-and-ladder pass and lateral to Brenton Strange and then Easton Martin.
While stopping South on virtually every play, PHS could not capitalize offensively. The Big Res' third series went to the South 14 but a penalty and two incomplete passes (one to Strange in the end zone which he almost caught for a score) forced another field goal try with the same results as the first.
With just over five minutes left in the half, PHS started its next possession on its own 31 and on the first play Craig scrambled right, then reversed his field and went all the way for a touchdown, only to have it called back by a personal foul penalty which came very late and 15 yards behind the play. That put the ball back to the South 29 and although it took eight plays, the Big Reds scored when Martin went over left guard from two yards out.
Axman then barely missed the extra point attempt for a 6-0 lead.
It was not until the last five minutes of the third quarter that South realized it had a runaway freight train in Kemp and all the Patriots had to do was give him the ball and get out of the way. Starting at the South 40, Kemp led the way with six rushes for 48 yards for the touchdown on a run which saw him carry defenders into the end zone.
The Nick Yoho's extra point kick was blocked by Karson Snyder and the score stood 6-6 with 11:53 left in regulation.
The Big Reds got one first down on their ensuing series but had to punt and South took over on its own 25. Seven carries by Kemp for 42 yards moved the ball to the 22 but on fourth and two, Davey McNemar broke through to stop Kemp for no gain.
Neither team threatened the rest of the way and on came overtime for only the second time in the PHS-South series (1984 being the other).
South took possession first and scored on third down from the one when quarterback Brandon Hall tried to sneak it over with a helping push from behind by Kemp but he lost the ball. However, Kyle Shreeves picked it up from between the legs of a Big Red lineman like a rugby scrum and stepped into the end zone.
Yoho's kick made it 13-6.
PHS answered despite a couple of penalties when Craig found Karson Snyder in the end zone from the 25. On the play before Snyder had been bumped in the end zone on an incompletion with no flag being thrown.
Axman's kick tied the game at 13-all.
PHS self-destructed on the first possession of the second overtime with a fumble, two incomplete passes and a bad snap sack.
South then rode Kemp to the victory by giving him the ball four times for the required 20 yards and a touchdown as he ran over two would-be tacklers and then plowed into the end zone for the victory.
While Kemp had 159 of his team's 235 yards, PHS got 171 of its 231 yards through the air as Craig completed 16 of 25 with one interception. Strange caught a record-tying 10 passes for 92 yards while Snyder's touchdown was the 20th of his career, tying the school record set by Jeremy Bell and was the 12th of the season to set a new all-time record.

In the second half, South a 16:34 to 7:26 margin in time of possession.
Park. South Patriots vs Parkersburg Big Reds (Nov 4, 2016 at Parkersburg)
Score by Quarters                    1 2 3 4 OT -        Total
Park. South Patriots             0 0 0 6 7 6 -        19
Parkersburg Big Reds            0 6 0 0 7 0  -        13
Qtr Time Scoring play
2nd 01:18 PHS - Easton Martin 2 yd run (Christian Axman kick failed), 9-69 3:39
4th 11:53 SP - J.T. Kemp 7 yd run (Nick Yoho kick failed), 11-60 5:09
OT 12:00 SP - Kyle Shreeves 1 yd run (Nick Yoho kick), 10-0 0:00
12:00 PHS - Karson Snyder 25 yd pass from Bradley Craig (Christian Axman kick), 10-0 0:00
12:00 SP - J.T. Kemp 1 yd run, 5-20 0:00
...........................................................SP               PHS
FIRST DOWNS                                         11            12
RUSHES-YARDS (NET)                           48-200        33-60
PASSING YDS (NET)                               35               171
Passes Att-Comp-Int                               7-3-1           25-16-1
TOTAL OFFENSE PLAYS-YARDS              55-235        58-231
Fumble Returns-Yards                             0-0              0-0
Punt Returns-Yards                                 0-0              1-1
Kickoff Returns-Yards                              2-30            2-42
Interception Returns-Yards                      1-0              1-25
Punts (Number-Avg)                               4-36.8         4-25.5
Fumbles-Lost                                          5-1              2-0
Penalties-Yards                                       9-63            8-60
Possession Time                                     22:46          25:14
Third-Down Conversions                           3 of 11        7 of 15
Fourth-Down Conversions                         2 of 4          0 of 1
Red-Zone Scores-Chances                          2-3              2-5
Sacks By: Number-Yards                           2-20            1-5
RUSHING: Park. South Patriots-J.T. Kemp 26-159; Brandon Hall 16-41; Nick Yoho 1-8; Brant Freeland 2-minus 1; Gavin Perkins 1-minus 3; Tyee Gibson 2-minus 5; Kyle Shreeves 0-1. Parkersburg Big Reds-Bradley Craig 12-28; Easton Martin 14-28; Karson Snyder 2-6; Brenton Strange 2-2; Rylan Hamilton 3-minus 4.
PASSING: Park. South Patriots-Brandon Hall 3-7-1-35. Parkersburg Big Reds-Bradley Craig 16-25-1-171.
RECEIVING: Park. South Patriots-Brant Freeland 2-33; Nick Yoho 1-2. Parkersburg Big Reds-Brenton Strange 10-92; Karson Snyder 4-73; Rylan Hamilton 2-6.
INTERCEPTIONS: Park. South Patriots-Nick Yoho 1-0. Parkersburg Big Reds-Brenton Strange 1-25.
FUMBLES: Park. South Patriots-Brandon Hall 2-0; Gavin Perkins 1-0; J.T. Kemp 1-1; Nick Yoho 1-0. Parkersburg Big Reds-Rylan Hamilton 1-0; Bradley Craig 1-0.
Park. South Patriots (5-5) vs. Parkersburg Big Reds (4-6)
Attendance: 4000
Kickoff time: 7:00 • End of Game: 9:37 • Total elapsed time: 2:37
SACKS (UA-A): Park. South Patriots-Cole Burrows 1-0; Will Varner 1-0. Parkersburg Big Reds-Wyatt Strobl 1-0.
TACKLES (UA-A): Park. South Patriots-Brant Freeland 8-1; Brandon Hall 6-0; Nick Yoho 5-0; Hunter DeLong 5-0; Dylan Deems 2-0; Zach Thompson 2-0; Gavin Perkins 1-1; Garrett Wolfe 1-1; Hunter Shank 1-1; Jack Raitz 1-0; Gavin Haught 1-0; Jeffry Vucelick 1-0; Ryan Kirk 1-0; Zane Hinzman 1-0; Brayden Mooney 1-0; Tyee Gibson 1-0; Will Varner 1-0; Cole Burrows 1-0. Parkersburg Big Reds-Brenton Strange 7-3; Davey McNemar 5-3; Tyler Moler 4-4; Jake Johnson 5-2; Max Turner 3-2; Tyler Lawrentz 1-3; Bradley Craig 1-3; Wyatt Strobl 2-1; Isaac Edman 1-2; Shane Miller 1-2; 69 1-0; Easton Martin 1-0; Karson Snyder 1-0.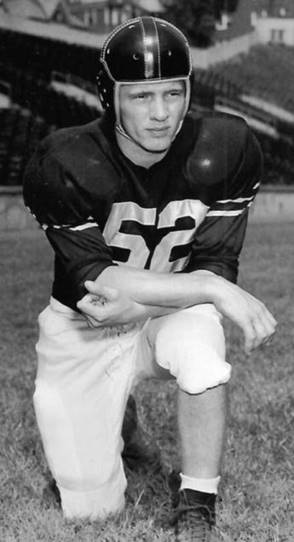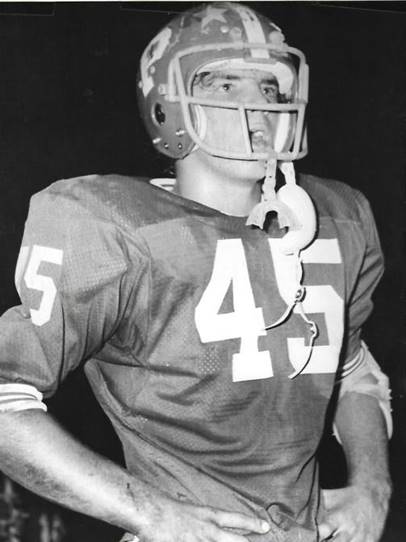 Richard "Dick" Pence Fred Pence
Family Tradition Continues Friday As Pence Father-Son Duo Enter PHS Hall of Fame
Family is a big part of Parkersburg Big Reds football tradition.

The Earley family, the Winans family, the Phillips family, the Barnums, the Swishers, the Loudens, the Lindamoods, the Johnsons and Jenkins. The list goes on and on.

Another family will make its official entry into the PHS Football Hall of Fame on Friday night when Richard "Dick" Pence and his son Fred Pence will be inducted as part of the pre-game ceremony for the Parkersburg South contest.

Dick Pence, who passed away in 1998 at the age of 72, was the father of six future Big Reds. He was a two-year starter for PHS in 1941 and 1942 and helped power the Big Reds of coach Jimmy Scott to a 19-2-1 record over that span as a 5-foot-9, 169 pound right guard.

PHS was potent on both offense and defense with Pence anchoring the line. In 1941 the team outscored opponents 291-36 and had five shutouts. The only blemish was a scoreless tie with Charleston.

The following season they were just an impressive, outscoring the opposition 321-70, but stumbled to Wheeling and Weirton. The Weirton game was a 13-0 setback that enabled the Red Riders to claim the mythical state championship.

For his play, Pence was named first team all-state as a senior with teammate Fred Earley being named captain.

After high school he went to West Virginia University and played on the 1943 team before entering World War II with the U.S. Navy. He came back from the Navy to play center at WVU in 1946, 1947 and 1948. Pence also graduated from Ohio State and the West Virginia College of Law. He was a practicing lawyer starting in 1951 and was a municipal judge for three years and prosecuting attorney for four years. He was a major supporter of youth athletics in our community.

The younger Pence also lacked the size of a typical football player, checking in as a Big Red junior at 5-foot-9 and 169 pounds but prior to that season head coach Buddy James stated there was something special about the young fullback.

The 1972 season saw PHS go 7-2 after winning its first six games. They lost a 14-13 heartbreaker to Stonewall Jackson despite a huge night by Pence, who ran 26 times for 134 yards and two touchdowns while catching two passes for 15 more yards. That loss, coupled with a 12-0 season-ending defeat in the mud to arch-rival Parkersburg South, caused the Big Reds to finish sixth in the final ratings with only the top four went on to the playoffs.

After rushing for 850 yards and 10 touchdowns as a junior, Pence was held to 585 yards as a senior but still earned first team all-state honors as a defensive back. He scored 11 touchdowns as a senior giving him 136 career points and 1,435 career rushing yards.
The team compiled a 9-2 record, losing to number one ranked East Bank 21-6 in the first round of the playoffs.

After graduation, the younger Pence went on to WVU and was on the 1975 Peach Bowl team coached by Bobby Bowden. He still resides in Parkersburg and has been a local businessman for nearly 40 years.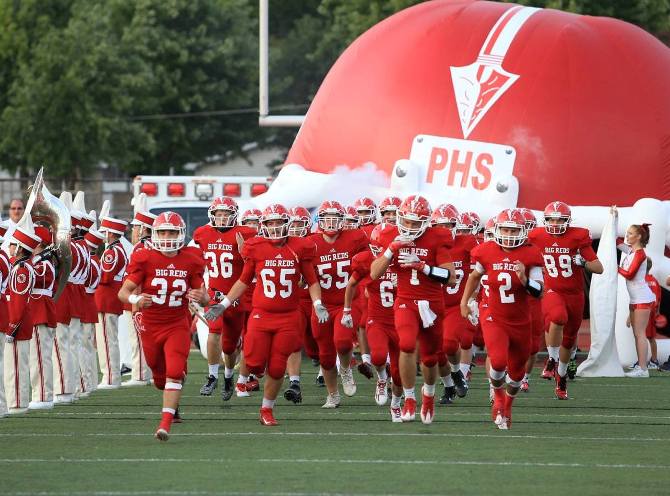 PHS Now In 8th Place In All-Time Win Rankings
The Parkersburg High School football team is now in eighth in the official national high school all-time win rankings.The four victories earned by the 2015 team left the PHS all-time record to 809 victories and moved the locals back to eighth on the all-time list behind the Canton McKinley (Ohio) Bulldogs, who won seven games last season. The official rankings are published by the National Federation of State High School Associations. PHS is 90 victories behind all-time leader Valdosta, which nipped the city of Parkersburg in the ESPN "Titletown" competition a few years ago.
| | | | | |
| --- | --- | --- | --- | --- |
| All-Time High School Football Wins | | | | |
| | | | | |
| School | Total | 2015 | Overall  | 1st Yr |
| | Wins | | Record | |
| 1. Valdosta Wildcats (GA) | 899 | 8-4 | 899-220-34 | 1913 |
| 2. Highlands Bluebirds, Ft Thomas (KY) | 876 | 8-7 | 876-236-26 | 1915 |
| 3. Male Bulldogs, Louisville (KY | 859 | 15-0 | 859-321-49 | 1893 |
| 4. Mayfield Cardinals (KY) | 848 | 16-1 | 848-252-32 | 1919 |
| 5. Washington Tigers, Massillon (OH)  | 841 | 4-7 | 841-263-35 | 1894 |
| 6. Mount Carmel Red Tornadoes (PA) | 833 | 6-6 | 833-315-59 | 1893 |
| 7. McKinley Bulldogs, Canton (OH) | 812 | 7-4 | 812-346-42 | 1894 |
| 8. Parkersburg Big Reds (WV) | 809 | 4-6 | 809-328-40 | 1900 |
| 9. Easton Red Rovers (PA) | 807 | 9-4 | 807-337-54 | 1894 |
| 9. Muskegon Big Reds (MI) | 807 | 9-3 | 807-276-43 | 1895 |
| 11. Summerville Green Wave (SC) | 791 | 4-8 | 791-218-25 | not official |
| 12. Everett Crimson Tide (MA) | 790 | 5-5 | 790-371-79 | 1893 |
| 13. Berwick Bulldogs (PA) | 789 | 9-3 | 789-326-43 | 1888 |
| 13. Highland Park Scots, Dallas (TX) | 789 | 10-2 | 789-252-27 | not official |
| 15. Hampton Crabbers (VA) | 787 | 13-1 | 787-257-43 | 1920 |
| 16. Brockton Boxers (MA) | 783 | 7-4 | 783-372-64 | 1897 |
| 16. Ada Cougars (OK) | 783 | 7-4 | 783-320-24 | not official |
| 18. Lawton Wolverines (OK) | 782 | 8-2 | 782-341-34 | 1902 |
| 19. Central Tigers, Little Rock (AR) | 781 | 3-7 | 781-326-43 | 1907 |
| 20. East St. Louis Flyers (IL) | 780 | 3-6 | 780-233-45 | 1897 |
| 21. Clinton Red Tornadoes (OK) | 777 | 6-6 | 777-274-38 | 1919 |
| 22. Steubenville Big Red (OH) | 776 | 13-1 | 776-316-34 | 1900 |
| 23. Pine Bluff Zebras (AR) | 775 | 13-0 | 775-331-53 | 1901 |
| 24. Dobyns-Bennett Indians, Kingsport (TN)  | 768 | 4-7 | 768-233-28 | 1921 |
| 25. Bakersfield Drillers (CA) | 767 | 5-6 | 767-256-43 | 1897 |
| 26. Paducah Tilghman Blue Tornado (KY) | 766 | 8-4 | 766-318-25 | 1904 |
| 27. Sioux Falls Washington Warriors (SD) | 762 | 11-1 | 762-324-37 | 1899 |
| 28. New Britain Golden Hurricanes (CT) | 759 | 5-5 | 759-335-51 | 1892 |
(Battle of the 'Burg) Documentary Youtube Video
Contribution Information
Commemorative t-shirts and bracelets are available and donations can now be made online here at the football web site by clicking on the PayPal icon under the t-shirt photograph on the left side of the page. Online contributions will be added to the sponor lists if the amount is sufficient.Contributors are reminded that tax deductible checks will be accepted. They should be made out to PHS Stadium Committee.
Sponsors are being sought with 10 levels of donations - Seat Named $200, Bronze $500, Silver $1,000, Gold $2,000 and Platinum $2,500, Team Captain $5,000, Reserved Seat Row $10,000, White $15,000, Team Spirit $20,000, PHS Big Red $50,000. Sponsors will have three years to honor their pledges. Sponsors meeting any of the pledge levels will be listed on a plaque to displayed prominently in the Stadium.
Donations from fans and alumni who are proud of Stadium Field and its storied 93 year history may also be sent to Parkersburg High School in care of Charlotte Potter, Stadium Field Committee, 2101 Dudley Avenue, Parkersburg, WV 26101.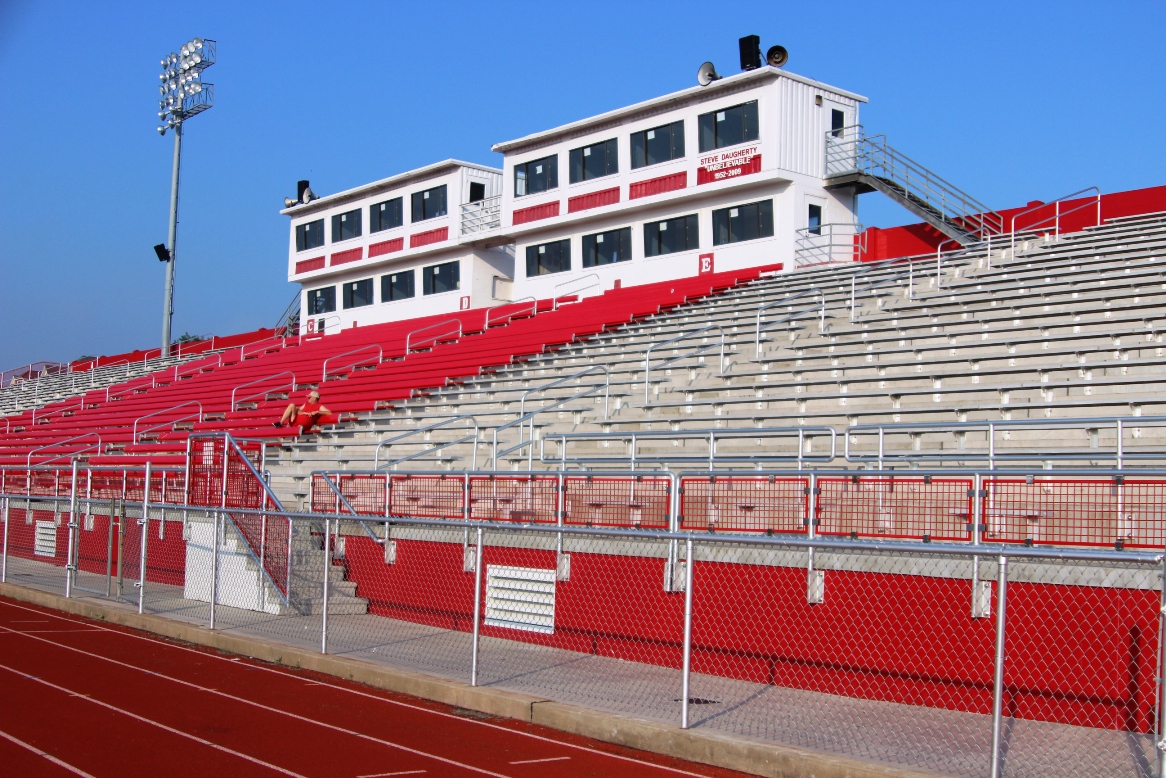 The home side finished product!
History of Stadium Field
In the spring of 1923 a group of men got together to form a stadium committee whose sole intent was to build a stadium for the newly constructed Parkersburg High School.
Those men included John S. Echols, President of the Board of Education, C.M. Martin, Sherman Dils, J.H. Biddle, C.T. Hitshaw, Herbert Smith, John Randolph, and Paul L. Summers. The committee was incorporated on July 14, 1923 and became known as the Parkersburg High School Corporation. The process of forming a corporation was necessary because the bonded indebtedness of the Board of Education was then at the peak permitted by law. Also serving on this committee was Fayette Smoot, H.L. Martin, Edward Doesch, H.R. Debussey and W.O. Holiday. The corporation leased the back campus from the Board of Education. It was impossible, according to the law of the time, for such a corporation to build any structure on land owned by a board of education. Therefore, the board had to turn over the land known as Stadium Field, on a 99-year lease to this corporation. The bonds were then released. The money for the bonds was to be recovered through football games and other activities held at the stadium.
The stadium was the first of its kind (concrete) in West Virginia and must have been the first of its kind to be built for the use of tax-supported institution without the investment of a single tax dollar.
The plans were to build one side of the stadium in 1923 and to build the other side the following year. The end of the U-shaped stadium was to be completed in the third year. When finally, completed it was to seat about 13,000 people. The end or bowl section of the stadium was never completed according to plans. The total cost of construction for the two sides was $104,000.
In just one day after the meeting in which the stadium plan was revealed, a total of $33,000 worth of bonds was sold.
In September of 1923 the first concrete was poured for the West stands of the stadium and on Oct. 4, 1923, the first game in the new stadium was played between the Big Reds of Parkersburg High School and Athens, Ohio. The Big Reds won by a 14-13 score. Ticket prices were 25 cents for student seating, 15 cents for student standing room. For the general public, the price was season ticket was $5 for seats and $4 for standing room.
In 1925 the stadium was officially dedicated. As part of the dedication, a race from Parkersburg to Marietta was held.
The installation of the stadium lights during the fall of 1940 made it possible for football games to be played at night. Until that time, most games were played on Saturday afternoon. The lights were installed by the Parkersburg Junior Chamber of Commerce at a cost of $7,000.75. The electric bill for the use of the lights was $3.25 per hour or about $10 for each game.
The lights were put in for the dual purpose of protecting the health of the players from the intense heat and to increase attendance. Among other reasons cited for the lighting was so that persons who worked Saturday afternoon could see the Big Reds play and so that the Stadium could be used for the purpose of holding other outdoor events such as political rallies or church events. Businessmen also felt that by playing Friday night games, Saturday afternoon business would be bolstered.
The first night game at PHS Stadium was Sept. 6, 1940 with the Big Reds beating Grantsville 50-0.
During the 1984-85 football season part of the stadium stands were closed for safety reasons. On June 13, 1988 it was recommended that both sides of the stands be closed. On June 14 the Board of Education accepted that recommendation.
During the summer of 1988 temporary bleachers were purchased and put up. Remodeling was done with funding help from C.O. Erickson and began in 1992. It was totally completed in 1994 with structural steel and concrete used to repair the stands.
In 1995 PHS qualified for home playoff games. After beating North Marion in the first round, the Big Reds were scheduled to host Wheeling Park. The Patriots protested the playing conditions at Stadium Field (no grass and nothing but mud) and a state inspection committee upheld the protest – moving the game to Tyler Consolidated High School. PHS won that game 28-7 and got to host the semifinal game after much work was done to repair the turf. But Hedgesville won the game 18-0 and the drive to install artificial turf on Stadium Field began in earnest.
The Stadium Renovation committee had its first planning session on Jan. 4, 1996 with more than two dozen members. In almost no time there were plans for an artificial surface to be added to the football field along with an 8-lane Eurotan track surface, new sidewalks, asphalt parking lot and refurbished concession stands.
On Aug. 30, 1996 the first game was played on AstroTurf Xl surface between Parkersburg South and Wheeling Park. On Sept. 6 the Big Reds played host to Hurricane on the new turf.
The cost of the new surface and renovations came to $1.25 million dollars which included $400,000 worth of in-kind services, $400,000 for advertising signs, $250,000 in donations and five bank loans of $400,000.
New light standards were installed in 1998. In 1999 new locker rooms were built in the Mary Lou Hague Memorial Sports and Arts complex at a cost of $536,390. In 2005 the restoration of the concrete stands was done at a cost of $129,356. In 2006 the turf was replaced at a cost of $295,000 with ProGrass artificial surface. In 2009 a new concession stand and restrooms were built on the home side at a cost of $195,000. The track was resurfaced in 2010 at a cost of $75,000 and in 2012 handrails were installed at a cost of $68,090.
In 2013 the home side bleachers were replaced in time for the second home game of the season. New seats were also installed with backs for the reserved seat section. The visiting bleachers still need to be replaced and contributions are still being taken.